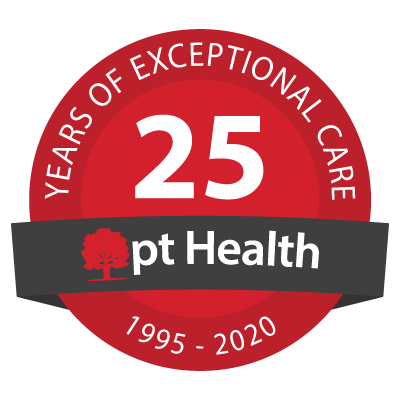 EP Physiotherapy - pt Health
In-person treatment available
Virtual Care treatment available
To ensure the health and safety of our patients and staff, we have made a number of changes to the way our clinics operate and have implemented enhanced measures to ensure the health and safety of our patients and staff. Click here to learn more about the S.A.F.E.R. approach.
"They are such a great team. Knowledgeable and helpful. They pay attention to the patients needs and concerns and ensure you understand exactly what treatments you are receiving and how they help you, they provide education to ensure you have the tools needed to not only recover from your injury but prevent any in the future."
Sheri M - Google Review
"I had my first appointment at EP Physiotherapy this evening and I don't think it could have gone better. The receptionist was funny, polite and very helpful. My physiotherapist was friendly and immediately put me at ease. She was extremely knowledgeable and explained everything in a way I could understand. Overall, this was an excellent experience. "
Crystal L - Google Review
Our Clinic Team
Jeff LeBlanc
Physiotherapist - PT Resident

Originally from Sackville, New Brunswick, Jeff completed his Bachelor of Science in Kinesiology in at St. Francis Xavier University (2016) and Masters of Science in Physiotherapy in Halifax at Dalhousie University (2018). Eager to start his career with PT Health, he plans to continue his education through post-secondary courses in manual therapy, acupuncture, and functional movement impairments. Outside of physiotherapy, Jeff enjoys participating in hockey, golf, and hiking. He believes that active participation by the client and proper education is the key to a successful treatment plan. With an emphasis on exercise and education he provides clients with information that allows them to achieve their functional goals and prevent injuries in the future.



Michael Chiasson
Physiotherapist

Michael's physiotherapy career started in 2014 as a kinesiologist for ptHealth at the Cole Harbour Integrated Health and Forest Hills locations. Spending 3 years with the company, Michael grew to love the healthcare field and chose to further his education by becoming a physiotherapist. He graduated from Dalhousie University in 2019 with a MSc. in Physiotherapy and is looking forward to working as a ptHealth team member again. Michael believes in using a client-centered approach, incorporating individualized exercise and education to help patients manage pain and recover while preventing future injuries. He hopes to pursue post-graduate courses in acupuncture and manual therapy to help improve the care he can provide to his clients. Outside of physiotherapy, Michael is an avid sports fan and athlete. He played competitive soccer and competed at a national level in sprint canoe/kayak. He continues to play soccer and when he is not being active, he enjoys spending time at home with his wife and their dog J-ze.



Amber Giesbrecht
Massage Therapist

Amber Geisbrecht is a Registered Massage Therapist at pt Health. She grew up in Winnipeg, and completed her 2200 hour course from The Massage Therapy College of Manitoba in January of 2009. Amber enjoys working with sports injuries, among many other things, but a special highlight in her career was working with the Winnipeg Blue Bombers. She was able to gain significant experience working with sports-related injuries during this time and met some fabulous football players too! Amber has taken several continuing education classes, and treats all areas of the body for injury, maintenance, or to simply just feel great! On her spare time, she enjoys snowboarding, playing soccer, and traveling.



Simone Prinsenberg
Massage Therapist - RMT

Simone graduated from the Canadian College of Massage Therapy in 2009 specializing in Sports Massage. She went on to study many different modalities of massage and health including deep tissue massage, Thai massage, Kinesio Taping and 200 hours Yoga Instructor training in Goa, India in 2011. Recently, Simone became fully certified in Manual Lymphatic Drainage and Combined Decongestive Therapy at the Dr. Vodder Institute in Austria in 2014. Simone believes in a holistic approach in treatment of conditions as well as prevention. She continues to study new modalities and is always eager to treat an array of conditions from sports or work injuries to postural imbalances, or lymphatic related issues. In her spare time Simone enjoys surfing and running her own local swimwear company.



Ryan Gallant
Physiotherapy Support Personnel

Ryan was born and raised on Prince Edward Island, moving to Halifax in 2014. He graduated from Dalhousie University with a Bachelors of Science in Kinesiology and a Diploma in Disability Management in 2018. Ryan is fluent in English and French but also picked up some Spanish from his travels to Ecuador. In his spare time, Ryan enjoys travelling, playing hockey, and attending sporting events. Ryan is a strong believer in the role of exercise in the rehabilitation of various injuries and plans on furthering his education to become a physiotherapist or chiropractor in the future.



Mark Vander doelen
Physiotherapist - BSc Kinesiology, MSc Physiotherapy

Mark is a passionate and enthusiastic physiotherapist who strives to use active and movement-based strategies to treat his patients. In Mark's practice he treats a variety of patients including those involved in motor vehicle accidents, adults & seniors, and athletes. Using the latest in clinical knowledge, Mark works to provide the highest-quality care for his patients to reduce pain, restore pain-free movement, and reach their functional goals. Marks's clinical interest include orthopedic condition management, athletic injuries, and motor vehicle accidents. Mark holds a Master's degree in Physiotherapy from Dalhousie University and a Bachelor's of science in Kinesiology from Wilfrid Laurier University. Mark is interested in pursuing additional training in functional dry needling, concussion management, and strength & conditioning. In his spare time, Mark is a highly active individual with a passion for coaching and leadership development. Mark is currently the wide receiver's coach at Saint Mary's University Football, and strives to incorporate motivational techniques he uses with athletes when working with his patients. Outside of coaching, Mark's hobbies include: playing flag football, hiking, and improving his cooking skills.


[View More]
"I've been going to this physio clinic for a few months and the staff have been awesome! I highly recommend them if you need physiotherapy or massage."
Rhonda G - Google Review
"Awesome staff very knowledgeable and friendly. Comfortable atmosphere and excellent support while working to achieve my goals. Great location close to my home and work."
Paula M - Google Review