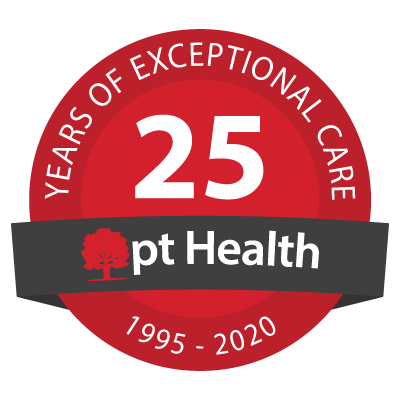 Fairvale Physiotherapy - pt Health
Notice: We are open for In-Person treatment. To ensure the health and safety of our patients and staff, we have made a number of changes to the way our clinics operate and have implemented enhanced measures to ensure the health and safety of our patients and staff.
Click here to learn more about the Lifemark S.A.F.E.R. approach.
To schedule an In-Person or Virtual Care appointment, please give us a call at 1-888-314-2726 or book an appointment online.
In response to COVID-19, pt Health is doing its part to help protect our patients and staff by modifying the availability of services at our clinics. Please call the clinic to seek advice or rebook services.
[Read More]
"Extremely knowledgeable, put me right at ease. Whether I was in for physio or chiro, I really felt like I was in the best hands. They really helped me target my issues from the first session as they knew finances were a concern and gave me the tools to work on it at home as well. I would absolutely recommend."
Dana N - Google Review
"The staff here are so friendly and helpful, I love that when I go for my appointment they are always on time and I never have to wait - that means a lot to me. If you want to get fast, friendly treatments this is where you need to go. Thank you for all that you have done to help me get back in action. "
Holly F - Google Review
Our Clinic Team
Suzanne Pye
Physiotherapist

Suzanne earned her physiotherapy degree from Dalhousie University in 1992. She has dedicated her career to working in the private practice setting, primarily dealing with orthopedic injuries of all types. Along with her many years of service in acute care, she also has experience with work conditioning and work hardening programs, functional capacity evaluations, aquatic therapy and community based education sessions and exercise groups.

Christopher Mulholland
Kinesiologist

Chris is originally from Fredericton, where he developed a passion for sport and exercise from a young age. That passion led him to pursue a degree in Kinesiology from the University of New Brunswick. After graduating in 2008, he worked with coaches and other fitness leaders to help them get certified in their fields at CCENB and Fitness NB.

From there, Chris began working as a personal trainer to assist individuals reach their fitness goals through specific exercise prescriptions and lifestyle changes. However, Chris always had a goal of working in a physiotherapy clinic and is very pleased to do so with pt Health.

As a Kinesiologist with Fairvale Physiotherapy, Chris leans on his experience and education to ensure all clients have a positive experience on their road to recovery so that they each achieve long-lasting health and happiness in their lives!

Megan Lewis
Registered Massage Therapist

Emily Hogan
Physiotherapist

Emily completed her Bachelor of Science degree in Human Kinetics at St. Francis Xavier University, where she also spent two years working as the student athletic therapist for the men's basketball team. She continued her education at Queen's University and graduated with a Master of Science degree in physiotherapy.

Emily is passionate about helping patients achieve their goals through tailored exercise programs, manual therapy and patient education. In her free time, you can find Emily hiking with her dogs, kayaking or baking.

Achim Khitab
Physiotherapist

Achim graduated from UNB in 1989 with a degree in physical education and then went on to Dalhousie University to graduate from physiotherapy in 1993. He began his career at Extramural Hospital in Saint John and then went on to work at the Workers' Rehab Centre in Grand Bay, NB for the next 10 years.

He has owned two clinics with his wife, serving west Saint John and St. George. He is looking forward to this new opportunity with pt Health/Lifemark and is eager to share his knowledge and experience. He currently resides in West Saint John with his wife Carolyn and their three children. In his spare time, he can be found on the squash court, hiking or at the gym.
[View More]
"Great knowledgeable and friendly staff that were very helpful in providing detailed exercises to help speed up my recovery. I would recommend their services to all."
Arthur C - Google Review
"The staff was very organized, knowledgeable and helpful. They customized the exercises for my specific ability which was critical in my speedy and complete recovery."
Rick K - Google Review