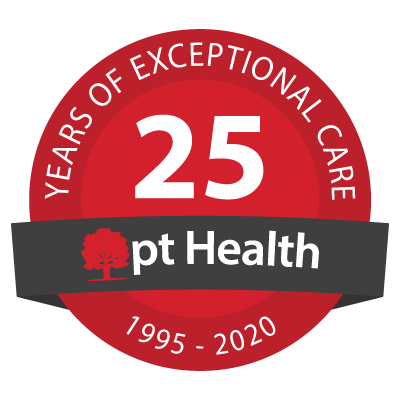 Fairvale Physiotherapy - pt Health
In-person treatment available
Virtual Care treatment available
Welcome!
Our clinic is open and offering In-person treatment in addition to Virtual Care service. Please note that enhanced measures are in place to ensure the health and safety of our patients and staff. View our virtual tour video so you know what to expect at your next clinic appointment.
"Extremely knowledgeable, put me right at ease. Whether I was in for physio or chiro, I really felt like I was in the best hands. They really helped me target my issues from the first session as they knew finances were a concern and gave me the tools to work on it at home as well. I would absolutely recommend."
Dana N - Google Review
"The staff here are so friendly and helpful, I love that when I go for my appointment they are always on time and I never have to wait - that means a lot to me. If you want to get fast, friendly treatments this is where you need to go. Thank you for all that you have done to help me get back in action. "
Holly F - Google Review
Our Clinic Team
Suzanne Pye
Physiotherapist - B.Sc.P.T., CAFCI

Suzanne earned her physiotherapy degree from Dalhousie University in 1992. She has dedicated her career to working in the private practice setting, primarily dealing with orthopedic injuries of all types. Along with her many years of service in acute care, she also has experience with work conditioning and work hardening programs, functional capacity evaluations, aquatic therapy and community based education sessions and exercise groups.



Kevin Foley
Physiotherapist - PT

Kevin Foley graduated from McMaster University in 2004 with a Master of Science in Physiotherapy. Kevin has had variety of clinical experiences working in Northern Ontario, Toronto, New Brunswick and finished his training in a sports medicine clinic in New Zealand. Kevin has also spent time working in the public sector in both inpatients and outpatient care. He believes strongly in a multidisciplinary approach to patient care to achieve the best results for his patients. He works closely with his patients and has a strong hands on approach. He also believes in enabling his patient to work hard with an individualized home exercise program, as well as education to help achieve their treatment goal and prevent further injury.



Megan Lewis
Registered Massage Therapist

Megan is a graduate of Eastern College in Saint John, NB. Her studies provided her with an excellent education and experience with hands on skills such as General Swedish Massage, Fascial Release, Trigger Point Release, and much more. She plans to further increase her knowledge and expertise while working with ptHealth and participating in continuing education courses. Megan also has interests in Cupping techniques and Canine massage. She is a registered member in good standing with the Association of New Brunswick Massage Therapy (anbmt) and the College of Massage Therapists in NB.



Christopher Mulholland
Physiotherapy Support Personnel - BScKin

Chris is originally from Fredericton, where he developed a passion for sport and exercise from a young age. That passion led him to pursue a degree in Kinesiology from the University of New Brunswick. After graduating in 2008, he worked with coaches and other fitness leaders to help them get certified in their fields at CCENB and Fitness NB. From there, Chris began working as a personal trainer to assist individuals reach their fitness goals through specific exercise prescriptions and lifestyle changes. However, Chris always had a goal of working in a physiotherapy clinic and is very pleased to do so with pt Health. As a Kinesiologist with Fairvale Physiotherapy, Chris leans on his experience and education to ensure all clients have a positive experience on their road to recovery so that they each achieve long-lasting health and happiness in their lives!



Lesley Adams
Patient Coordinator
[View More]
"Great knowledgeable and friendly staff that were very helpful in providing detailed exercises to help speed up my recovery. I would recommend their services to all."
Arthur C - Google Review
"The staff was very organized, knowledgeable and helpful. They customized the exercises for my specific ability which was critical in my speedy and complete recovery."
Rick K - Google Review