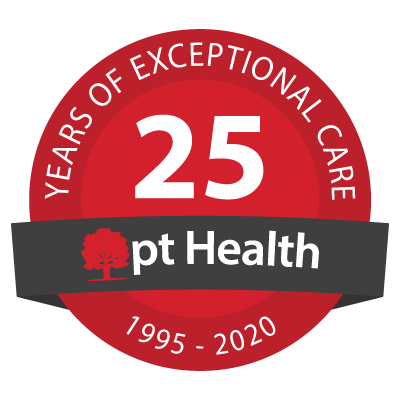 Fairview Physiotherapy - pt Health
In-person treatment available
Virtual Care treatment available
To ensure the health and safety of our patients and staff, we have made a number of changes to the way our clinics operate and have implemented enhanced measures to ensure the health and safety of our patients and staff. Click here to learn more about the S.A.F.E.R. approach.
"I worked with the physiotherapy team at Fairview for knee pain I was experiencing with running. I had a great experience with the whole team including the massage therapist and support staff. Friendly environment that allowed me to ask any question and was always provided with clear answers. I'm happy to say that I'm back to pain-free activity again!"
Krissy P - Google Review
"All of the therapists are incredibly knowledgeable and have a great way of explaining how your body mechanics work so you can understand how to help relieve any discomfort you are having. I've had a lot of success and I would highly recommend anyone to go see this fantastic group of people to help with any musculoskeletal body issues you may have. "
RJ H - Google Review
Our Clinic Team
Don Lesar
Physiotherapist - HBSc, MSc PT, FCAMPT

Don completed his Masters of Science in Physiotherapy at McMaster University. Prior to this, Don completed a four-year undergraduate degree in Health Studies and worked as a strength and conditioning coach throughout his degree. His passions include mountain biking, rock climbing, ski touring and backcountry camping/paddling. He has taken additional courses in manual therapy, acupuncture, soft tissue release and therapeutic taping. Don successfully completed the Advanced Orthopaedic Division exam in Fall 2015 conferring him the FCAMPT designation. With an emphasis on education and exercise, Don incorporates manual therapy and soft tissue techniques, as appropriate, to guide people along their individual paths to recovery. Recently, Don's interest in the management of arthritic conditions was piqued upon realizing the varied treatment approaches his patients were receiving prior to visiting Fairview. To expand his knowledge in this area he completed both the Arthritis Society's Getting a Grip on Arthritis® osteoarthritis and rheumatoid arthritis education program.



Will Nicholson
Physiotherapist - PT, B.A.(Hons) Kin, MPT

Will completed his Masters of Physical Therapy at Western University. Before this, he completed an undergraduate in Kinesiology at Brock University where he played baseball for four years. Will enjoys incorporating exercise and training principles combined with education and knowledge of about pain to help others continue doing what they enjoy. Will believes in a partnered approach to rehab, where the patient is an active participant in the process and centers his sessions around education and guidance. As appropriate, Will includes manual therapy and soft tissue work in his treatment plans but places an emphasis on exercise and movement to help his patients navigate their daily lives.



Joanna Scarlett
Physiotherapy Support Personnel - Certified Pilates

Joanna is a Certified Polestar Pilates Instructor with 4 years experience teaching in a sports and rehabilitation setting. Joanna has grown up teaching children's dance from the age of 12 and started her fitness career 6 years ago when she certified as a CanFitPro Personal Trainer. Joanna has taught many different types of fitness such as Senior Fall Prevention Classes, Aqua Fitness, Boot Camps, Zumba and most recently certified as a Total Barre Instructor through Stott Pilates. The goals she works to achieve with her clients are to build body awareness, optimal posture, create stability, core control and ease of movement.



John Malatesta
Chiropractor - Bsc., DC, FCCPOR(C)

John Malatesta graduated from the National University of Health Sciences in January 2000. In 2006 he completed his fellowship in Chiropractic Rehabilitation at the Canadian Memorial Chiropractic College. The following year he attained status as an Independent Chiropractic Examiner. He has also had training in gait analysis and fabrication of custom made orthotics. His approach to treatment includes evidence based manual therapies utilizing manipulation, mobilization and soft tissue treatments, as well as rehabilitative exercises with a focus on return to function. John?s belief is that the patient is an equal partner in their recovery and return to normal function and puts a strong emphasis on education as part of his treatment plan.



Lin Chen Cui
Acupuncturist - Registered Acupuncturist

Speaks: English, Mandarin, Chinese

Lin Chen completed his training at the John & Jenny Traditional Chinese Medicine College between September 2013 and April 2015. As a clinician he focuses his practice on management and treatment of chronic pain, mental and emotional distress, and gastrointestinal issues amongst other issues.



Kandice Tota Vandepoele
Chiropractor

Dr. Kandice Tota obtained her chiropractic degree from Canadian Memorial Chiropractic College in 2010, as well as an Honours Bachelor of Science degree in Biology and Psychology from McMaster University in 2006. She practices a variety of techniques including spinal manipulative therapy, myofascial release therapy, and laser therapy. She is also trained in orthotics fitting, compression stocking fitting, and custom knee bracing.



Tracey Usher
Massage Therapist - BSc, RMT

Tracey graduated with honours from the Massage Therapy Program at Mohawk College in 2018. She is a member in good standing with the CMTO and RMTAO. Tracey also has a Bachelor of Science in Nutrition from the University of Guelph. Through her years of education she has had hands-on experience and in-depth knowledge of human anatomy and pathophysiology. During her studies Tracey has gained Massage Therapy experience in various outreach programs including sporting events, retirement settings and rehabilitation facilities. Human Anatomy, healthy lifestyle, wellness and helping others has been Tracey's passion for many years and this is why she decided to become a massage therapist. Her desire to help others motivates her to continue her education of different modalities and techniques to learn new ways to improve treatment for clients. Tracey includes a variety of techniques in her treatments such as deep tissue therapy, trigger point therapy, facial restriction release techniques, joint mobilizations, frictions and general Swedish massage. Her goal is to help her clients feel their best and live fuller and healthier lives.



Jessica Kett
Patient Coordinator
[View More]
"Excellent experience! Staff are all very knowledgeable, empathetic, professional, and go above & beyond! I wholeheartedly recommend Fairview Physiotherapy!"
Nicole S - Google Review
"Very knowledgeable staff who take an interest in helping you recover. I highly recommend Fairview Physiotherapy for your Physiotherapy needs. "
Kevin S - Google Review