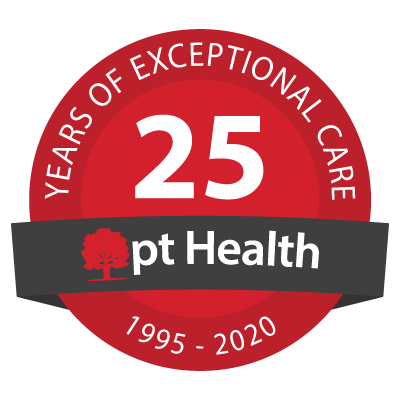 Flamborough Physiotherapy and Rehabilitation - pt Health
In-person treatment available
Virtual Care treatment available
Ontario Health Insurance Plan (OHIP)
Welcome!
Our clinic is open and offering in-person treatment in addition to virtual care. We look forward to seeing you soon.
"The staff were punctual, knowledgeable, friendly and easy to work with. They were responsible for turning an experience I was dreading into something (almost) pleasant. After my treatments I experienced a reduction in my pain. I have no hesitation in recommending pt Health Flamborough Physiotherapy and Rehabilitation. "
Catherine S - Google Review
"I have had a great experience working with all the people at pt Health. They are wonderful to work with. I have been recovering from a broken hip and a few months earlier I also had knee replacement surgery. Lovely professional individuals who have made my road back to health easier than I expected. Would highly recommend the facility to anyone. "
Allison L - Google Review
Our Clinic Team
Rahul Chavda
Physiotherapist

Rahul Chavda is a Registered Physiotherapist in Ontario, with a diverse background and a strong passion for health and wellness. He completed his physiotherapy education in India and further studied Health & Wellness Promotion at Mohawk College in Ontario. Rahul's professional journey spans two continents, practicing as a physiotherapist in both India and Canada. He has experience in various settings, including multidisciplinary clinics and long-term care facilities, where he has worked with patients of all ages and conditions.Rahul combines hands-on techniques with exercise-based methods to help patients regain mobility and achieve their rehabilitation goals.

Komal Chandarana
Clinic Director

Komal is a Clinic Director and Physiotherapist at pt Health Flamborough Physiotherapy and Rehabilitation. She is licensed and registered with the College of Physiotherapists of Ontario. Her educational background includes a Master's degree in Orthopedic and Sports Physiotherapy. Professionally, she has gained over 7 years of experience in treating patients with various orthopedic disorders, post surgical rehabs and sports injuries, conducting research and teaching Physiotherapy students.

Her area of interests in Physiotherapy practice includes orthopedic and sports injuries, post surgical rehab, pain management, postural correction, injury prevention and rehabilitation. She has taken multiple courses in Manual Therapy, Dry Needling and Pilates for rehabilitation. She firmly believes that an appropriate diagnosis of pain in its early stage and an individualized Physical Therapy program can save people from undergoing surgeries later in their life. She is a strong advocate of Evidence Based Clinical Practice and her motto is to help her patients live a pain free life.

When she is not treating patients, she keeps busy exploring new places, hiking, cooking and reading.
[View More]
"Staff is great and very helpful. Their methods helped ease my discomfort and will aid in my recuperation from the upcoming surgery in the future. Flexibility in appointment scheduling also helped. Thanks to all at pt Health. "
Bill B - Google Review
"This was a great experience as all staff were polite and helpful and my journey to recovery has progressed immensely. I also have home exercises with easy to follow instructions printed off for me. Thank you for everything. "
John M - Google Review