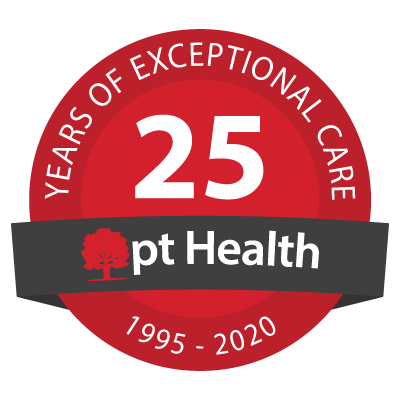 Flamborough Physiotherapy and Rehabilitation - pt Health
In-person treatment available
Virtual Care treatment available
Ontario Health Insurance Plan (OHIP)
Welcome!
Our clinic is open and offering In-person treatment in addition to Virtual Care service. Please note that enhanced measures are in place to ensure the health and safety of our patients and staff. View our virtual tour video so you know what to expect at your next clinic appointment.
"The staff were punctual, knowledgeable, friendly and easy to work with. They were responsible for turning an experience I was dreading into something (almost) pleasant. After my treatments I experienced a reduction in my pain. I have no hesitation in recommending pt Health Flamborough Physiotherapy and Rehabilitation. "
Catherine S - Google Review
"I have had a great experience working with all the people at pt Health. They are wonderful to work with. I have been recovering from a broken hip and a few months earlier I also had knee replacement surgery. Lovely professional individuals who have made my road back to health easier than I expected. Would highly recommend the facility to anyone. "
Allison L - Google Review
Our Clinic Team
Katharine Clark
Patient Coordinator

Katie moved here from the UK in 2007 after working 25 years for Her Majesty Customs & Excise as an Executive Officer. She joined the team at Flamborough Physiotherapy as a Patient Coordinator in April 2016. Her interests include cooking, wine tasting and the love of Zumba.



Nishith Vaidya
Physiotherapist - Registered PT

Speaks: English, Hindi, Gujrati

Nishith Vaidya graduated from Rajiv Gandhi University of Health and Sciences in India with a Bachelor of Physiotherapy degree. He finished his Physiotherapy National Examination of Canada in the year 2018. As a part of his ongoing education in physiotherapy, he has completed the Introduction to Acupuncture and Dry needling course from Advanced Physical Therapy Education Institute, cervical and thoracic manipulation courses from Key Clinical skills, and athletic and clinical taping courses from Sportside Medical Services. In addition to his Canadian experience, he also has 6 years of international experience with treating musculoskeletal and neurological conditions. Nishith strongly believes in evidence-based practice and takes on a patient-centered approach. In his spare time, he enjoys spending time with family, playing snooker, exploring hiking trails, and biking.



Josh Tallman
Physiotherapy Support Personnel

Josh Tallman graduated from Niagara College in 2020 with a diploma in Occupational Therapy Assistant & Physiotherapy Assistant. He is eager to start his career at PT Health working alongside Saadia!


[View More]
"Staff is great and very helpful. Their methods helped ease my discomfort and will aid in my recuperation from the upcoming surgery in the future. Flexibility in appointment scheduling also helped. Thanks to all at pt Health. "
Bill B - Google Review
"This was a great experience as all staff were polite and helpful and my journey to recovery has progressed immensely. I also have home exercises with easy to follow instructions printed off for me. Thank you for everything. "
John M - Google Review