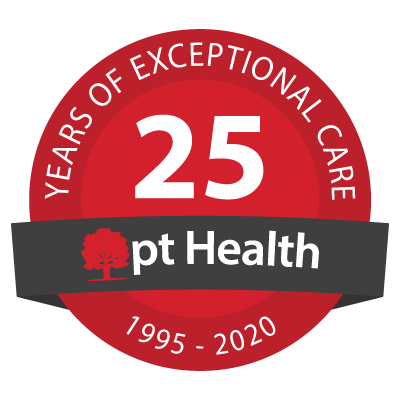 Flamborough Physiotherapy and Rehabilitation - pt Health
In-person treatment available
Virtual Care treatment available
To ensure the health and safety of our patients and staff, we have made a number of changes to the way our clinics operate and have implemented enhanced measures to ensure the health and safety of our patients and staff. Click here to learn more about the S.A.F.E.R. approach.
"The staff were punctual, knowledgeable, friendly and easy to work with. They were responsible for turning an experience I was dreading into something (almost) pleasant. After my treatments I experienced a reduction in my pain. I have no hesitation in recommending pt Health Flamborough Physiotherapy and Rehabilitation. "
Catherine S - Google Review
"I have had a great experience working with all the people at pt Health. They are wonderful to work with. I have been recovering from a broken hip and a few months earlier I also had knee replacement surgery. Lovely professional individuals who have made my road back to health easier than I expected. Would highly recommend the facility to anyone. "
Allison L - Google Review
Our Clinic Team
Saadia Hassan
Physiotherapist

Saadia Hassan graduated from the University of Toronto with a Bachelor's Degree, specializing in Biology and Psychology. She completed her Masters in Physiotherapy from McMaster University, graduating in 2014. Saadia is a member of the orthopedic division of the CPA, and has completed her manual therapy level one course. In the near future, she will be pursuing courses in acupuncture and BoneFit (Osteoporosis Canada) to enhance her ability to prescribe therapeutic interventions.



David Serafini
Physiotherapist

David completed his undergraduate degree at McMaster University, graduating with an Honours Bachelor of Science degree in Kinesiology. He developed an interest in physical rehabilitation during his involvement with competitive sports. This was furthered while playing for the McMaster Men's Varsity soccer team. He was inspired to apply for his Masters in Physiotherapy, which he completed at Queen Margaret University in Edinburgh, Scotland. David believes in using evidenced-based treatments and encourages a partnered approach to rehab. He promotes patient centred care in order to empower patients to play an active role in their own care, improve their overall well-being and feel confident in long term self-management. His treatment approach focuses on combining exercise and training principles with education to help patients achieve their rehabilitation goals. David also includes manual therapy and soft tissue work to help his patients improve their conditions. David has worked with children, athletes and elderly populations. His clinical interests involve orthopaedic musculoskeletal conditions. David continues to seek additional education in manual therapy, exercise prescription and acupuncture. David would be happy to work with you in order to achieve any goals you may have and help return you to your highest level of physical function.



Katharine Clark
Patient Coordinator

Katie moved here from the UK in 2007 after working 25 years for Her Majesty Customs & Excise as an Executive Officer. She joined the team at Flamborough Physiotherapy as a Patient Coordinator in April 2016. Her interests include cooking, wine tasting and the love of Zumba.


[View More]
"Staff is great and very helpful. Their methods helped ease my discomfort and will aid in my recuperation from the upcoming surgery in the future. Flexibility in appointment scheduling also helped. Thanks to all at pt Health. "
Bill B - Google Review
"This was a great experience as all staff were polite and helpful and my journey to recovery has progressed immensely. I also have home exercises with easy to follow instructions printed off for me. Thank you for everything. "
John M - Google Review