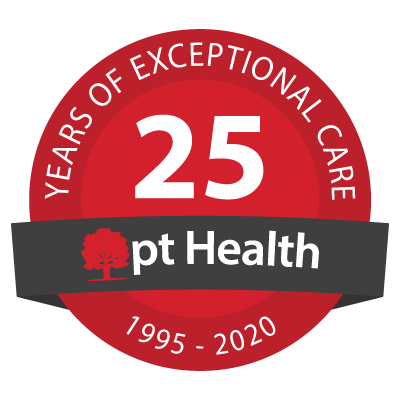 Flamborough Physiotherapy and Rehabilitation - pt Health
In-person treatment available
Virtual Care treatment available
Ontario Health Insurance Plan (OHIP)
Welcome!
Our clinic is open and offering in-person treatment in addition to virtual care. We look forward to seeing you soon.
"The staff were punctual, knowledgeable, friendly and easy to work with. They were responsible for turning an experience I was dreading into something (almost) pleasant. After my treatments I experienced a reduction in my pain. I have no hesitation in recommending pt Health Flamborough Physiotherapy and Rehabilitation. "
Catherine S - Google Review
"I have had a great experience working with all the people at pt Health. They are wonderful to work with. I have been recovering from a broken hip and a few months earlier I also had knee replacement surgery. Lovely professional individuals who have made my road back to health easier than I expected. Would highly recommend the facility to anyone. "
Allison L - Google Review
Our Clinic Team
Anna Michalski
Physiotherapist

Anna obtained her Master of Science Degree in Physical Therapy from the University of Toronto in 2009. She has gained invaluable experience working with a variety of post-surgical clients in outpatient and hospital settings. She has experience in the management of post-surgical orthopedic clients as well as those looking to regain strength and function following general or cardiac surgery.

Anna has worked closely with the University of Toronto and published research in the areas of frailty, respiratory, and cardiac practice. She is excited to help you regain your function and mobility so that you can return to the activities you enjoy. Anna has experience providing both in-person and virtual care.

Outside of work, she enjoys hiking, camping, and all types of outdoor adventures with her young family.
[View More]
"Staff is great and very helpful. Their methods helped ease my discomfort and will aid in my recuperation from the upcoming surgery in the future. Flexibility in appointment scheduling also helped. Thanks to all at pt Health. "
Bill B - Google Review
"This was a great experience as all staff were polite and helpful and my journey to recovery has progressed immensely. I also have home exercises with easy to follow instructions printed off for me. Thank you for everything. "
John M - Google Review