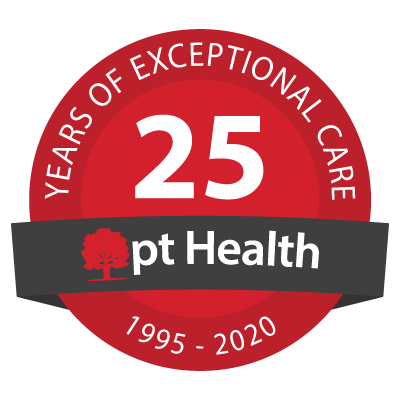 Forest Hills Physio Dartmouth - pt Health
We remain open Our clinic is open and offering in-person treatment in addition to Virtual Care during the heightened restrictions in Halifax Regional Municipality. Please note that enhanced measures are in place to ensure the health and safety of our patients and staff. View our virtual tour video so you know what to expect at your next clinic appointment.
In-person treatment available
Virtual Care treatment available
Welcome! Our clinic is open and offering in-person treatment in addition to Virtual Care services. Please note that enhanced measures are in place to ensure the health and safety of our patients and staff. View our virtual tour video so you know what to expect at your next appointment.
"Been visiting this location for several months now with a back injury, very pleased with the staff, who are all great, personable, and awesome. Makes me glad I chose to return quite frequently each week."
Dan Y - Google Review
"I enjoy my time with the group at pt Health, they are a great and kind group of people to have treatment done. They know what they are doing and they get the job done. Thanks for all the services."
Karen C - Google Review
Our Clinic Team
Katherine Nunn
Massage Therapist - RMT

Katherine Nunn – RMT Katherine Nunn is an RMT from the Eastern Shore of Nova Scotia. She graduated from ICT Northumberland College in 2016 with her diploma in Massage Therapy. Katherine enjoys treating postural dysfunction and helping people with chronic pain management; using a variation of myofascial release techniques, Swedish massage and giving homecare exercises/stretches. Katherine is also trained in cupping massage therapy. She has experience working with geriatric patients and is comfortable working with young children and pre/postnatal patients. Her hopes are to someday specialize in prenatal massage therapy. She believes in getting to the root cause of a patient's condition and working with other clinicians to create the best treatment plan possible for her patients. Katherine has most recently completed both the Arthritis Society's Getting a Grip on Arthritis® osteoarthritis and rheumatoid arthritis education program. In her spare time, Katherine enjoys being outdoors; spending time at the beach, or hiking in the woods.



Michael Chiasson
Physiotherapist

Michael's physiotherapy career started in 2014 as a kinesiologist for ptHealth at the Cole Harbour Integrated Health and Forest Hills locations. Spending 3 years with the company, Michael grew to love the healthcare field and chose to further his education by becoming a physiotherapist. He graduated from Dalhousie University in 2019 with a MSc. in Physiotherapy and is looking forward to working as a ptHealth team member again. Michael believes in using a client-centered approach, incorporating individualized exercise and education to help patients manage pain and recover while preventing future injuries. He hopes to pursue post-graduate courses in acupuncture and manual therapy to help improve the care he can provide to his clients. Outside of physiotherapy, Michael is an avid sports fan and athlete. He played competitive soccer and competed at a national level in sprint canoe/kayak. He continues to play soccer and when he is not being active, he enjoys spending time at home with his wife and their dog J-ze.



Rae-Leigh MacInnes
Massage Therapist - RMT, Reiki Master/teacher

Rae-Leigh is a graduate of The Canadian College of Massage & Hydrotherapy. Where she specialized in Neurological conditions and Sports Massage. She is passionate about healing the whole person, body, mind and spirit and has also completed her Reiki Master/Teacher level to be able to expand and offer even more to her patients. Rae-Leigh thrives on helping people to reach their rehabilitation goals and maintain their wellbeing on all levels. She is experienced in such techniques as Trigger Point Therapy, Deep Tissue massage, Myofascial release and Joint Mobilization. She has treated conditions such as Parkinson's, M.S, Fibromyalgia, Migraines, Whiplash, Plantar Fascitis, sprains, strains and many others. Rae-Leigh is a member of The Massage Therapists Association of Nova Scotia. Ask Rae-Leigh how she can assist you in your journey towards better health.



Deborah Dobbin
Physiotherapist

Deborah graduated from Acadia University in 1996 with a Bachelor of Physical Education with specialization in Exercise Studies. Deborah graduated from Dalhousie University in 1999 with a Bachelor of Science Physiotherapy. She began practicing Physiotherapy in 1999 and has worked in private practice previous to joining the team at Cole Harbour Integrated Health Services in 2005. In 2006 she received her Diploma in Advanced Manual and Manipulative Physiotherapy and was granted Fellowship with The Canadian Academy of Manipulative Therapy. Deborah, as a Physiotherapist who practices Advanced Manual and Manipulative Therapy, utilizes (hands on) physical treatment as a part of the rehabilitative process to restore normal movement and function of patients with neuro-musculoskeletal conditions.



Kelly Walters
Massage Therapist

Kelly Walters graduated from the Canadian College of Natural Medicine in 2002. She has worked extensively in a clinical setting. Kelly has taken courses in myofascial work level one, decompaction (osteopathic technique), cupping and MIPA (myofascial integrated postural alignment). She incorporates these new techniques into her practice with great results. When not working she is kept busy with her family usually enjoying the great outdoors.



Adele Boudreau
Chiropractor - BSc, DC

A native to Nova Scotia, Dr. Adele Boudreau graduated from Dalhousie University in 2009 with an Honours Bachelor of Science degree in Kinesiology. She went on to further her education at the Canadian Memorial Chiropractic College in Toronto where she went on to graduate in 2013 with "cum laude" and "clinic honours" distinctions. During her tenure at CMCC, she had clinic rotations at Anishnawbe Health Toronto and St. Michael?s Hospital, Toronto, where she demonstrated special interest in aboriginal health, community health initiatives and multidisciplinary approaches to health. Dr. Boudreau is fully bilingual, an Acupuncture provider, is certified in Thompson technique, Webster technique, Activator and Graston technique.



Chelsey Walker
Occupational Therapist - BScKin, MScOT, OT Reg (NS)

Chelsey is an energetic and passionate Occupational Therapist who strives to facilitate a comprehensive and creative approach to client centred healthcare. Using the latest in clinical knowledge, Chelsey aspires to provide the highest-quality care for her patients to improve their quality of life, regain and maintain independence with their activities, and encourage them to be active participants in their care. Chelsey's clinical interests include hand therapy, return to work, ergonomics, chronic pain management, and adaptive equipment. Chelsey is keen about continued education and is always looking for opportunities to gain additional training and certifications. Chelsey holds a Master of Science in Occupational Therapy from Dalhousie University and a Bachelor of Science in Kinesiology from the University of New Brunswick. When Chelsey is not working you can find her playing volleyball and golf, baking, or spending time with family and friends.



Ryan George
Occupational Therapist - MSc(OT), BKin (Hons.)

Ryan is a passionate and energetic Occupational Therapist who strives to maximize individual's full potential through use of evidence-based practice and holistic treatment approaches. Ryan believes that using the latest in clinical knowledge and letting clients feel empowered in their own health will provide the best possible outcomes to reach their dreams/goals and participate in what is meaningful for them. Prior moving to Halifax to become an occupational therapist, he was highly experienced in office ergonomic assessments/education to ensure joint health and prevent work-related musculoskeletal injuries through his exercise science background. Ryan's other clinical interests include upper extremity rehabilitation, durable medical equipment prescription, return-to-work and chronic pain management. Ryan holds a master's degree in Occupational Therapy from Dalhousie University and a Bachelor of Kinesiology degree with honors and co-operate experience from Memorial University of Newfoundland. Ryan is also certified in a variety of continuing education courses including hand therapy and telehealth services and continues to make gains in his professional development. When Ryan is not working, you can find him in the pool, going to spin classes and hiking throughout Nova Scotia.


[View More]