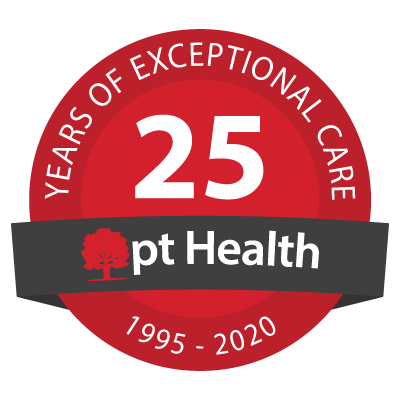 Glover Physiotherapy And Hand Clinic - pt Health
Welcome!
Our clinic is open and offering in-person treatment in addition to virtual care. We look forward to seeing you soon.
"Very caring, right from the receptionist who makes you feel at ease right away. I would give Glover Physiotherapy 5 stars and more! I thank this clinic from the bottom of my heart for being there for me when I was so ill."
Jade V - Google Review
"The treatment & results were excellent! They are very personable and provide a great experience. I recently had surgery on my other shoulder and have returned to Glover Physio for treatment again. I highly recommend them."
Jeff A - Google Review
Our Clinic Team
Glenn Hendricks
Physiotherapist

Glenn graduated with degrees in Physical Therapy from The University of British Columbia (2000) and a Bachelor of Science degree from Simon Fraser University. Additionally he holds certificates in Health and Fitness Studies and the Liberal Arts. He is a function based physiotherapist who uses assessment tools and movement strategies to help people reach their goals. His treatment philosophy involves identifying and correcting underlying muscle imbalances and postural dysfunctions then developing proper movement patterns through specific exercise correction. Treatment often integrates manual therapy, exercise prescription and client education.

Glenn takes a special interest in physiotherapy for the arts and recognizes that artists such as dancers, actors and musicians use their bodies just as athletes do to convey the nature of their art. Outside of the world of physiotherapy, Glenn raced bikes competitively for over 10 years and has been involved with horses from a very young age. Working with these animals has given Glenn insight into the realm of non verbal communication, gesture and meaning, and the ability to see situations from another perspective.

Daizy Tiquio
Physiotherapist

Daizy graduated from Emilio Aguinaldo College in the Philippines with a Bachelor's degree in Physiotherapy. She has particular interest in geriatric, pediatric and musculoskeletal rehabilitation. Daizy first joined pt Health in 2013 and currently works as a full-time physiotherapist.

In her spare time, Daizy enjoys watching movies, cooking, travelling and being outdoors.

Babayinka Oluteye
Physiotherapist

Yinka is a physiotherapist with a passion for human movement and it's impairments. He has a Bachelor's degree in Physiotherapy from the University of Ibadan, Nigeria. Yinka has experience working with athletes of all levels; recreational, elite, performance and all levels of musculoskeletal injuries and also vestibular impairments.

Yinka has taken training for various types of impairments (McKenzie principles for spinal impairments, Vestibular rehab course, Twist Conditioning, Lower extremity injury biomechanics) and is presently enrolled for a distance Master's degree in Sports Physiotherapy at the University of Bath, England. He has also worked as head of Strength Agility and Quickness program for Chilliwack Football Club between 2011-2015.

Yinka has a passion for watching sports, volunteering for Canada Soccer during international events like the FIFA Women's World Cup, Vancouver 2015 and international soccer games and coaching soccer in spare time.

Jimmy Rillo
Physiotherapist

Jimmy's passion in the field of Health Sciences has helped him to find a career as a healthcare provider. His education and professional timeline started in year 2001 when he graduated with a degree in Bachelor of Science in Physical Therapy in the Philippines. Jimmy initially worked as Community Physiotherapist and treated young clients with cerebral palsy, muscular dystrophy; older individuals with stroke, brain injury, spinal cord injury, fracture, arthritis and other musculoskeletal injuries. Jimmy had the chance to explore his profession in Orthopaedics as a result of working in private and out-patient clinics in the Middle East before migrating to Canada in 2010.

Through the Prior Learning and Assessment Recognition (PLAR) done on 2011-2012, Jimmy completed the bridging program for internationally-trained Physiotherapist at Thompson Rivers University and Ryerson University. Jimmy obtained his Physiotherapist license after he passed the Physiotherapy Competency Exam under Canadian Alliance of Physiotherapy Regulators in British Columbia, Canada on 2014. Also earlier of the same year, Jimmy got his license after taking National Physical Therapy Examination for the state of New York, United States. Currently,

Jimmy is a Registered Physiotherapist in good standing with the College of Physical Therapist of British Columbia, a member of Physiotherapy Association of British Columbia and Canadian Physiotherapy Association (Orthopaedic Division and Private Practice). He finished K-Taping Pro training, certificate in Level 1 Lumbopelvic Spine I (NAIOMT), and Non-Thermal Laser Therapy course. Jimmy continually studies additional skills such as Acupuncture/Dry Needling, Vestibular and Concussion Rehab because for him working in healthcare is an endless learning experience.

Cameron Van Oort
Occupational Therapist

Cameron graduated from McMaster University with his undergraduate degree in Kinesiology, eventually going on to complete his Master's degree in Occupational Therapy from Western University. During his schooling, Cameron gained clinical experience at the Hand and Upper Limb Centre in London, Ontario and subsequently worked in private practice at the Hand and Upper Limb Clinic in Thunder Bay. He also received his Master's degree in Kinesiology at University of Saskatchewan, developing an understanding of research and has published in a variety of peer-reviewed journals.

Cameron has developed a strong passion for treating the upper limb and is always looking to advance his knowledge base. Most recently, he completed a year long fellowship training program in the upper extremity to further his knowledge and skills, which lead to him obtaining his Certified Hand Therapist designation. He also holds a variety of continuing education credits with regards to splinting, wound care and treatment of the upper extremity. He strongly believes that thorough and detailed patient education leads to optimal long-term outcomes and decreased recurrence rates.

Aside from work, Cameron enjoys being active outside in a variety of activities including climbing, tennis, squash, hockey and snowboarding.

Arie Schuurman
Physiotherapist

Oluwafemi (Femi) Ojagbule
Physiotherapist

Femi completed his Bachelor of Physiotherapy in 2005 and went on to complete a Master's degree in Sport and Exercise Science in London, England. Femi has experience in post-op orthopaedic cases such as back pain, joint replacement, and rotator cuff repairs. He continues to pursue further education and is currently working on his Orthopaedic Division Levels and McKenzie Method courses.

Amit Chauhan
Kinesiologist

Amit is a Kinesiology graduate from the University of the Fraser Valley. His passion for human kinetics stemmed from playing competitive ice hockey for 10+ years. He has experience working with sports athletes, ICBC, WCB, and post-surgical patients. One of his focuses pertaining to rehabilitation is strength and training.

Outside of work he enjoys hockey, squash, and weight training. Amit speaks English and Punjab.

Hilda Boer
Physiotherapist

Hilda graduated as a Physiotherapist in Brazil, where she worked for several years, before coming to Canada. After living and working in the South Okanagan, she settled in the Fraser Valley. With over 20 years of experience working as a Physiotherapist and treating a wide range of injuries from orthopedics, neurology and the senior population, Hilda brings a wealth of experience using a variety of manual treatments, dry needling, vestibular techniques among other skills.

For best results, she encourages her clients to be pro-active in their rehabilitation, learning about their injuries, how to manage symptoms and adhering to a personalized exercise program aimed to correct muscle imbalances and improve posture for clients to achieve their personal goals and enjoyment of life.

When not working, she enjoys spending time with her family, in the community and staying fit.

Shanay Valk
Registered Massage Therapist

Shanay graduated from the 3,200-hour Massage Therapy program at Langara College in 2016. She loves the diversity of massage therapy and all that it has to offer. Shanay enjoys meeting people from all walks of life and is fascinated by people in general and she believes your life tells a tale through your body by injuries, posture and your demeanour.

Previously, Shanay owned and operated her own clinic "the Pink Ruca", but she has decided to take a step back to focus on client-centered care. She is knowledgeable in pregnancy massage, both prenatal and post-natal. She also has experience treating a wide variety of ailments, auto-immune diseases, neurological disorders, spinal cord injuries, strains, sprains, athletes, dancers, and children.

Shanay loves everything that massage therapy can offer and has decided not to focus on one specific area but to experience it all.
[View More]
"Awesome place highly recommend! Friendly, experienced and professional. Awesome hours for working people."
Lucinda A - Google Review
"Congenial, on time, great staff, e-mail confirmation regarding appointments is appreciated. Look forward to every session."
Karen H - Google Review