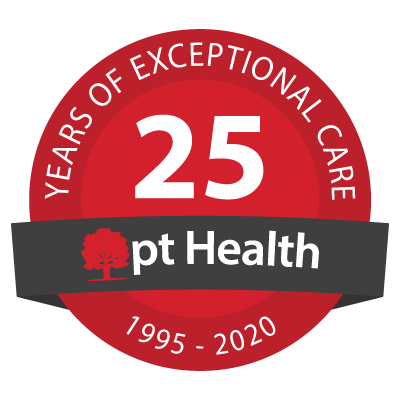 Greenwood Physiotherapy - pt Health
In-person treatment available
Virtual Care treatment available
Welcome!
Our clinic is open and offering In-person treatment in addition to Virtual Care service. Please note that enhanced measures are in place to ensure the health and safety of our patients and staff. View our virtual tour video so you know what to expect at your next clinic appointment.
"Wonderful staff, professional treatments. I was a patient for 3 different injuries and pt Health enabled me to return to work from each one. I would recommend the Greenwood pt Health to my family and friends for treatment of shoulder and knee issues."
Reginald B - Google Review
"Over the years I have required the services of the physio clinic several times. It has always been my experience to receive excellent service and professional care from the friendly staff. Service is always on time and convenient to my schedule. Thanks!"
Wendy B - Google Review
Our Clinic Team
Heather Parker
Physiotherapist - BSc.PT

Heather Parker is a 'homegrown' valley girl working as a Physiotherapist and Clinical Team Manager at Greenwood Physiotherapy for 15 + years. Heather graduated from Dalhousie University from the School of Physiotherapy in 1996. She has taken multiple continuing education courses in manual therapy, exercise, acupuncture, Fit Fore Golf, and vestibular rehab. Heather is active in her local branch of The Canadian Physiotherapy Association. Heather has most recently completed both the Arthritis Society's Getting a Grip on Arthritis® osteoarthritis and rheumatoid arthritis education program.



Jeff Cowley
Chiropractor - Doctor of Chiropractic, DC

Jeff Cowley is a chiropractor who has recently returned home to Canada from a long stint in the United Kingdom. After earning a degree in history at the University of Alberta, he earned his doctorate of chiropractic at the University of Western States in Portland, Oregon. He's been practicing for more than a decade since then, mostly in Aberdeen, Scotland specializing in treating sports and occupational injuries. Jeff also enjoyed working at a number of multinational corporations in the oil and gas industry in Aberdeen where he introduced the use of onsite chiropractic care. He is a member of the Canadian Chiropractic Association, the European Chiropractic Union and the Institute for Ergonomics. When he is not working he enjoys outdoor pursuits such as rock climbing and mountain biking and exploring Nova Scotia with his family and labrador.



Laura Mosher
Massage Therapist - RMT

Greenwood, NS is the hometown of Laura where she continues to work and reside. She graduated from Northumberland College in 2003 and has been a member of the pt Health team since 2009. Laura has additional education in Level 1,2 and Advanced Reiki, Advanced Trigger Point Therapy and is preparing to further her education, this summer, with Craniosacral Therapy training. Prior to working with pt Health, Laura had experience working with Naturopathic clinics, acupuncture clinics, world class spas and pretty much everything in between. When not at work, Laura enjoys music, writing, reading and roller derby.



Calvin Mills
Physiotherapist - BKin., MSc.PT-Resident

Calvin is a passionate and motivated therapist who believes that movement is the key to living a healthy and successful life. Through empowering the patient to understand proper movement, Calvin believes patients can learn the tools to not only treat their injuries, but can decrease the chances of them happening again. Calvin treats any patients who are motivated to rehabilitate their injuries and focuses on teaching the patient to take control of their injury. Calvin's interests include prevention and rehabilitation of athletic injuries, hip, knee and ankle biomechanics and using exercise as medicine. Calvin graduated from Dalhousie University with a Masters in Science- Physiotherapy and also holds a Bachelor of Kinesiology degree from Acadia University. Throughout Calvin's post secondary experience, he has provided athletic trainer coverage for many sporting teams and organizations in Nova Scotia such as: Acadia Men's Basketball, UKC Women's Volleyball and Soccer Nova Scotia.



Aralee Foote
Massage Therapist - RMT

Hello, my name is Aralee Foote. I am an RMT at PT Health. I have had three years of training to become an RMT. Some of my hobbies include writing, art, and making jewelry. I like being an RMT because I like to see the progress that people make when I am treating them. It makes me really happy to hear people tell me that the work I am doing is helping them get back to a normal life. Massage therapy is a great way to help people heal faster and reduce pain. I also really like working with the PT Health team because they are a lot of fun and they make you feel right at home. They are also always there for you if ever you need help, it is a great atmosphere to work in. I hope that everyone who comes through PT Health has a great experience and heals well.



Nusiaba Nur
Occupational Therapist - BSc kin, MSc Occupational Therapy (candidate)

Nusaiba holds a Master's degree in Occupational Therapy from Dalhousie University after graduating in 2019 with a Bachelor of Science in Kinesiology where she obtained certificates in disability management and intercultural communication. She is a member of the Canadian Association of Occupational therapists and the College of Occupational Therapists of Nova Scotia, with clinical interests in return to activities of daily living and work, as well as meaningful occupation and behavioral activation. Nusaiba is an occupational therapist who strives to implement a reflective, trauma informed, and resilience-based practice and is actively pursuing further education in functional and cognitive assessment and intervention.



Christa Crossman
Patient Coordinator

Born in Amherst N.S, she spent most of her childhood in the Yukon. She graduated from NSCC, Middleton with a diploma in Human Services. Christa started with ptHealth 10 years ago in our Berwick clinic. She transferred to our Greenwood clinic in 2009 and the rest is history! Christa is well versed in WCB and MVC procedures, and enjoys the diversity in clients in the Greenwood clinic. In her spare time, Christa keeps busy with her two children and enjoys travelling, camping, and spending time with family and friends.



Darlene Green
Patient Coordinator

Darlene was born in Annapolis Royal but has lived in, or traveled through, every province in this great country. She graduated from NSCC Institute of Technology with a Diploma in Computer Programming. Darlene also has her Honours Certificate from the Toronto School of Business in Microcomputer Business Applications with Accounting. Darlene has experience in varied administrative positions and really enjoys the interaction with the clients at ptHealth. She calls lake Paul home and when she is not working Darlene enjoys: gardening, playing darts and shopping!



Meaghan Vaughan
Physiotherapy Assistant - PTA

Hello my name is Meaghan Vaughan, and I am from Kentville, NS. I am a recent graduate from the OTA/PTA program from NSCC in 2020. When choosing this program as my career, it came easy. Since I was a little girl I knew I wanted to help people physically. I knew I wanted to help individuals with rehabilitating so they are able to live their lives happier and healthier. When not working you can find me walking my dog, Sadie, running, at the cottage/camper, or enjoying time with my friends and family. I'm excited to start my career at PT Health.



Sydney Healey
Physiotherapy Assistant - BSc.Kin

Sydney is from Newfoundland and Labrador, and moved to Nova Scotia in 2017 to go to school. She is a recent graduate from the Kinesiology program at Acadia University in Wolfville, where she volunteered for 2 years as a Student Therapist for varsity teams. Sydney's role at ptHealth is to follow the lead of the head physiotherapist and create return to work plans for clients. In her free time, Sydney enjoys the outdoors, reading and playing with her bunny Velvet.



Rebecca Shaw
Registered Counselling Therapist - BA, BSW, RSW

Rebecca joined the pt Health team after completing her Master of Social Work degree at Waterloo University in 2021, with a focus on physical and mental health. She previously completed her Bachelor of Arts and her Bachelor of Social Work at St. Thomas University. Prior to joining our team, Rebecca worked with the Department of Community Services (Nova Scotia) and completed practicums with Prison Fellowship Canada, SchoolsPlus and Community Services (PEI). She also has completed training in self-regulation, trauma-informed care, and conflict management. Rebecca's focuses for counselling include loss and grief, anxiety, trauma, and change adaptation through strengths-based and solution-focused approach. Outside of the clinic, Rebecca can often be found hiking or in her kitchen baking.


[View More]
"I have had an excellent experience with the staff at pt Health. They are all professional, extremely helpful and friendly. I hurt my back at work and I am well on the road to recovery thanks to pt Health."
Joclyn B - Google Review
"Staff worked hard to fit me in on short notice. Very accommodating. Treatment was very effective. Staff had time to answer my questions and to provide home exercises to promote healing."
Karen M - Google Review