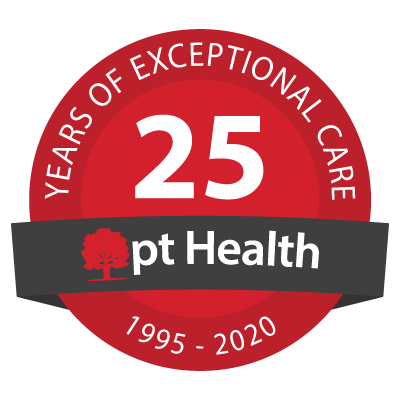 In Motion Physiotherapy and Wellness White Rock - pt Health
In-person treatment available
Virtual Care treatment available
Welcome!
Our clinic is open and offering in-person treatment as well as virtual care. Please note that as a provider of community-based allied health care, masks are required to be worn at all times while inside our location.
View our virtual tour video to learn more about the enhanced measures in place so you know what to expect at your next clinic appointment.
"Really great service, very humble and considerate of the customers. The people there are super nice and ever since I started going there I can really feel the relief. It has helped my back so much since I have to drive at least 3 hours every day...really love it!"
Ailish C - Google Review
"My first experience with an RMT and I will say it certainly makes a huge difference in working towards recovery. Everyone at this firm are helpful and respect that we may be grumpy if we are in pain. Look forward to my next stage of physio. Thank you all!"
Bonnie R - Google Review
Our Clinic Team
Adrian Gafton
Massage Therapist - RMT

Adrian is a proficient massage therapist who believes in the effectiveness of complementary manual therapy and remedial exercise. In his practice Adrian addresses conditions such as headaches, stress, circulatory deficiencies, myofascial pain, muscle tension, sport and overuse injuries, postural dysfunction, gastrointestinal as well as respiratory concerns. Adrian employs a variety of techniques during his treatments including; petrissage, myofascial trigger point release, frictions, passive and active stretches, PNF and direct and indirect fascial modalities. Using his knowledge of the musculo-skeletal anatomy Adrian strives to deliver the best quality care for his patients; he aims not only to treat the symptoms but eliminate the root cause of pain and discomfort while empowering and educating his clients about the human body. Adrian Gafton holds a Diploma in Massage Therapy from West Coast College of Massage Therapy and is a Registered Massage Therapist with the College of Massage Therapists of British Columbia as well as a member of Registered Massage Therapists Association of British Columbia.



Deepak Rohilla
Physiotherapist - CGIMS

Deepak Rohilla did his Bachelor of Physiotherapy from MD University, India, followed by Master of physiotherapy- Orthopaedics & Manual Therapy from Manipal University, India. He also completed Certificate in Yoga from New Delhi, India. He has undertaken several training programs at prestigious institutes like Army Sports Institute, Army Paraplegia Rehabilitation Centre (India), YMCA (India), Postgraduate Institute of Medical Sciences(India) and participated in various workshops and conferences. Deepak has most recently completed both the Arthritis Society's Getting a Grip on Arthritis® osteoarthritis and rheumatoid arthritis education program. He has more than 8 years of experience in dealing with clients with pain, functional limitations & dysfunction, motor vehicle accidents (ICBC), work-related injuries (Work Safe BC), pre & post-surgical rehabilitation. His expertise involves manual therapy using joint mobilization, manipulations, soft tissue mobilization, neural mobilization, Muscle energy techniques, myofascial release techniques, trigger point release. He focuses on using evidence-based approach.



Mandeep Grewal
Physiotherapist - Bachelor of physiotherapy

Speaks: English, Hindi, Punjab

Mandeep graduated from the University Baba Farid University of Health Sciences with a Bachelors of physiotherapy. In her practice, Mandeep works with patients of all ages, helping them attain their rehabilitation goals. She has clinical experience treating patients with orthopaedic, neurological, and cardiorespiratory conditions. Mandeep has gone on to complete additional courses including Maitland manual mobilization technique and vestibular rehabilitation. She believes in patient-focused care that not only treats conditions but also educates patients to prevent future injuries.



Colin McKay
Chiropractor

Dr. Colin McKay did his undergraduate work at Western Washington University, Bellingham, Washington, and completed his doctorate in Chiropractic at Western States Chiropractic College, Portland, Oregon. Dr. McKay has been in practice in Richmond since 1997 and in White Rock since 2004. In Addition to his many years of clinical experience, he has an extensive background in sports and sports related injuries. Dr. McKay uses diversified Chiropractic techniques and is fully credentialed in Active Release Techniques (ART) and Graston Techniques. Dr. McKay has completed several marathons, half marathons, triathlons and recently completed his third Ironman.



Elyas Matilda
Massage Therapist

Ely Matilda is a Registered Massage Therapist and a 2009 graduate of the West Coast College of Massage Therapy. Since then he has gained considerable clinical experience treating a wide range of patients, with a focus on sports injuries and chronic pain, and especially the treatment and rehabilitation of injuries or pain syndromes sustained in relation to motor vehicle accidents. Ely is proficient at quickly accessing the origin and effects of an injury in order to apply appropriate treatment techniques and home care to effectively facilitate the healing process. Ely has volunteered his time and expertise at local events, such as BC provincial soccer cup tournaments and the RBC GranFondo Whistler cycling event.



Emma Briscoe
Massage Therapist

Emma Briscoe graduated from the West Coast College of Massage Therapy in 2008. She is passionate about health and wellness and is deeply committed to sharing her knowledge and experience with others. She treats a wide range of patients and each treatment is dependant on individual needs. She assists patients in the relief of stress related tension, reducing chronic pain, and musculoskeletal dysfunction. Emma will ensure that her patients have the knowledge needed through homecare to aidin their recovery. She has a healing touch that is deep enough to alleviate sore muscles yet gentle enough to bring complete relaxation of the mind and body.



Jessie Hartley
Patient Coordinator
[View More]
"I am incredibly thankful for In Motion Physiotherapy - White Rock. Everyone on the team is so friendly and helpful. They have given me hope and cheered me on during my recovery. I highly recommend In Motion Physio in White Rock for anyone needing physiotherapy - you will be in the right hands!"
Jessie K - Google Review
"The In Motion Physio and Wellness Centre has been an overwhelmingly positive experience. Staff are kind and friendly, recovery methods are easy to understand and usually painless. Within my first appointment, I noticed significant improvement of my injury. I would highly recommend anyone seeking physiotherapy to get their treatment here."
Crystal-June K - Google Review