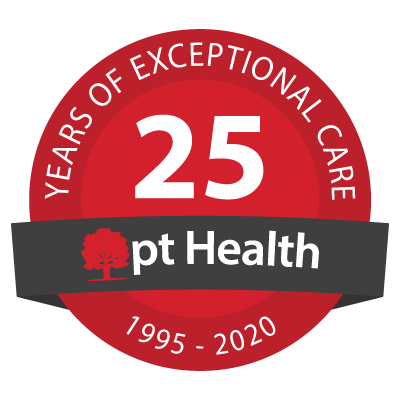 pt Health - North Brampton
In-person treatment available
Virtual Care treatment available
Ontario Health Insurance Plan (OHIP)
Welcome!
Our clinic is open and offering in-person treatment in addition to virtual care. We look forward to seeing you soon.
"Excellent care providers, punctual physiotherapists, very knowledgeable office staff, relaxing environment, cater to patient's needs. "
Carm C - Google Review
"Excellent services provided by the team at pt Healthcare Solutions. Will definitely recommend to anyone who wishes to seek physio or massage. "
Anne L - Google Review
Our Clinic Team
Elizabeth Abraham
Physiotherapist

Elizabeth is a dedicated, caring and passionate physiotherapist with more than ten years of experience in the rehabilitation field. She completed her Bachelor's degree in Physiotherapy in 2003 from Mahatma Gandhi University in India. She has been working in Canada as registered physiotherapist since 2014.

Elizabeth has a special interest in treating orthopaedic cases. Her treatment approach is patient-centered, goal -oriented and aimed at improving patients functional independence and quality of life. It includes a collaboration of client-specific exercise prescription, manual therapy, soft tissue techniques, modalities and education. She is an enthusiastic learner and she enriches her knowledge by continuing her training in various physiotherapy courses. Her certifications include manual therapy with a specilization in the Mulligan concept, McKenzie techniques and K taping.

In her free time, Elizabeth enjoys listening to music, gardening and spending time with family and friends.

Nithin Thomas
Physiotherapy Resident

Nithin graduated with a Master's degree in Physiotherapy in 2013. He completed his Bachelor's degree in Physiotherapy in 2011 from India. With his keen interest in sports rehabilitation, Nithin did his Kinesio Taping certification as well.

Nithin has vast experience working with various national and international sports teams - he was attached to a foremost sports rehabilitation facility in Kuwait for four years. He is passionate about working with seniors and is especially interested in balance and fall prevention programs. He is also keen in rehabilitation of joint replacement surgeries.

Other than being an avid reader, he is an outdoor enthusiast. When not working, he can be seen biking, hiking, kayaking, or camping outdoors.

Ashvina Desai
Physiotherapy Assistant

Oleg Sharovatov
Registered Massage Therapist

Oleg graduated from Kikkawa College in 2005. He has experience assessing and treating a variety of musculoskeletal disorders as well as sports injuries. He has studied osteopathy at the Southern Ontario College of Osteopathy. He provides Osteopathy and Acupuncture treatments.

Deja Ladd
Physiotherapy Assistant

Aaron Hsueh
Resident Physiotherapist

Aaron obtained his Master of Science in Physiotherapy (MScPT) degree from Queen's University in Kingston. Prior to that, he obtained his BSc from the University of Western Ontario.

Throughout his physiotherapy education and career, Aaron gained experience and expertise working with a variety of clients, ranging from young athletes, weekend warriors, MVA clients, to senior population, treating a wide range of musculoskeletal and neurological conditions. Moreover, Aaron has developed a broad repertoire of manual therapy and exercise prescription skills, and has helped countless clients to reach their goals, whether it is pain reduction, return to activities of daily living, return to work, or return to sports.

In his free time, Aaron enjoys a good podcast, sci-fi movies, working out, and some good sushi.

Amandeep Sahota
Physiotherapist

Amandeep Sahota has completed her Bachelor's degree in Physiotherapy from Baba Farid University of Health Sciences in India, and has seven years of international healthcare experience working with various patient populations suffering from neurological, musculoskeletal, sports injuries, and post-surgical conditions. She has been practicing as a registered physiotherapist in Ontario since 2018 and is always keen to learn new things and updating her clinical knowledge through continuous education courses to improve her professional skills. She has completed training in kinesiotaping, and concussion management.

Amandeep believes in an active approach of treatment focusing on functional goals of the patients, to maximize their function. She has experience working with patients suffering from motor vehicles accidents, work related injuries, sports injuries, and long-term disabilities. Amandeep encourages her patients to take an active role in their health care.

In her spare time, she loves to read books, and spend time in nature.
[View More]