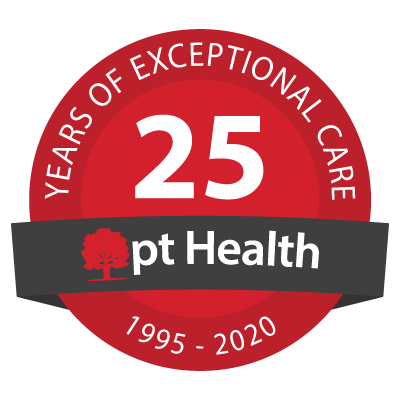 Russell Lake Physiotherapy Dartmouth - pt Health
Welcome!
Our clinic is open and offering in-person treatment in addition to virtual care. We look forward to seeing you soon.
Our Clinic Team
Ryan George


Ryan is a passionate and energetic Occupational Therapist who strives to maximize individual's full potential through use of evidence-based practice and holistic treatment approaches. Ryan believes that using the latest in clinical knowledge and letting clients feel empowered in their own health will provide the best possible outcomes to reach their dreams/goals and participate in what is meaningful for them.

Prior moving to Halifax to become an occupational therapist, he was highly experienced in office ergonomic assessments/education to ensure joint health and prevent work-related musculoskeletal injuries through his exercise science background. Ryan's other clinical interests include upper extremity rehabilitation, durable medical equipment prescription, return-to-work and chronic pain management.

Ryan holds a Master's degree in Occupational Therapy from Dalhousie University and a Bachelor of Kinesiology degree with honors and co-operate experience from Memorial University of Newfoundland. Ryan is also certified in a variety of continuing education courses including hand therapy and telehealth services and continues to make gains in his professional development. When Ryan is not working, you can find him in the pool, going to spin classes and hiking throughout Nova Scotia.

Aimee Cooke
Clinic Director

Amelia Scott
Physiotherapist

Amber Giesbrecht
Registered Massage Therapist

Amber Geisbrecht is a Registered Massage Therapist at pt Health. She grew up in Winnipeg, and completed her 2200 hour course from The Massage Therapy College of Manitoba in January of 2009. Amber enjoys working with sports injuries, among many other things, but a special highlight in her career was working with the Winnipeg Blue Bombers. She was able to gain significant experience working with sports-related injuries during this time and met some fabulous football players too!

Amber has taken several continuing education classes, and treats all areas of the body for injury, maintenance, or to simply just feel great! On her spare time, she enjoys snowboarding, playing soccer, and traveling.

Kelly Walters
Registered Massage Therapist

Kelly Walters graduated from the Canadian College of Natural Medicine in 2002. She has worked extensively in a clinical setting. Kelly has taken courses in myofascial work level one, decompaction (osteopathic technique), cupping and MIPA (myofascial integrated postural alignment). She incorporates these new techniques into her practice with great results.

When not working she is kept busy with her family usually enjoying the great outdoors.

Emily Jang
Chiropractor

Dr. Emily Jang graduated from Queen's University with a Bachelor of Arts Honours degree in Health Studies. She obtained her Doctor of Chiropractic degree from Canadian Memorial Chiropractic College. Dr. Jang has extensive clinical experience in a variety of musculoskeletal disorders with special interests in geriatrics, work-related injuries, and pre/post-pregnancy care.

In addition to her gentle manual chiropractic treatments, Dr. Jang also incorporates individualized, tailored rehabilitation programs specific to each patient's needs and requirements.

Christina Connolly
Physiotherapist

Christina Connolly is a Physiotherapist from Dartmouth, Nova Scotia. Christina graduated from Dalhousie University with a Bachelor of Kinesiology in 2004, and a Master of Physiotherapy in 2008. Christina's focus is on Orthopaedics, Workplace Injury, and Motor Vehicle Accident rehab.

She has taken many courses over the years such as level 2 Upper and Lower Quadrant Manual Therapy, Baraham Jam, Thorasic Spine Part I, and II, Shirley Sahrmann Level 1, 2 Diagnosis and Treatment of Movement Impairment Syndromes, Post Concussion Management, and Mobilization of the Nervous System. Christina has most recently completed both the Arthritis Society's Getting a Grip on Arthritis® osteoarthritis and rheumatoid arthritis education program. Christina believes in health promotion through living an active healthy lifestyle.

In her spare time, you can often find Christina being active through weight lifting, running, hiking, and gardening.

Rebecca Shaw


Rebecca began working with pt Health after completing her Master of Social Work degree in 2021 through Waterloo University, with a focus on the connection between physical and mental health. Rebecca previously completed her Bachelor of Arts, then her Bachelor of Social Work through St. Thomas University.

Prior to joining the pt Health team, Rebecca worked with Department of Community Services (Nova Scotia) and completed practicums with Prison Fellowship Canada, SchoolsPlus, and Community Services (PEI). She has also completed training in self-regulation, trauma-informed care, and conflict management. Her focuses for counselling include loss and grief, anxiety, trauma, and change adaptation through a strengths-based and solution focused approach.

Laura Baikie
Physiotherapist

Laura has had a long-time interest in health and wellness, she has wanted to be a physiotherapist since she was just a teenager. During her Kinesiology degree at Dalhousie University, she gained experience working as a physiotherapy assistant, a strength and conditioning coach and a fitness instructor. Laura recently graduated from McGill University with a MSc in Physiotherapy where she worked with the varsity women's soccer team.

Laura's philosophy is to use a client-centered approach to create a meaningful rehabilitation experience with patients. She aims to work with patients to address health and wellness concerns wholly and efficiently.

Laura takes special interest in back and neck pain as she has her Part A certification in McKenzie method of Mechanical Diagnosis and Treatment. As well she takes interest in sport injuries and chronic pain for people of all ages. Laura looks forward to becoming part of the community and helping others reach their goals.

Samara Shepard


Samara Shepard is a Registered Massage Therapist who graduated from the Canadian College of Massage and Hydrotherapy in 2022. She has participated in many specialty clinics during her time of study such as, Invisible Illness, Arthritis, Pregnancy and Sports. These experiences led her to take special interest in massage and mental health. Samara is very passionate about the environment.

In her free time she enjoys gardening and participating in community clean ups. She also enjoys yoga and music.
[View More]