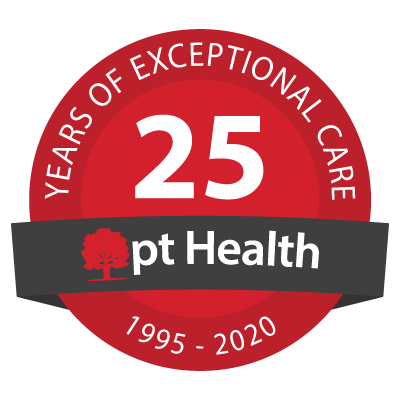 Russell Lake Physiotherapy Dartmouth - pt Health
Notice: We are open for In-Person treatment. To ensure the health and safety of our patients and staff, we have made a number of changes to the way our clinics operate and have implemented enhanced measures to ensure the health and safety of our patients and staff.
Click here to learn more about the S.A.F.E.R. approach.
To schedule an In-Person or Virtual Care appointment, please give us a call at 1-888-314-2726 or book an appointment online.
In response to COVID-19, pt Health is doing its part to help protect our patients and staff by modifying the availability of services at our clinics. Please call the clinic to seek advice or rebook services.
[Read More]
"After injuring my shoulder a few months ago my Doctor recommended physio. Fantastic job getting me on track to recovery. The staff is great - professional and personable. I would highly recommend this clinic."
Jay R - Google Review
"The team at pt Health in Russell Lake is professional, knowledgeable, and friendly. The treatment plan worked great and significantly sped up my recovery time from a knee issue. I could not be happier with my experience!"
Luke F - Google Review
Our Clinic Team
Aimee Cooke
Physiotherapist - BScPT

Aimee is originally from Cole Harbour, NS and graduated from Dalhousie University with a Bachelor of Science in Kinesiology in 2002 and Bachelor Science in Physiotherapy in 2006. Aimee began working in private practice in 2006 and joined the Integrated Health Services and ptHealth team in 2007. She currently practices and manages ptHealth and Wellness Russell Lake while managing EP Physio, ptHealth Porters Lake, ptHealth Gladstone and Berwick Physiotherapy ptHealth. She has furthered her training in areas of Acupuncture, manual techniques, and exercise focused therapy to help her clients return their normal function and quality of life. Aimee believes in an active and healthy lifestyle. She enjoys skiing, running, biking, snowshoeing, swimming and weight training outside of work.



Christina Connolly
Physiotherapist - BScK, MScPT

Christina Connolly is a Physiotherapist from Dartmouth, Nova Scotia. Christina graduated from Dalhousie University with a Bachelors of Kinesiology in 2004, and a Masters of Physiotherapy in 2008. Christina's focus is on Orthopaedics, Workplace Injury, and Motor Vehicle Accident rehab. She has taken many courses over the years such as level 2 Upper and Lower Quadrant Manual Therapy, Baraham Jam, Thorasic Spine Part I, and II, Shirley Sahrmann Level 1, 2 Diagnosis and Treatment of Movement Impairment Syndromes, Post Concussion Management, and Mobilization of the Nervous System. Christina has most recently completed both the Arthritis Society's Getting a Grip on Arthritis® osteoarthritis and rheumatoid arthritis education program. Christina believes in health promotion through living an active healthy lifestyle. In her spare time, you can often find Christina being active through weight lifting, running, hiking, and gardening.



Emily Jang
Chiropractor

Dr. Emily Jang graduated from Queens University with a Bachelor of Arts Honours degree in Health Studies. She obtained her Doctor of Chiropractic degree from Canadian Memorial Chiropractic College. Dr. Jang has extensive clinical experience in a variety of musculoskeletal disorders with special interests in geriatrics, work-related injuries, and pre/post-pregnancy care. In addition to her gentle manual chiropractic treatments, Dr. Jang also incorporates individualized, tailored rehabilitation programs specific to each patient?s needs and requirements.



Kelly Walters
Massage Therapist

Kelly Walters graduated from the Canadian College of Natural Medicine in 2002. She has worked extensively in a clinical setting. Kelly has taken courses in myofascial work level one, decompaction (osteopathic technique), cupping and MIPA (myofascial integrated postural alignment). She incorporates these new techniques into her practice with great results. When not working she is kept busy with her family usually enjoying the great outdoors.



Katherine Nunn
Massage Therapist - RMT

Katherine Nunn – RMT Katherine Nunn is an RMT from the Eastern Shore of Nova Scotia. She graduated from ICT Northumberland College in 2016 with her diploma in Massage Therapy. Katherine enjoys treating postural dysfunction and helping people with chronic pain management; using a variation of myofascial release techniques, Swedish massage and giving homecare exercises/stretches. Katherine is also trained in cupping massage therapy. She has experience working with geriatric patients and is comfortable working with young children and pre/postnatal patients. Her hopes are to someday specialize in prenatal massage therapy. She believes in getting to the root cause of a patient's condition and working with other clinicians to create the best treatment plan possible for her patients. Katherine has most recently completed both the Arthritis Society's Getting a Grip on Arthritis® osteoarthritis and rheumatoid arthritis education program. In her spare time, Katherine enjoys being outdoors; spending time at the beach, or hiking in the woods.



Amber Giesbrecht
Massage Therapist

Amber Geisbrecht is a Registered Massage Therapist at pt Health. She grew up in Winnipeg, and completed her 2200 hour course from The Massage Therapy College of Manitoba in January of 2009. Amber enjoys working with sports injuries, among many other things, but a special highlight in her career was working with the Winnipeg Blue Bombers. She was able to gain significant experience working with sports-related injuries during this time and met some fabulous football players too! Amber has taken several continuing education classes, and treats all areas of the body for injury, maintenance, or to simply just feel great! On her spare time, she enjoys snowboarding, playing soccer, and traveling.



Colleen DOrsay
Registered Counselling Therapist - RCT-C

Colleen possesses a Masters of Arts Counselling Psychology degree and is registered with the Nova Scotia College of Counselling Therapists (RCT-C). She has worked in the social services field for many years and loves getting to know people in all their forms. Making meaningful connections and helping others overcome challenges is very important to her. Her counselling focus is on injury recovery, mental wellness, addictions and overcoming trauma. These interests were peaked as a young adult during her time as a medical assistant with the Canadian Armed Forces (Reserves). As a result, Colleen has a special interest in working with First Responders and veterans. She has worked as a hospital chaplain and has received masters-level training in spiritual care and counselling. Colleen has lived and worked in First Nations communities and within 2SLGBTQ+ populations. This has made her very sensitive to cultural diversity and the nuances of the human experience. She has a warm and calming energy that helps people feel at ease rather quickly. Major life events can bring about uncertainty and it can be helpful to have someone who can not only listen but provide new tools to help cope and thrive. Looking at things from different perspectives, finding meaning in change, coping skills and distress tolerance can all achieve new insights, personal growth and well-being. To do this, Colleen takes an eclectic, evidence-based therapeutic approach that includes trauma-informed, DBT, CBT, narrative, solution-focused, mindfulness and strengths-based approaches. The approach taken depends upon the individual's needs and their unique set of circumstances. In this way, clients can be assured they are receiving the most meaningful and change-oriented care.


[View More]
"I found the staff professional, courteous, friendly and easy to talk to. Took great care looking after my problem. I would recommend this clinic to anyone looking for physiotherapy."
Blaine H - Google Review
"I have had a great experience at pt Health Russell Lake. The staff and the facilities are excellent. My recovery was quick, and I was back to work sooner than expected!"
Alex W - Google Review