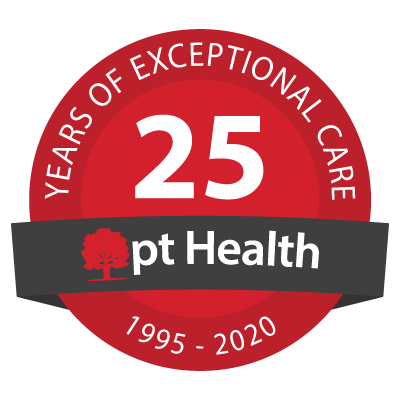 Sarnia Community Care Physiotherapy - pt Health
In-person treatment available
Virtual Care treatment available
Ontario Health Insurance Plan (OHIP)
Welcome!
Our clinic is open and offering in-person treatment in addition to virtual care. We look forward to seeing you soon.
"This is the only place I trust for my physiotherapy in Sarnia! They have the most up-to-date treatments and equipment, they work with each individual to meet their specific needs! Staff have great human service skills and training in their field, and you feel like you're in great hands! I can't recommend it enough! I credit them for more than just my physiotherapy. I credit them for helping to restore my quality of life!"
Steve A - Google Review
"From my first phone call to book an appointment, I have been impressed with this clinic. I was seen quickly, received confirmation emails in advance, and was always greeted warmly upon arrival. Best of all, the treatments have effectively given me relief from pain and I am enjoying increased range of motion. The massage therapist is the best I've ever been to...will definitely return in future as needed!"
Rena F - Google Review
Our Clinic Team
Bob Thomson
Physiotherapist

Bob was born and raised in Petrolia. He is an alumnus of LCCVI and earned both his kinesiology and physiotherapy (graduated 2010) degrees at the University of Western Ontario. His post-graduate courses include the upper extremity (hand, wrist, elbow, shoulder), lower extremity (knee, hip), concussion management, Level 1 manual therapy, and Level 1 acupuncture.

Bob is registered with the College of Physiotherapists of Ontario and is a member of the Canadian Physiotherapy Association.

Ramesh Dutta
Physiotherapy Resident

Ramesh holds a Master's degree in Kinesiology and Recreation Sciences from The University of Manitoba and Bachelor of Science in Physiotherapy in Delhi, India. He worked in India as a Physiotherapist at an outpatient clinic and hospital for three years. He received a University of Manitoba Graduate fellowship and international graduate student entrance scholarship for his post-graduate studies.

After graduation from the University of Manitoba, he worked as a physiotherapy assistant for two years in nursing home. He recently received his provisional certificate to practice as a resident physiotherapist and started working at pt Health Sarnia in July.

In his personal life, Ramesh loves spending time with his family, friends and travelling, and working out.
[View More]