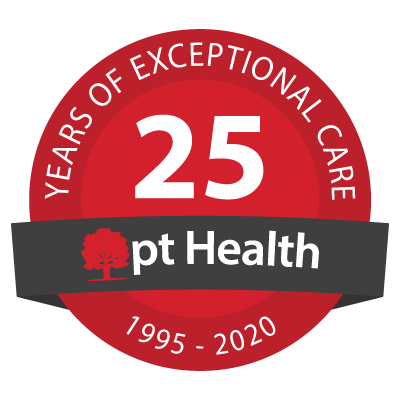 Six Points Physiotherapy And Rehabilitation - pt Health
In-person treatment available
Virtual Care treatment available
Ontario Health Insurance Plan (OHIP)
Welcome!
Our clinic is open and offering In-person treatment in addition to Virtual Care service. Please note that enhanced measures are in place to ensure the health and safety of our patients and staff. View our virtual tour video so you know what to expect at your next clinic appointment.
"Amazing place, amazing people! So impressed with Six Points Physiotherapy! I felt very involved in my treatment and saw improvement quickly with the exercises I was given. I also did massages and that was perfect! I can't recommend this place highly enough!"
Sonja A - Google Review
"I was looked after well at this physio clinic after my left knee replacement 4 years ago. When my right knee became painful and my doc suggested physio, I went back here. It is a 15 minute drive for me, but the staff, care and facilities are great."
Jan B - Google Review
Our Clinic Team
Piotr Sledz
Registered Massage Therapist

Piotr (Peter) graduated from The Academy of Physical Education in Warsaw, Poland. He also graduated from the Canadian College of Massage and Hydrotherapy in 1998.

He has been very successful treating patients following motor vehicle accidents, workplace injuries and sports injuries. He specializes in Swedish Massage, deep tissue massage and trigger point techniques.

In his spare time, he enjoys playing tennis and soccer with his son.

Tara Church
Physiotherapist

Tara holds an Honours B.A. from the University of Guelph and a Bachelor of Science in Physical Therapy from the University of Toronto. She has extensive experience in outpatient orthopaedics, including post operative knees, hips and shoulders. She has a special interest in postural issues.

With gentle persistence, Tara encourages her patients to take a proactive role in their health and rehabilitation.

Wendy Rolek
Registered Massage Therapist

Wendy graduated from the Canadian College of Massage and Hydrotherapy in 2000. Her specialties are neck, shoulder, back and hip treatments with the aim of reducing pain and increasing the functionality of the body. Wendy enjoys working with clients and helping them to feel better.
[View More]
"I have been attending this clinic for about a month. The staff are friendly, courteous and scheduling is usually on time. My sessions have helped me tremendously. Would recommend this clinic to those searching for one."
Norma B - Google Review
"Brought my parents for their OHIP appointments and the physiotherapist really took his time. The treatments were great also and I'm glad I've found a place that gives good services to seniors."
Jay R - Google Review