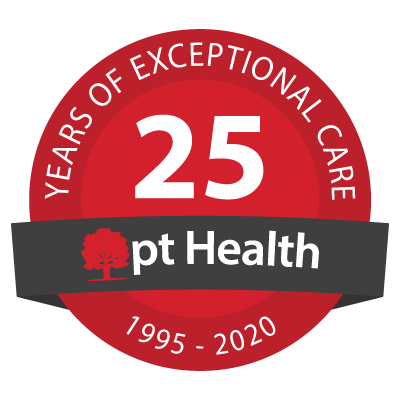 Six Points Physiotherapy And Rehabilitation - pt Health
"Amazing place, amazing people! So impressed with Six Points Physiotherapy! I felt very involved in my treatment and saw improvement quickly with the exercises I was given. I also did massages there and that was also perfect! I can't recommend this place highly enough!"
Sonja A - Google Review
"I was looked after well at this physio clinic after my left knee replacement 4 years ago. When my right knee became painful and my doc suggested physio, I went back here. It is a 15 minute drive for me, but the staff, care and facilities are great."
Jan B - Google Review
Our Clinic Team
Farah Mawani
Physiotherapist

Farah Mawani graduated from McMaster university in 2008. She has experience treating a wide range of orthopedic conditions. Her special interests include acupuncture, manual therapy and sports rehab. Farah believes that the best way to recover from injury is through a combination of active exercise and manual therapy. In her free time, she enjoys playing volleyball, hiking and cycling.



Mitalee Dalvi
Physiotherapist - BPT, MPT

Speaks: English, Hindi, Gujrati

Mitalee received her Bachelors of Physiotherapy in 2012 and Masters in Musculoskeletal Physiotherapy in 2014 in India. She is currently licensed and registered with the College of Physiotherapists of Ontario. Mitalee provides detailed clinical assessment and education regarding the root cause of the problem, and treats with hands-on manual therapy, which is the primary focus of her treatment. She has a holistic and evidence based approach in treating patients with custom exercise programs. She specializes in Mulligan, Kinesio Taping, core strengthening, Karltonborn, McKenzie, and Neurodynamic Studies. She is aspiring to learn acupuncture and vestibular physiotherapy as a special area of interest.



Olena Kobelak
Patient Coordinator

Tara Church
Physiotherapist

Tara holds an Honours B.A. from the University of Guelph and a Bachelor of Science in Physical Therapy from the University of Toronto. She has extensive experience in outpatient orthopaedics, including post operative knees, hips and shoulders. She has a special interest in postural issues. With gentle persistence, Tara encourages her patients to take a proactive role in their health and rehabilitation.



Lazarela Boskovic
Physiotherapy Support Personnel

Speaks: English, Croatian

Lazarela has been working as a physiotherapy assistance at Six Points physiotherapy for 17 years. She graduated with a Physiotherapy Assistant degree from Bosnia in 1988 and then became certified in Ontario in 2001. In her free time she enjoys baking, gardening and swimming.


[View More]
"I have been attending this clinic for about a month. The staff are friendly, courteous and scheduling is usually on time. My sessions have helped me tremendously. Would recommend this clinic to those searching for one."
Norma B - Google Review
"Brought my parents for their OHIP appointments and the physiotherapist really took his time. The treatments were great also and I'm glad I've found a place that gives good services to seniors."
Jay R - Google Review