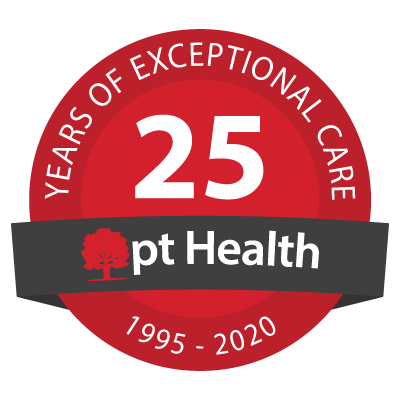 Springbank Physiotherapy - pt Health
Welcome!
Our clinic is open and offering in-person treatment in addition to virtual care. We look forward to seeing you soon.
"I have been attending the Springbank Physiotherapy clinic for a few weeks now. I am extremely pleased with the care I am receiving there. The staff are very professional and knowledgeable - very encouraging and take the time to incorporate your feedback and input to continually develop your treatment plan as you progress through your rehabilitation. I would highly recommend this clinic and would not hesitate to return for any future problems."
June H - Google Review
"You really can't go wrong here. Great place with very knowledgeable and extremely helpful staff. My lower back pain has improved by leaps and bounds thanks to the combination of very effective treatment here and the recommended stretching exercises at home. Very flexible hours and comfortable friendly welcoming environment as well. Anyone looking for any kind of physiotherapy for injury, look no further than here. Very highly recommended!"
Patrick N - Google Review
Our Clinic Team
Andy Herod


Andy graduated from Western University with a Bachelor of Science in Kinesiology. This was followed by a flight over to Australia to obtain his Master's in Physiotherapy at Griffith University in Gold Coast.

He focuses on injuries related to all areas of the body both surgical/non-surgical, neurological, and chronic in nature. He believes an individualized 1-on-1 treatment approach is the key to every patient's success.

When not at work, Andy loves exploring different sites within and outside of Canada. He enjoys staying active playing basketball, hiking, and camping at the various beautiful parks around the province.

Gloria Marquez
Physiotherapy Assistant

Amanda Sutton
Registered Massage Therapist

Amanda is a graduate of The National institute in Brampton, Ontario, who is passionate about the effectiveness of massage therapy as an alternative form of health care. Amanda utilizes a variety of of modalities during treatment, including deep tissue, myofascial release, trigger point therapy, Cupping, Hot stone, Lymphatic drainage, Dr. Wu's head massage, stretching/strengthening.

She has experience treating patients with chronic pain, overuse conditions, whiplash, fibromyalgia, headaches, nerve impingement syndromes, as well as sports related Injuries. Amanda is a registered member of the Collage of Massage Therapist Of Ontario.

Tamara Bernardi
Clinic Director

Tamara completed her Bachelor of Science, Honours Kinesiology in 2004 at the University of Waterloo. She completed her Master of Physiotherapy from the University of Queensland in 2008 and spent 13 years living and working on the East and West coasts of Australia. Tamara has experience treating a variety of conditions from children to elite athletes.

In 2012, she discovered a passion for pelvic health, completing post graduate courses in pelvic health before obtaining a post graduate certificate in Continence and Women's Health from Curtin University. Tamara treats a wide range of both Female and Male pelvic floor conditions, with a special interest in pre/postnatal, the female athlete, cancer rehabilitation and men's health.

Tamara is also a certified Pilates instructor, utilizing mat and reformer-based exercises as an adjunct to her physiotherapy treatment. Tamara believes that movement is medicine and provides individualized, one-on-one treatment plans including manual therapy, acupuncture, exercise and education to help each person achieve their rehabilitation goals.

Morgan Sullivan
Physiotherapy Assistant

Morgan is currently a student working towards completing his Honours Kinesiology degree at the University of Western Ontario. From a young age, Morgan had a fondness for exercise, especially running and soccer. In high school, Morgan and his team won an OFSAA cross country title. It was Morgan's cross-country coach, a Western Kinesiology Alumni, that inspired him to pursue a path in Kinesiology and movement science.

Since then, Morgan has found a growing passion for Kinesiology and rehabilitation therapy. After Morgan finishes his undergraduate degree, he wants to complete a Master's degree in Physiotherapy. Morgan has completed courses in topics such as human anatomy, physiology, and athletic injuries. He is also certified in a manual therapy technique called Soft Tissue Release and holds two certifications in Kinesiology Taping techniques.

Morgan works alongside the physiotherapists in the clinic and is guided by their treatment plans to help every person reach their goal.

Courtney Aubin


As a Canadian Certified Pedorthist, Courtney Aubin is excited to provide patients with a better quality of life by providing expert advice and quality services and products to help people stay active and work comfortably. She is professional, engaging, enthusiastic and passionate about what she does.

Courtney has dedicated her career to customizing an optimal treatment option for each and every patient. She has a special interest in using her education, experience and artistic skills to improve biomechanical gait and posture abnormalities in children and adults, as needed.

In her down time, she loves playing and watching sports, particularly volleyball, and enjoys crafting and watching movies.

Abha Mapara
Physiotherapy Resident

Abha Graduated with a Bachelor of Physiotherapy degree in India in 2010, and went on to pursue a MSc. Physiotherapy from Queen Margaret University, Scotland with a scholarship in 2012. She recently completed the Bridging Program from University of Toronto. Since then, she has worked extensively in India, UK, and Canada.

She has a keen interest in field of geriatrics, pediatric disabilities as well as orthopedics. She believes in empowering her patients with education about their condition so that they can make the best choices. She prides herself in evidence based practice that has patient's goals at heart of the treatment plan. She continues to take short courses to keep updating her skills as a physiotherapist.

In her spare time, she loves to explore trails, grow vegetables, bake and learn recipes from around the world.

Dylan Albright
Chiropractor

Dr. Dylan Albright graduated from New York Chiropractic College in 2018, after receiving an Honours Specialization in Kinesiology and a Minor in Psychology from the University of Western Ontario. Dr. Albright also holds a Contemporary Medical Acupuncture Certification from McMaster University, Advanced Certification in Sport Science and Human Performance, Advanced Certification in Whole Food Nutrition, Full Certification in Nimmo Trigger Point Therapy, and MDT/McKenzie Certification.

He became a chiropractor as it gave him the best opportunity to combine his interests and talents in a way that can help others reduce their pain and improve their function. Dr. Albright believes that every optimal treatment plan includes exercise and tries to work with the patient to find something that can work with their lifestyle. He has experience treating every type of musculoskeletal issue, including pre- and post surgical rehabilitation and neurological complaints.

In his free time, Dr. Albright's favourite thing to do is research topics related to health, fitness, and rehabilitation. He also enjoys weightlifting and any form of outdoor physical activity, such bike riding.

Ze Steve Lu
Physiotherapy Resident

Ze(Steve) Lu graduated from Tianjin University of Traditional Chinese Medicine with a Bachelor of Traditional Chinese Medicine. He then obtained his Master of Physiotherapy from McMaster University. He is currently working on his Ph.D. in Rehabilitation Sciences at McMaster University.

He focuses on chronic, neurological, and orthopedic injuries affecting all body parts. He believes the secret to the success of every patient is a personalized and active therapeutic approach Throughout his training, he always integrates the best research evidence with clinical expertise to inform his patient care.

He will advance his skills in orthopedic assessment and manual therapeutic treatment techniques by completing additional education of the Fellows of the Canadian Academy of Manipulative Physiotherapy.
[View More]