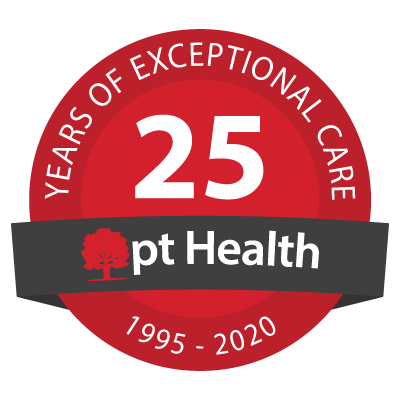 Springbank Physiotherapy - pt Health
In-person treatment available
Virtual Care treatment available
To ensure the health and safety of our patients and staff, we have made a number of changes to the way our clinics operate and have implemented enhanced measures to ensure the health and safety of our patients and staff. Click here to learn more about the S.A.F.E.R. approach.
"I have been attending the Springbank Physiotherapy clinic for a few weeks now. I am extremely pleased with the care I am receiving there. The staff are very professional and knowledgeable - very encouraging and take the time to incorporate your feedback and input to continually develop your treatment plan as you progress through your rehabilitation. I would highly recommend this clinic and would not hesitate to return for any future problems."
June H - Google Review
"You really can't go wrong here. Great place with very knowledgeable and extremely helpful staff. My lower back pain has improved by leaps and bounds thanks to the combination of very effective treatment here and the recommended stretching exercises at home. Very flexible hours and comfortable friendly welcoming environment as well. Anyone looking for any kind of physiotherapy for injury, look no further than here. Very highly recommended!"
Patrick N - Google Review
Our Clinic Team
Nirali Mehta
Physiotherapist - Registered Physiotherapist

Speaks: English, Hindi, Gujarati

Nirali graduated from the Gujarat University in India with an Honors Bachelor of Physiotherapy degree. She passed her physiotherapy license exam in Canada and graduated in 2018. Nirali worked as a physiotherapist in India and has experience treating a variety of patients back home. During her residency in Canada she worked in multiple private clinics the GTA. She is currently working as a Clinical team Manager as well as physiotherapist at Springbank and Stratford location. Nirali's areas of expertise include: acupuncture , dry needling and IMS, concussion therapy, manual therapy, soft tissue release, CRPS. Nirali has felt compelled to pursue further postgraduate education in pelvic health so she can combine her knowledge of the nervous system, pain management and pelvic health to better address these issues with her clients. She has completed her 3 levels of pelvic floor training level and she treats variety of Female and Male pelvic floor conditions. She has done her level A and B McKenzie training and she treats different lower back condition with McKenzie approach.Nirali also has experience treating vertigo and TMJ (jaw) patients. Presently Nirali is also practicing in the community care Physiotherapist. Nirali provides effective, evidence-based, meaningful care in a supportive, respectful and kind environment. She prides herself on individualized, one-on-one treatment and develops exercise programs geared toward the level and goals of the patient. She believes that she will keep updating her skills and knowledge by taking advanced level courses. In her spare time she enjoys travelling, cooking, spending time with her husband and two huskies.



Sheena Philip
Physiotherapist - MSc PT

Speaks: English, Tamil, Malayalam

Sheena Philip-Physiotherapist BSc.PT,MSc,PhD (C) Sheena Philip is a registered physiotherapist with the college of Ontario. Sheena graduated from M.G.R medical University, India in 1998 with an Honors bachelor of physiotherapy degree. She has 16 years of clinical, administrative and research experience. She attended Western University and completed Masters in Health and Rehabilitation in 2016.Sheena Philip is currently persuading Doctorate in Rehabilitation Science at Western University. She has worked in hospital, private clinic and has clinical experience working in community settings. Sheena's area of expertise include concussion therapy, acupuncture, vestibular therapy. Sheena utilizes combination of exercise therapy, soft tissue release, mobilization, acupuncture, therapeutic tapping and education to optimize function in patients.



Tamara Bernardi
Physiotherapist

Tamara completed her Bachelor of Science, Honours Kinesiology in 2004 at the University of Waterloo. She completed her Master of Physiotherapy from the University of Queensland in 2008 and spent 13 years living and working on the East and West coasts of Australia. Tamara has experience treating a variety of conditions from children to elite athletes. In 2012 she discovered a passion for pelvic health, completing post graduate courses in pelvic health before obtaining a post graduate certificate in Continence and Women's Health from Curtin University. Tamara treats a wide range of both Female and Male pelvic floor conditions, with a special interest in pre/postnatal, the female athlete, cancer rehabilitation and men's health. Tamara is also a certified Pilates instructor, utilizing mat and reformer-based exercises as an adjunct to her physiotherapy treatment. Tamara believes that movement is medicine and provides individualized, one-on-one treatment plans including manual therapy, acupuncture, exercise and education to help each person achieve their rehabilitation goals.



Jennifer Chromczak
Massage Therapist - RMT

Jenn graduated from the Massage Therapy program at Fanshawe College in 2018. She has always been interested in working in a multidisciplinary clinic with a focus on rehabilitation. Jenn's treatments are focused on using techniques such as soft tissue release and providing therapeutic exercise to help clients reach optimal recovery. She feels it is important to always remain up-to-date with new information within the health field and plans to regularly continue her education through various certifications, workshops and research.



Lucas Iredale
Massage Therapist - RMT

Lucas graduated from Medix College of Healthcare at the end of 2017 and became registered with the CMTO in early 2018. Lucas has a background in Personal Training, with a large focus on functional training, rehabilitation, and core strengthening. His specialties include general Swedish techniques, deep tissue, trigger point therapy, myofascial release techniques, active and passive stretching, and remedial exercises. As well as being a very upbeat, positive person, Lucas also carries some background in ergonomics such as risk assessment and applications. Lucas continues the path of learning, as to only aid in helping his clients achieve the best possible outcomes in all of their health and wellness goals. When he is not massaging he enjoys spending quality time with his family, weightlifting, drawing, and axe throwing.



Angelika Rodzinka
Patient Coordinator

Angelika graduated from Trios College in April of 2015, and received a diploma with distinction in Physiotherapy Assistant/Occupational Therapy Assistant, and is certified in CPR; Standard C level. She speaks fluent Polish and English. Angelika has been part of the Pt Health team since June 2015.


[View More]