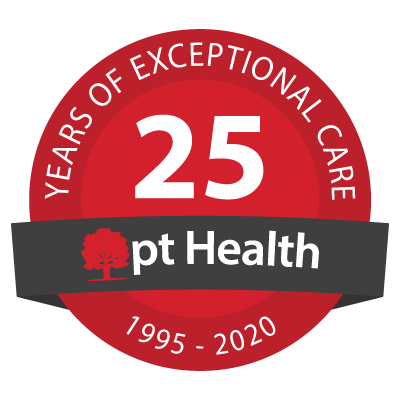 Stratford Physiotherapy Centre - pt Health
In-person treatment available
Virtual Care treatment available
Ontario Health Insurance Plan (OHIP)
Welcome!
Our clinic is open and offering in-person treatment in addition to virtual care. We look forward to seeing you soon.
"More than just physiotherapy! They've given me hope and helped my situation improve. Highly recommend. Staff are very knowledgeable, true professionals in their field. My physiotherapist has helped me with pelvic floor physiotherapy needed after surgery, as well as an old injury."
Vickie A - Google Review
"pt Health in Stratford was a great experience. The staff was so upbeat all the time. They were very knowledgeable in their body health expertise. They made my rehab easy and painless. They always had tips to help me work on myself at home to speed up the healing process. Thank you pt Health."
Nancy M - Google Review
Our Clinic Team
Nirali Mehta


Nirali graduated from the Gujarat University in India with an Honors Bachelor of Physiotherapy degree. She passed her physiotherapy license exam in Canada and graduated in 2018. Nirali worked as a physiotherapist in India and has experience treating a variety of patients back home. During her residency in Canada she worked in multiple private clinics the GTA. She is currently working as a Clinical team Manager as well as Physiotherapist at our Springbank and Stratford locations.

Nirali's areas of expertise include pelvic floor therapy (Women and Men), acupuncture, dry needling and IMS, concussion therapy, manual therapy, soft tissue release, CRPS. Nirali has felt compelled to pursue further postgraduate education in pelvic health so she can combine her knowledge of the nervous system, pain management and pelvic health to better address these issues with her clients. She has completed her three levels of pelvic floor training level and she treats variety of Female and Male pelvic floor conditions.

She has done her level A and B McKenzie training and she treats different lower back condition with McKenzie approach. Nirali also has experience treating vertigo and TMJ (jaw) patients. Presently, Nirali is also practicing as a community care Physiotherapist. Nirali provides effective, evidence-based, meaningful care in a supportive, respectful and kind environment. She prides herself on individualized, one-on-one treatment and develops exercise programs geared toward the level and goals of the patient. She believes that she will keep updating her skills and knowledge by taking advanced level courses.

In her spare time, she enjoys travelling, cooking, spending time with her husband and two huskies.

Andrea Kennel
Physiotherapy Assistant

Andrea graduated from the occupational/physiotherapy assistant program at Conestoga College in 2011. Since graduating, she has worked in a variety of rehabilitation settings including orthopedic clinics and nursing homes. She has also worked at Conestoga College for four semesters as a teacher assistant in the OTA/PTA program. Andrea has taken additional courses in soft tissue release and concussion management.

Chad Fink
Chiropractor

Dr. Chad Fink was born and raised in the small town of Rostock, just north of Stratford. Throughout his youth sports career, Dr. Chad played a variety of sports where he developed an interest in athletics, performance and health. Dr. Chad's sport of choice is fast pitch softball. Currently, he plays for the Sebringville Sting, but has played and participated in 8 ISC World Championships, two Canadian Championships, and was a member of the 2009 Northwest Territories territorial team that competed at the North American Championship.

After completing a Bachelor of Kinesiology at Western University, Dr. Chad attended the Canadian Memorial Chiropractic College (CMCC) where he earned his Doctor of Chiropractic Degree. Dr. Chad was an active member in his class during his time at CMCC, serving as Co-Class President for two years, participating in numerous extracurricular, and winning three academic-based awards. Today, Dr. Chad is a hands-on, diversified practitioner who treats musculoskeletal conditions with a focus on spinal health.

Treatments can consist of education, manipulation, soft tissue work, acupuncture, and exercise. He is a strong advocate for providing patients with the tools that they require to reach their health and wellness goals. Dr. Chad is a trained Mental Health First Aid provider and a certified Athletic Movement Assessment practitioner. He also completed the Complete Concussion Management course. He continues to participate in educational seminars and courses, and is looking to expand his knowledge in concussion rehabilitation and paediatric chiropractic.

Michelle Paola


Michelle graduated from Wilfrid Laurier University in 2003, and the Canadian College of Massage and Hydrotherapy in 2006 where she spent many hours in hospice work, sports massage and helping people with their current and past injuries. In 2010, Michelle worked with a group of people from a Fibromyalgia group in Waterloo.

She has been a part of the Stratford pt Health team since 2012. Michelle was voted one of pt Health's most important team members and won a VIP award in 2015. Michelle is happy to help you manage your aches and pains associated with sprains, strains, surgeries, pregnancy, anxiety, depression, headaches, whiplash, fibromyalgia or just for relaxation. Michelle continues to expand on her knowledge of massage and it's effects on the well-being of her clients with continued education.

Riddhi Makadia
Physiotherapy Resident

Riddhi Makadia is a highly experienced physiotherapist with a strong background in sports, fitness, and rehabilitation. She completed her Master's degree in Physiotherapy (Orthopedic & Sports), earning a gold medal for her outstanding performance. She also holds a Bachelor's degree in Physiotherapy and has completed courses in Mulligan mobilization manual therapy and Maitland mobilization manual therapy. Riddhi is registered with the Ontario College of Physiotherapists and has six years of experience in managing, diagnosing, and providing care to patients. Her expertise includes musculoskeletal, neuromuscular, stroke, parkinsonism, brain and spinal cord injury, and core muscle strengthening and pelvic health physiotherapy for pregnancy and uterine prolapse. Riddhi has a passion for motivating and assisting her patients to improve their general health and make positive lifestyle changes to achieve their personal goals. Her interests include adventure sports, reading, and keeping up to date with recent advancements in anatomy and physiology.

Amrinder Kaur
Physiotherapist

Amrinder is a graduate from University of Toronto's Ontario Internationally Educated Physical Therapy bridging (OIEPB) program in 2018. Prior to that she completed her Master and Bachelor in Physiotherapy degrees from Guru Nank Dev University in India. She has worked in Women's College Hospital, Toronto and London Health Science Center University Hospital as intern during her clinical placements.

Amrinder brings her experience gained in acute care setting including stroke unit and outpatient rehabilitation to her current work. She has broad experience in treating clients with a wide variety of neuromuscular and cardiovascular disorders and post-op rehabilitation. In the past, Amrinder has also worked in community care setting and has taught undergraduate Physiotherapy classes in India. She currently works in Stratford. Amrinder provides a patient focused and client centered care and is a very big proponent of educating clients along with the physiotherapy treatment. She develops personalized exercise programs entitled towards meeting client's goals and provides quality care.

Amrinder is looking forward to getting certified in acupuncture and dry needling and planning to enroll in further courses to supplement her knowledge and experience in patient centred care. Amrinder lives in Stratford with her husband and two sons. She enjoys her free time in classical Indian dance, yoga, cooking and traveling.
[View More]