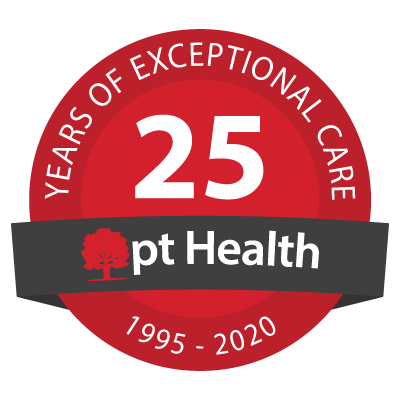 Thorold Physiotherapy and Rehabilitation - pt Health
In-person treatment available
Virtual Care treatment available
We remain open
Our clinic continues to offer in-person treatment following the latest state of emergency order by the Government of Ontario. The well-being of our patients and staff is our top priority, and our clinic continues to adhere to stringent health and safety measures. If you wish to refrain from in-person care at this time and are looking for flexible treatment options, Virtual Care appointments are available.
"My dad has been going here for a few months now and the entirety of the family and himself is very impressed with the customer service here at physio. He very much feels welcomed and cared for. Client-practitioner relationship is definitely a 10/10. Highly recommend."
Erica S - Google Review
"Best care and very professional treatment, the knowledgeable staff makes your visit a very comfortable experience. They also corresponded with my doctor and employer to make the paper work an easy process. And most importantly my shoulder feels much better."
Gerald T - Google Review
Our Clinic Team
Grace McAlear-Marjerrison
Physiotherapist - BA (Honours), DPT

Grace earned her Doctorate of Physical Therapy in 2011 from D'Youville College, following completion of her undergraduate degree in Biology and Health at Queens University. Grace has taken a number of continuing education courses to advance her Physiotherapy skills with special interests including medical acupuncture, concussion and brain injury, vision and vestibular therapy, and spinal cord injury. Grace believes a combination of active exercise and manual therapy are integral to maximizing health and recovery, and she looks forward to helping you achieve your goals. In her spare time Grace enjoys yoga, playing disc golf, and spending time hiking with her family and friends.



Travis Steele
Massage Therapist - B.Phed, RMT

Travis graduated from Brock University in 2001 with a Bachelor Degree in Physical Education. He than went on to compete his degree in Massage Therapy from the Canadian Therapeutic College in 2003. Travis has taken courses in Reflexology, Myofascial Release, Craniosacral Therapy and Hot Stone Massage. He has been with the clinic since it opened in 2007 and looks forward to helping you get better. In his spare time Travis enjoys playing sports and hiking with his dog



Corey Charlebois-Coward
Physiotherapist Resident - BSc(Hon), MSc(PT)

Corey graduated from Queen's University in 2019 with a Master's degree in Physical Therapy following the completion of his Bachelor's degree in Biomedical Sciences at the University of Waterloo. During this time, Corey further developed his clinical skills by completing additional courses in soft tissue release, vestibular rehabilitation, and concussion management. Corey is eager to help you recover, achieve your physiotherapy goals, and take charge of your own rehabilitation through a combination of exercise, manual therapy, and education. In his spare time, Corey enjoys hiking, biking, going to the gym, and playing with his dogs.



Kandis Klipich
Physiotherapy Support Personnel

Kandis graduated from Niagara College in 2019 from the Occupational Therapist Assistant and Physiotherapist Assistant program. She enjoys helping those recover from injuries as she has played sports for most of her life and can understand the added support needed during a frustrating time. In her spare time she loves spending time with her family and being active.



Jordan Larocque
Physiotherapy Support Personnel

Jordan graduated from Niagara College in 2019 from the OTA&PTA program. He is passionate about physical health, wellness and achieving patients goals. He is committed to providing excellent client-centered care to his patients in a friendly welcoming environment. In his spare time, Jordan enjoys staying active, and spending time with friends and family.



Jessica Hillman
Massage Therapist

Jessica is a Registered Massage Therapist, who enjoys combining her background in kinesiology with massage to achieve an effective treatment plan for her patients. She enjoys working with a wide variety of patient populations, with a clinical interest in neurological conditions and pathologies. In 2016, Jessica graduated from Brock University with a Bachelor's of Science in Kinesiology. After completing her degree, Jessica went on to pursue her interest in manual therapy, completing the Massage Therapy program at Sutherland-Chan in Toronto.



Kelly Main
Physiotherapy Support Personnel

Kelly graduated from Niagara college in 2018 from the Occupational Therapist assistant and Physiotherapist assistant program. Shortly after graduation she became part of the Pt Health team and had the opportunity to work in a variety of roles. She enjoys working with all patients and assisting them with their personal goals. In her spare time Kelly enjoys hiking, boxing and spending time with her family and friends.


[View More]
"I have nothing but praise for Thorold Physio! I have been there numerous times for different injuries and the physiotherapists have always provided the best care and treatment schedule to help my body heal. My sincerest THANK YOU to the Thorold Physio Team!"
Darla Z - Google Review
"Very impressed with the staff from reception to the therapists! They explain everything in an understandable way and my therapy has progressed nicely. Have been recommending this location to others. So nice to find a place like this in Thorold!"
Sandy M - Google Review