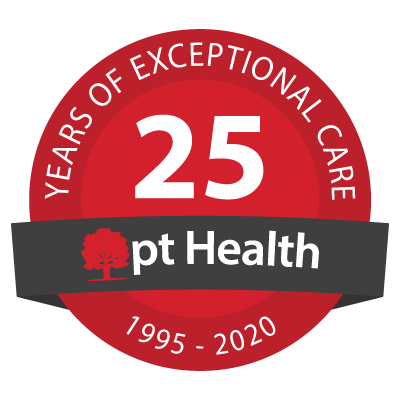 Trafalgar Physiotherapy - pt Health
In-person treatment available
Virtual Care treatment available
Ontario Health Insurance Plan (OHIP)
Welcome!
Our clinic is open and offering in-person treatment in addition to virtual care. We look forward to seeing you soon.
"Staff at the Trafalgar Physio are very friendly and helpful. I always feel welcome and at the end of every treatment I feel like new. It feels good to be pain free and they do everything they can in order to make feel that way. Thank you, I warmly recommend the physio treatment at the Trafalgar Physio in Oakville."
Violeta S - Google Review
"I came to pt Health with terrible back pain and numbness in my right leg in early stages of my pregnancy. I was quickly worked on and couldn't be happier with the tools & relief to get me through the remaining months of my pregnancy. Very pleased and will definitely be back soon!"
Kendra W - Google Review
Our Clinic Team
Cristina Abadiano
Physiotherapist

Chistina is passionate about helping patients of all ages but especially children. Fluent in both English and Filipino, and with over 20 years of experience, Christina has the skills and knowledge to help patients overcome injury and get to the best version of themselves.

Siddharth Satyawan Parab
Physiotherapy Resident

Siddharth is a dynamic and compassionate physiotherapist for whom his patient-centered approach is the key to return his clients to work/sports. He strives to provide the highest quality of care through hands-on manual therapy and individualized exercise programs for each client. Siddharth uses Mulligan Mobilization, the Maitland Approach, active release techniques, taping, and neurodynamic techniques as a part of his therapy.

He has completed TMJ Certification from APTEI, Canada. Having a background of being a Sports Physiotherapist in Soccer for more than five years, his area of interest lies in sports, active population and weekend warriors. Siddharth holds a Master's degree in Sports Physiotherapy from D.Y. Patil University, and a Bachelor in Physiotherapy from Rajiv Gandhi University, India.

He is currently practicing as a Licensed Resident Physiotherapist in Ontario. He wishes to pursue FCAMPT and Acupuncture certifications in Canada. When not working, Siddharth likes to engage in outdoor activities and working out in the gym.

Alex Singh
Physiotherapist

Alex graduated from the University of Toronto in 2010 with a Master's Degree of Science in Physical Therapy. He has been working at Trafalgar Physio and Massage since his graduation. During his clinical placements he has gained physiotherapy experience in the areas of neuro, cardio respiratory, and musculoskeletal rehab with specialty placements in brain injury and hand therapy. He also has experience working with varsity level athletes and teams as a trainer providing on field care to injured athletes.

He continues to add to his knowledge and experience by taking many different courses through the Canadian Physiotherapy Association, Advanced Physical Therapy Education Institute and Acupuncture Canada. He has completed his Advanced Diploma in Manual and Manipulative Therapy and is also certified in vestibular rehabilitation and successfully completed, Vestibular Rehabilitation: A Competency Based Course, at Emory University. In addition, he has taken an interest in working with concussion patients and has completed courses on concussion management.

Jolanta Szturycz
Pilates Instructor

Jolanta Szturycz is a Pilates Instructor/Educator with 18 years teaching experience and a Master's degree in Education. Jolanta is certified through Body Harmonics Pilates with Equipment Rehabilitative Protocols: spine, lower and upper limb and has experience with injury rehabilitation, as well as chronic conditions such as arthritis, osteoporosis and scoliosis.

Jolanta works with these clients to correct muscle imbalances through various muscle activation methods. Her guided movement helps clients improve their posture, flexibility, mobility and stability to improve core strength. Jolanta offers one on one sessions for any age and fitness level. She achieves results using mat work and equipment such as the reformer, cadillac and pilates chair.

Mariam Guirguis
Physiotherapist

Mariam Guirguis is a highly skilled and compassionate physiotherapist specializing in pelvic health therapy. She obtained her bachelor's degree in physiotherapy from Cairo University in Egypt in 2006 and gained valuable experience working in hospitals, private clinics, and orthopedic centers, where she successfully treated a wide range of injuries. In 2012, Mariam relocated to Canada and continued her career as a physiotherapist, demonstrating a commitment to ongoing clinical education. She underwent specialized training in assessing and treating pelvic floor issues, combining manual therapy, soft tissue techniques, functional training, and personalized exercise programs to optimize client function. With expertise in assessing patients of all ages, Mariam is dedicated to helping individuals regain their well-being and achieve their rehabilitation goals.

Outside of her professional life, Mariam maintains an active lifestyle by participating in activities such as skiing, biking, squash, and tennis. She also has a passion for embarking on exotic adventure trips, which further fuels her sense of exploration and discovery. Mariam's clinical specializations include Acupuncture Dry Needling, Pelvic Health, McKenzie Method, The Mulligan approach to joint mobilization, Lumbo-Pelvic Certification, and Advanced Musculoskeletal Physical Therapy. Her vast range of skills and her commitment to staying up-to-date with the latest advancements in her field make her a valued and trusted practitioner.

Chris Slomczewski
Registered Massage Therapist

Coming from a background of 1-on-1 personal training, Chris has experience connecting with clients of all different backgrounds, careers, experiences & hobbies. When personal training was helping clients with flexibility, mobility, strength and cardiovascular training, Chris decided to take a step further to help his clients even more.

After becoming a Registered Massage Therapist in Ontario, Chris now uses his knowledge and understanding of the human body to help people live a pain-free, stress-free lifestyle while maintaining their strenuous schedules.

His final goal is to ensure that all patients are given the assistance they need to live their best life. Physical health & mental health are the fundamentals that make a person continue to strive in their careers, and Chris embodies them as such.
[View More]
"Very professional and extremely knowledgeable. Treatment was very efficient, the team explained everything on a level that I could understand. Extremely grateful for the treatment. I would highly recommend it to anyone in need."
Michael S - Google Review
"The staff are very friendly and accommodating. They are also very knowledgeable and provided great physio exercises for my back and wrists. I would recommend this place to anyone needing physiotherapy."
Kristine G - Google Review