What is Splinting?

Splinting is the application of an orthopaedic device which can be used to support and or align bones/joints, prevent/correct deformities, and/or improve motion of a joint.
Splinting is often an important part of our hand therapy services at pt Health.
We will carry out a thorough evaluation to ensure that a splint is appropriate for your injury/condition and meets your individual needs.
Our custom splints are normally ready within the hour. Most are made from low temperature thermoplastic or a combination of neoprene/thermoplastic materials, and are fitted for each individual's contours and function.
Specific instructions about wearing your splint will be explained to you. It is important to follow your therapist's instructions.
Examples of Splinting

In acute conditions such as fractures, tendon lacerations, sprain and strains, protective splints allow injured tissues to heal and prevent further injury.
Splints may also:
Support joints that are painful or unstable due to arthritis or injury

Splints protect the joint from progressive deformity & help improve function of the hand

Be used following injury to help improve motion by applying a specific stretch to stiff joints and/or tight soft tissues

Mobilization splints may be used, along with range of motion and stretching exercises as part of a therapy program

Help treat repetitive strain/overuse injuries

A custom made splint supports the hand/wrist and takes the strain off inflamed and irritated tissues to allow them to heal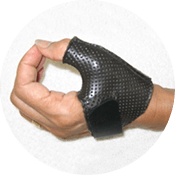 Hand Based Thumb Spica
Osteoarthritis of the thumb or skier's thumb (1st carpo-metacarpal)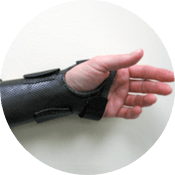 Forearm Based Wrist Splint
Wrist conditions, elbow tendinopathies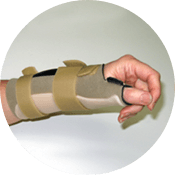 Neoprent/Thermo-plastic Splint 
Di Quervain's, arthritis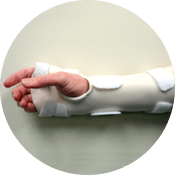 Carpal Tunnel Splint with the MCP joints included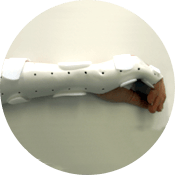 Ulnar Gutter Splint
 Metacarpal Fracture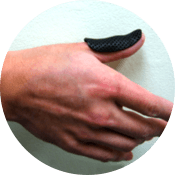 Dorsal IP Blocking Splint (without fixation)
Trigger Thumb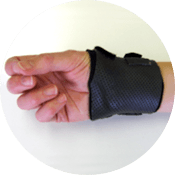 Neoprent/Thermoplastic Wrist Cuff
Wrist pain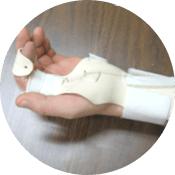 Static Progressive Splint 
To increase finger range of movement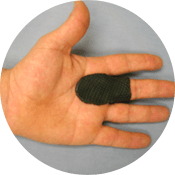 Trigger Finger Splint
Frequently Asked Questions

Coverage Options

pt Health services are covered by most health care plans.
Typically, these plans pay 80-100% fee for service. If you have a dental plan, chances are you also have coverage for many of the services and products we offer at pt Health.
pt Health also accepts auto insurance and Work Safety Insurance Board (WSIB/WCB).
In some cases, we also accept Veterans Affairs and Medicare, such as:
Alberta Health Care (Alberta)
Medical Service Plan MSP (British Columbia)
Not sure if you've got coverage with one of these government plans? We can help you find out. Just call us toll free at 1-866-749-7461.
At pt Health we believe your health should come first. We take care of the paperwork so you can focus on getting better, plus we offer direct insurance billing, saving you time and up front costs.
Research

Effectiveness of hand therapy interventions in primary management of carpal tunnel syndrome: a systematic review
Journal of Hand Therapy, April- June 2004, Volume 17, Issue 2, Pages 210-228
http://www.sciencedirect.com/science/article/pii/S0894113004000432 (article needs to be purchased)
Splinting for Osteoarthritis of the Carpometacarpal Joint: A Review of the Evidence
American Journal of Occupational Therapy January/February 2007 vol. 61 no. 1 70-78
http://ajot.aotapress.net/content/61/1/70.full.pdf+html  (free article)