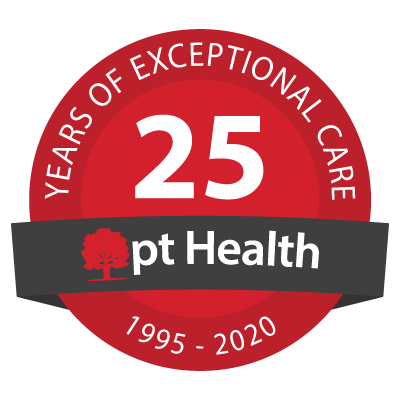 Dunnville Physiotherapy and Rehabilitation - pt Health
In-person treatment available
Virtual Care treatment available
Ontario Health Insurance Plan (OHIP)
Welcome!
Our clinic is open and offering in-person treatment in addition to virtual care. We look forward to seeing you soon.
"Great staff. Very knowledgeable on the therapy needed for my injury. Very happy with how well I'm recovering because of them. I recommend Dunnville Physiotherapy to anyone in need."
Ken L - Google Review
"I couldn't believe that just a few plus visits I felt 100% better! All of the staff are very professional, kind and caring people. The clinic is very clean and welcoming. Thank you and I'll be back if I have to!"
Laurie W - Google Review
Our Clinic Team
Corey Coward
Physiotherapist

Corey graduated from Queen's University in 2019 with a Master's degree in Physical Therapy following the completion of his Bachelor's degree in Biomedical Sciences at the University of Waterloo. Corey is a registered GLA:D Canada (Good Living with Arthritis) provider and has further developed his clinical skills by completing additional courses in soft tissue release, concussion management, and vestibular rehabilitation.

Corey is eager to help you recover, achieve your physiotherapy goals, and take charge of your own rehabilitation through a combination of exercise, manual therapy, and education.

In his spare time, Corey enjoys lifting weights and walking his dog, Riley.

Tianna Crumb
Physiotherapy Assistant

Tianna joined the team at Dunnville Physiotherapy in October of 2021. She graduated from Durham College from the Occupational & Physiotherapy Assistant Program in 2019. Tianna has experience in long term care homes and clinic settings treating multiple different conditions. She is eager to help patients recover and achieve their personal goals of health and wellness.

Tianna is a small hometown girl from Dunnville. In her spare time, she enjoys being active by playing sports, being outdoors and enjoys spending time with family and friends.

Eden McIntee
Physiotherapy Assistant

Eden graduated from the Occupational and Physiotherapy assistant program at Mohawk College in 2022. She became a team member at the Dunnville Physiotherapy Clinic in February 2023. Eden has gained experience in a variety of different heath care facilities including long-term care homes, hospitals, and clinics. Her goal is to motivate and provide safe and effective care to clients helping them reach their goals.

In her free time, Eden enjoys walking her dog, adventuring with friends and family, and binge watching her favourite TV shows and movies.

Brett Dykstra
Chiropractor

Growing up in Haldimand County, Brett played multiple sports including Hockey and Baseball. Through numerous injuries as an athlete he realized a career in rehab would be a great fit. His approach involves assessing the quality of the joints, soft-tissues and movement patterns. He then tailors a specific treatment plan for each individual.

Brett has completed a degree in Kinesiology from McMaster University and a Doctor of Chiropractic degree from D'Youville College in Buffalo, New York. He is currently completing a Diplomate in Chiropractic Rehabilitation where he is focusing his training in Spinal Conditions, Sports Injuries and TMJ disorders. Along with this he is continuing his learning with the Prague School of Rehabilitation which is focused on using specific exercises to fix the root cause. Brett has completed training in Soft-Tissue Release, Fascial Release and Neuro-Mobilization helping him to diagnose and treat conditions pertaining to muscles, ligaments and nerves. He has also completed post-graduate training in Concussion Management, Vestibular Rehab, Acupuncture and Dry Needling. You can find him working out in the gym, running, golfing and cycling.
[View More]
"I have been going to pt Health for years and I wouldn't go anywhere else. Staff is very friendly and make you feel relaxed. Keep up the good work."
Mateja S - Google Review
"Wonderful clinic. The Physiotherapy team worked with me after my ACL surgery and I am so grateful for their dedicated work! "
Allison B - Google Review