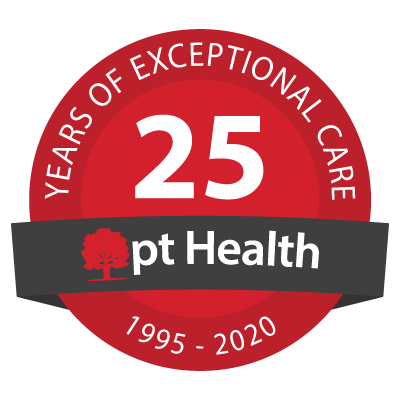 Dunnville Physiotherapy and Rehabilitation - pt Health
In-person treatment available
Virtual Care treatment available
Ontario Health Insurance Plan (OHIP)
Welcome!
Our clinic is open and we look forward to seeing you soon. Please note that as a community healthcare facility, our health and safety measures remain in place. Masks are required to be worn at all times while inside our location.
"Great staff. Very knowledgeable on the therapy needed for my injury. Very happy with how well I'm recovering because of them. I recommend Dunnville Physiotherapy to anyone in need."
Ken L - Google Review
"I couldn't believe that just a few plus visits I felt 100% better! All of the staff are very professional, kind and caring people. The clinic is very clean and welcoming. Thank you and I'll be back if I have to!"
Laurie W - Google Review
Our Clinic Team
Corey Coward
Physiotherapist

Corey graduated from Queen's University in 2019 with a Master's degree in Physical Therapy following the completion of his Bachelor's degree in Biomedical Sciences at the University of Waterloo. During this time, Corey further developed his clinical skills by completing additional courses in soft tissue release, vestibular rehabilitation, and concussion management.

Corey is eager to help you recover, achieve your physiotherapy goals, and take charge of your own rehabilitation through a combination of exercise, manual therapy, and education.

In his spare time, Corey enjoys hiking, biking, going to the gym, and playing with his dogs.

Amandeep Kaur
Physiotherapy Resident

Amandeep graduated in 2010 from Guru Nanak Dev University situated in City Amritsar, India with and half year Degree of Physiotherapy. During this time she enhanced her learning by completing workshops such on Muscle pain syndrome, Advances in PT management, Integrated taping techniques in sports and orthopedic conditions and Mobility for Disability.

Amandeep has worked with clinical patient therapy and in Hospital for two years. She has experience of working with clients, assessing their needs, supporting and completing their rehabilitation by meeting their goals. Amandeep moved to Ontario in 2014 and started working as a Physiotherapy assistant. In 2019, she successfully passed written PCE examination and since then has been working in an outpatient physiotherapy setting.

Amandeep believes that manual therapy and active participation plays an important role in managing different conditions. In her free time, she likes to garden, play badminton and go biking.

Christina Zapala
Massage Therapist

Christina graduated from Canadian Therapeutic College in 2012. After working as a massage therapist in Colorado for three years, Christina moved back to Ontario and has been in good standing with the College of Massage Therapists working as an RMT mainly in clinical settings. Christina specializes in Swedish, deep tissue, and prenatal massage.

Christina takes pride in her professionalism and ability to identify the specific needs of each patient. In her treatments, Christina includes a thorough assessment as well as recommendations for self care following treatment to further enhance the benefits of massage therapy.

Tianna Crumb
Physiotherapy Assistant

Tianna joined the team at Dunnville Physiotherapy in October of 2021. She graduated from Durham College from the Occupational & Physiotherapy Assistant Program in 2019. Tianna has experience in long term care homes and clinic settings treating multiple different conditions. She is eager to help patients recover and achieve their personal goals of health and wellness.

Tianna is a small hometown girl from Dunnville. In her spare time, she enjoys being active by playing sports, being outdoors and enjoys spending time with family and friends.

Aleah King
Occupational Therapist

Aleah graduated from McMaster University in 2019 with a BA (Honours) degree in Health Studies & Gerontology, with a certificate in Applied Behaviour Analysis from Mohawk College. She then went on to complete her Master's degree in Occupational Therapy at McMaster University in 2021. Through the course of her MSc degree, Aleah gained experience working in a variety of settings consisting of private clinics, mental health treatment, and hospitals. She is passionate about providing empowering client-centered care to assist clients with engaging in their meaningful, daily activities. With using her occupational therapy training, Aleah prioritizes holistic care by considering all possible aspects of clients that may be disrupted; including their emotional, cognitive, physical, environmental, and social factors of health.

In her free time, Aleah enjoys going for hikes, doing pilates and yoga, spending time with her friends and family, checking out the latest restaurants, and traveling.
[View More]
"I have been going to pt Health for years and I wouldn't go anywhere else. Staff is very friendly and make you feel relaxed. Keep up the good work."
Mateja S - Google Review
"Wonderful clinic. The Physiotherapy team worked with me after my ACL surgery and I am so grateful for their dedicated work! "
Allison B - Google Review