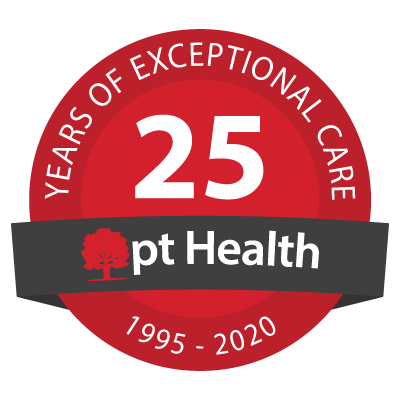 Dunnville Physiotherapy and Rehabilitation - pt Health
In-person treatment available
Virtual Care treatment available
Ontario Health Insurance Plan (OHIP)
Welcome!
Our clinic is open and offering In-person treatment in addition to Virtual Care service. Please note that enhanced measures are in place to ensure the health and safety of our patients and staff. View our virtual tour video so you know what to expect at your next clinic appointment.
"Great staff. Very knowledgeable on the therapy needed for my injury. Very happy with how well I'm recovering because of them. I recommend Dunnville Physiotherapy to anyone in need."
Ken L - Google Review
"I couldn't believe that just a few plus visits I felt 100% better! All of the staff are very professional, kind and caring people. The clinic is very clean and welcoming. Thank you and I'll be back if I have to!"
Laurie W - Google Review
Our Clinic Team
Gabrielle Louks
Physiotherapy Support Personnel

Gabrielle joined the team at Dunnville Physiotherapy in December of 2020. She graduated from Georgian College from the Physiotherapist Assistant program in 2020. She enjoys working with patients with a variety of ages and conditions. Gabrielle enjoys helping people reach their goals and encouraging them throughout the process.



Melody Arsenault
Patient Coordinator

Melody graduated from the Medical/Dental Administration program at the Ontario College of Health and Technology in August 2016. She began her journey at Dunnville Physiotherapy in March of 2016 as a medical administration co-op student. Melody is a valuable member of the clinic as a Patient Care Coordinator. She demonstrates great enthusiasm regarding her position and is an active team player at the Dunnville Physiotherapy clinic.



Hanna Bailey
Physiotherapy Support Personnel

Hanna is a 2019 Occupational Therapist Assistant & Physiotherapist Assistant graduate from Niagara College. She pursued the field of occupational therapy and physiotherapy because of her passion for helping others. Her goal is to work with people one step at time and celebrate their achievements no matter how big or small. Teamwork, spirit and a positive environment are important components in Hanna's vision for success. Adding to her professional career, Hanna is certified in Reiki Level 2 and K- taping, and she plans to continue educating herself. In her spare time she enjoys hiking, camping, reading and spending quality time with family and friends.



Corey Charlebois-Coward
Physiotherapist Resident - BSc(Hon), MSc(PT)

Corey graduated from Queen's University in 2019 with a Master's degree in Physical Therapy following the completion of his Bachelor's degree in Biomedical Sciences at the University of Waterloo. During this time, Corey further developed his clinical skills by completing additional courses in soft tissue release, vestibular rehabilitation, and concussion management. Corey is eager to help you recover, achieve your physiotherapy goals, and take charge of your own rehabilitation through a combination of exercise, manual therapy, and education. In his spare time, Corey enjoys hiking, biking, going to the gym, and playing with his dogs.


[View More]
"I have been going to pt Health for years and I wouldn't go anywhere else. Staff is very friendly and make you feel relaxed. Keep up the good work."
Mateja S - Google Review
"Wonderful clinic. The Physiotherapy team worked with me after my ACL surgery and I am so grateful for their dedicated work! "
Allison B - Google Review