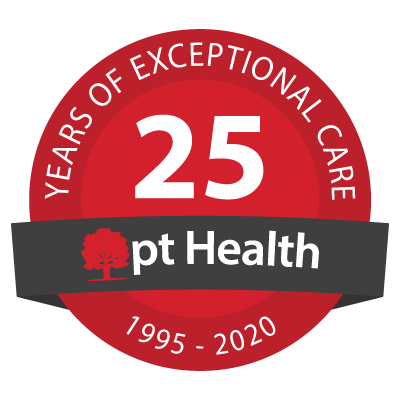 Fall River Physiotherapy - pt Health
In-person treatment available
Virtual Care treatment available
Welcome!
Our clinic is open and offering In-person treatment in addition to Virtual Care service. Please note that enhanced measures are in place to ensure the health and safety of our patients and staff. View our virtual tour video so you know what to expect at your next clinic appointment.
"The best service. The team is wonderful and professional. They have a great understanding of the problem a person is having and treat accordingly. I am very pleased and have been using pt Health in Fall River for 4 yrs."
Carolyn M - Google Review
"Always extremely thorough, assisting me not only with treatment of the immediate injury, but also understanding and incorporating my lifestyle and recovery goals into their approach. Everyone is cheerful, positive and professional."
Mary M - Google Review
Our Clinic Team
Emily Mathisen
Massage Therapist - Registered Massage Therapist

Emily Mathisen Registered Massage Therapist Emily is a graduate from the Canadian College of Massage and Hydrotherapy and a member of Massage Therapy Association of Nova Scotia (MTANS). Emily is from St. Paul, Minnesota, and moved to Nova Scotia with her Canadian husband in 2014, and more recently, she became a permanent resident of Canada. Upon moving to Nova Scotia, Emily quickly began to utilize her background in healthcare by working at ptHealth Cowie Hill as a patient coordinator. While working as a patient coordinator, Emily was able to see how well a multidisciplinary approach to health can help further a patient's healing, which spurred her decision to become a Massage Therapist. While in school, Emily was able to partake in a variety of sporting events and clinics specializing in Neurological disorders, mental health, and spa. She specializes in Swedish massage and a therapeutic approach, combined with deep tissue, myofascial, trigger point therapy, and cupping. Emily is a dedicated practitioner who helps inspire her patient's self-care through education of their own body, and providing remedial exercises for homecare. She believes in getting to the root cause of a patient's condition, and working with other clinicians to create the best treatment plan for her patients.



Rebecca Whynot
Occupational Therapist

Rebecca graduated with her Bachelor of Science in Psychology from Dalhousie University in 2007. She took a few years off to work before returning to school to complete her Master of Science in Occupational Therapy in 2012. After graduation, Rebecca moved to rural Newfoundland to work for a few months before joining the pt Health team in October 2012. Rebecca is excited to be back home completing Job Site Analysis, Job Site visits, Ergonomic Assessments, functional testing, return to work planning, and wheelchair assessments for pt Health. Although she enjoys all aspects of her job, Rebecca's main area of interest is seniors' health and wellness.



Michael Chiasson
Physiotherapist

Michael's physiotherapy career started in 2014 as a kinesiologist for ptHealth at the Cole Harbour Integrated Health and Forest Hills locations. Spending 3 years with the company, Michael grew to love the healthcare field and chose to further his education by becoming a physiotherapist. He graduated from Dalhousie University in 2019 with a MSc. in Physiotherapy and is looking forward to working as a ptHealth team member again. Michael believes in using a client-centered approach, incorporating individualized exercise and education to help patients manage pain and recover while preventing future injuries. He hopes to pursue post-graduate courses in acupuncture and manual therapy to help improve the care he can provide to his clients. Outside of physiotherapy, Michael is an avid sports fan and athlete. He played competitive soccer and competed at a national level in sprint canoe/kayak. He continues to play soccer and when he is not being active, he enjoys spending time at home with his wife and their dog J-ze.



Cheryl Cassell
Patient Coordinator

Cheryl graduated from ARVS (Annapolis Regional Vocational School) in 1980 with a diploma in Business Education/Secretarial. Originally from Ottawa Ontario, She has lived and worked in the Halifax area since 1993. She is currently Patient Coordinator at Fall River Physio in Fall River, NS. Cheryl has a passionate interest in mission work and has participated in mission trips in Africa, Haiti, and Costa Rica. Cheryl has been married to Esau for 36 years and is a mother of five and grandmother of eight. She enjoys travelling, baking, doing crafts, and hanging out with her grandchildren whenever possible.



Ryan George
Occupational Therapist - MSc(OT), BKin (Hons.)

Ryan is a passionate and energetic Occupational Therapist who strives to maximize individual's full potential through use of evidence-based practice and holistic treatment approaches. Ryan believes that using the latest in clinical knowledge and letting clients feel empowered in their own health will provide the best possible outcomes to reach their dreams/goals and participate in what is meaningful for them. Prior moving to Halifax to become an occupational therapist, he was highly experienced in office ergonomic assessments/education to ensure joint health and prevent work-related musculoskeletal injuries through his exercise science background. Ryan's other clinical interests include upper extremity rehabilitation, durable medical equipment prescription, return-to-work and chronic pain management. Ryan holds a master's degree in Occupational Therapy from Dalhousie University and a Bachelor of Kinesiology degree with honors and co-operate experience from Memorial University of Newfoundland. Ryan is also certified in a variety of continuing education courses including hand therapy and telehealth services and continues to make gains in his professional development. When Ryan is not working, you can find him in the pool, going to spin classes and hiking throughout Nova Scotia.


[View More]
"Wonderful and friendly staff. They helped to get me moving again after a car accident. They are very knowledgeable and willing to go the extra mile. It is great to have so many services available under one roof."
Marilyn G - Google Review
"Fast to get into. Easy for insurance billing. Staff easy to talk to. Professional. There are appointments available to work with people before or after work or school and evenings. Very convenient! "
Selena G - Google Review