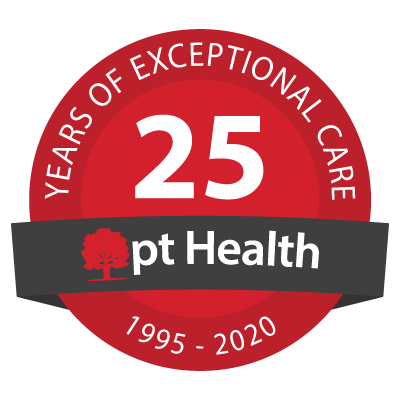 Fall River Physiotherapy - pt Health
Notice: We are open for In-Person treatment. To ensure the health and safety of our patients and staff, we have made a number of changes to the way our clinics operate and have implemented enhanced measures to ensure the health and safety of our patients and staff.
Click here to learn more about the Lifemark S.A.F.E.R. approach.
To schedule an In-Person or Virtual Care appointment, please give us a call at 1-888-314-2726 or book an appointment online.
In response to COVID-19, pt Health is doing its part to help protect our patients and staff by modifying the availability of services at our clinics. Please call the clinic to seek advice or rebook services.
[Read More]
"The best service. The team is wonderful and professional. They have a great understanding of the problem a person is having and treat accordingly. I am very pleased and have been using pt Health in Fall River for 4 yrs."
Carolyn M - Google Review
"Always extremely thorough, assisting me not only with treatment of the immediate injury, but also understanding and incorporating my lifestyle and recovery goals into their approach. Everyone is cheerful, positive and professional."
Mary M - Google Review
Our Clinic Team
Michael Chiasson
Physiotherapist

Michael's physiotherapy career started in 2014 as a kinesiologist for pt Health at the Cole Harbour Integrated Health and Forest Hills locations. Spending three years with the company, Michael grew to love the healthcare field and chose to further his education by becoming a physiotherapist. He graduated from Dalhousie University in 2019 with a MSc. in Physiotherapy and is happy to be working as a pt Health team member again.

Michael believes in using a client-centered approach, incorporating individualized exercise and education to help patients manage pain and recover while preventing future injuries. He hopes to pursue post-graduate courses in acupuncture and manual therapy to help improve the care he can provide to his clients. Outside of physiotherapy, Michael is an avid sports fan and athlete. He played competitive soccer and competed at a national level in sprint canoe/kayak. He continues to maintain an active lifestyle through sports and fitness.

In his free time there is nothing he enjoys more than spending time at home with his wife, son and two dogs.

Matthew Bernard
Registered Massage Therapist

After discovering at a young age how relaxing and stress relieving massage can be, Matthew realized that a career in the health care industry, where he got to work with his hands, was where he needed to be. After graduating the Massage Therapy Diploma Program at the Canadian College of Massage and Hydrotherapy in 2003, he began his career in the spa industry, which led to the study of Ayurvedic medicine and training in Reiki and Hot Stone Therapy.

After making the move to more clinical settings, Matt quickly realized that people benefit greatly from a blended approach of east meets west and now practices a style of deep tissue massage that can target specific issues when necessary, but does so in a way to keep the body as relaxed and balanced as possible.

Laura Baikie
Physiotherapy Resident

Laura has had a long-time interest in health and wellness, she has wanted to be a physiotherapist since she was just a teenager. During her Kinesiology degree at Dalhousie University, she gained experience working as a physiotherapy assistant, a strength and conditioning coach and a fitness instructor. Laura recently graduated from McGill University with a MSc in Physiotherapy where she worked with the varsity women's soccer team.

Laura's philosophy is to use a client-centered approach to create a meaningful rehabilitation experience with patients. She aims to work with patients to address health and wellness concerns wholly and efficiently.

Laura takes special interest in back and neck pain as she has her Part A certification in McKenzie method of Mechanical Diagnosis and Treatment. As well she takes interest in sport injuries and chronic pain for people of all ages. Laura looks forward to becoming part of the community and helping others reach their goals.
[View More]
"Wonderful and friendly staff. They helped to get me moving again after a car accident. They are very knowledgeable and willing to go the extra mile. It is great to have so many services available under one roof."
Marilyn G - Google Review
"Fast to get into. Easy for insurance billing. Staff easy to talk to. Professional. There are appointments available to work with people before or after work or school and evenings. Very convenient! "
Selena G - Google Review