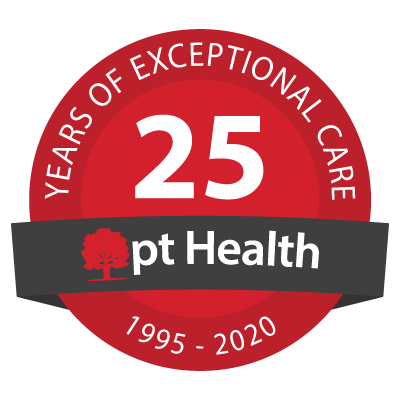 Fall River Physiotherapy - pt Health
Welcome!
Our clinic is open and offering in-person treatment in addition to virtual care. We look forward to seeing you soon.
Our Clinic Team
Michael Chiasson
Physiotherapist

Michael's physiotherapy career started in 2014 as a kinesiologist for pt Health at the Cole Harbour Integrated Health and Forest Hills locations. Spending three years with the company, Michael grew to love the healthcare field and chose to further his education by becoming a physiotherapist. He graduated from Dalhousie University in 2019 with a MSc. in Physiotherapy and is happy to be working as a pt Health team member again.

Michael believes in using a client-centered approach, incorporating individualized exercise and education to help patients manage pain and recover while preventing future injuries. He hopes to pursue post-graduate courses in acupuncture and manual therapy to help improve the care he can provide to his clients. Outside of physiotherapy, Michael is an avid sports fan and athlete. He played competitive soccer and competed at a national level in sprint canoe/kayak. He continues to maintain an active lifestyle through sports and fitness.

In his free time there is nothing he enjoys more than spending time at home with his wife, son and two dogs.

Emily Mathisen
Registered Massage Therapist

Emily graduated from the Canadian College of Massage and Hydrotherapy in 2019 and is a member in good standing with MTANS. Throughout her time in school, she developed a passion for helping people that are in pain and discomfort. She has continued to expand on her education by taking courses on chronic pain, cupping, gua sha, and pre/post-natal care.

Outside of her work, she spends her time renovating her house with her husband, exploring Nova Scotia, and traveling to visit her family in Minnesota.

Matthew Bernard
Registered Massage Therapist

After discovering at a young age how relaxing and stress relieving massage can be, Matthew realized that a career in the health care industry, where he got to work with his hands, was where he needed to be. After graduating the Massage Therapy Diploma Program at the Canadian College of Massage and Hydrotherapy in 2003, he began his career in the spa industry, which led to the study of Ayurvedic medicine and training in Reiki and Hot Stone Therapy.

After making the move to more clinical settings, Matt quickly realized that people benefit greatly from a blended approach of east meets west and now practices a style of deep tissue massage that can target specific issues when necessary, but does so in a way to keep the body as relaxed and balanced as possible.

Kaitlin Furlong
Osteopathic Practitioner

Kaitlin is a graduate from the five-year manual osteopathic program at the Collège d'Études Ostéopathiques & from the University of Regina's Human Kinetics Kinesiology program. All her life, Kaitlin has known that she wanted to pursue a career dedicated to helping others.

Osteopathy is a holistic manual therapy concerned with restoring balance throughout all body systems & structures, by finding and treating the root causes of dysfunctions. A manual osteopath will treat the body as a functional unit that comprises many different parts that all need to function cohesively in order to optimize well-being and health. A thorough understanding of anatomy, physiology, & biomechanics is essential in treating the entirety of a person.

Osteopathy can help with a wide variety of ailments including: acute or chronic musculoskeletal pain, digestive issues, menstrual pain, headaches & migraines, TMJ disorders, concussions, mobility problems, post-surgical care, pre & postnatal care, etc. Through her individualized treatments, Kaitlin will perform myofascial & soft tissue techniques, gentle joint mobilizations, cranial sacral techniques, osteo-articular adjustments, muscle energy techniques, fluidic work, & fascial visceral manipulation. Kaitlin is committed to keeping up with continuing education opportunities so that she can broaden her skill set throughout her career in order to best treat her patients.She works with clients of all ages.

In her spare time, you can find Kaitlin enjoying the great outdoors & visiting local hot spots in Dartmouth, where she lives with her fiancé, Nick, & her sweet pets, Lennon & Lucy.

Dana Brinton
Registered Massage Therapist

Dana was born and raised in Halifax, NS and graduated from Eastern College in 2022. He is highly skilled in Swedish Massage, Deep Tissue, Himalayan salt stone, and hot stone massage. He also focuses on Prenatal Massage and believes that it helps to reduce stress in the postpartum period.

Dana uses different techniques during the massage for the best results for his client. He is passionate about what is best for the patient and looking forward to building a custom treatment plan to suit your needs.

In his spare time, Dana can be found spending quality time with his 3 daughters and 3 fur babies. He also like to spend time doing weight training or motorcycling.
[View More]