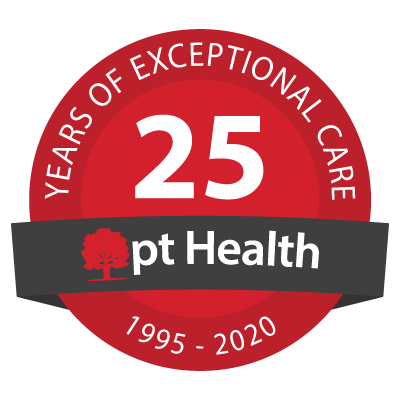 Four Seasons Physiotherapy - pt Health
Notice: We are open for In-Person treatment. To ensure the health and safety of our patients and staff, we have made a number of changes to the way our clinics operate and have implemented enhanced measures to ensure the health and safety of our patients and staff.
Click here to learn more about the S.A.F.E.R. approach.
To schedule an In-Person or Virtual Care appointment, please give us a call at 1-888-314-2726 or book an appointment online.
In response to COVID-19, pt Health is doing its part to help protect our patients and staff by modifying the availability of services at our clinics. Please call the clinic to seek advice or rebook services.
[Read More]
"We have been very impressed with the staff at Four Seasons Physiotherapy. From receptionists to therapists to management, everyone is conscientious and thorough in what they do. They are also pleasant which makes coming back a real treat for my mom and my sisters. We couldn't be happier. Thank you Four Seasons for being exceptional."
Paola G - Google Review
"I have been treated to Four Seasons Physiotherapy Clinic for my knee pain and it was such a pleasant clinic with excellent staff. The physiotherapist took extra time to listen and explain all exercises I would need. am happy to be referred to this clinic and I can see the improvements within 1 week. Thank you so much for your dedication and excellent service!"
Ledia S - Google Review
Our Clinic Team
Harmanpreet Kaur
Office Manager

Speaks: English, Hindi, Punjab

Harman graduated from LPU, India, with a degree in Biotechnology and completed post graduate program in Food Science and Technology from Centennial College, Scarborough. Shortly after graduating, she joined pt Health in 2014. Her passion for new challenges in life, helping others and multitasking, has expanded her career into the role of Office Manager for 4 clinics and GTA Administrative Team Lead for 8 clinics. Harman enjoys every aspect of her job with pt Health. Outside of work she enjoys spending time with her family and friends.



Anish Sharma
Physiotherapist

Speaks: English, Urdu, Hindi, Punjab

Anish received his Masters in Physiotherapy from La Trobe University in Melbourne, Australia. He uses a variety of techniques which include manual therapy, joint mobilizations, and soft tissue release. He is also a firm believer on the importance of exercise in creating resilience in the human body.



Zabirhussain Ghair
Physiotherapist

Zabir Graduated from Rajiv Gandhi University of Health Sciences, India in 2008 with Bachelors in Physiotherapy and post Graduate from Tesside's University, England in Physiotherapy studies. Zabir has more than 8 years of experience working as Registered Physiotherapist in various settings. Zabir continuesto expand his knowledge and skill set and has taken courses on Mobilisations, Rapid myofascial release, and cupping in 2018. He also enrolled for Acupuncture and Taping and hoping to complete by December 2019. He has been working with pt Health for over 1 year now. Zabir strongly believes he can help people through his skills, knowledge and passion for assisting people recover from injuries.



Adrian Avenido
Physiotherapy Support Personnel

Adrian Avenido graduated as a physiotherapist in 1997 in the Philippines. He moved to North America in 2001 and has been working as a physiotherapy assistant ever since. Adrian has worked in many different clinical environments including hospitals, private clinics, and long-term care homes. When he's not at work, he enjoys playing basketball, volleyball, and tennis.



Jenny Talevski
Patient Coordinator

Jenny Talevski is a patient coordinator at both Six Points Physiotherapy and Four Seasons Physiotherapy. She has many years of experience in customer service. When not at work Jenny enjoys hanging out with her friends as well as going for long walks. Jenny is planning on going back to school to further her experience in the medical field.



Hadi Tabibi
Physiotherapist

Speaks: English, PersianFarsi

Hadi (Hamid) Tabibi is a Registered Physiotherapist with 18 years experience. He graduated in 2000 with a Bachelor of Science in Physiotherapy and has practised at a variety of different hospitals and clinics. Hadi has experience working with various conditions and has developed a special interest in treating foot conditions since 2007. He keeps his medical knowledge current by attending courses focused on exercise prescription, manual therapy and pain management. Hadi prides himself on his problem-solving abilities and thorough assessment techniques. No matter how complex the condition or injury, Hadi strives to optimize the health and well-being of his patients. Hadi has most recently completed both the Arthritis Society's Getting a Grip on Arthritis® osteoarthritis and rheumatoid arthritis education program.



Mark Dwyer
Massage Therapist

Olena Kobelak
Patient Coordinator
[View More]
"Very pleased with the help that this clinic have offered. My husband and I are both seniors and OHIP covers our treatments. The staff are very friendly and the treatments have helped a great deal."
Ann T - Google Review
"Very professional team. I had a shoulder, back and knee pain. For two weeks I couldn't sleep. Since the very first sessions of physiotherapy I saw the result and less than a month all pain was gone."
Behrad S - Google Review