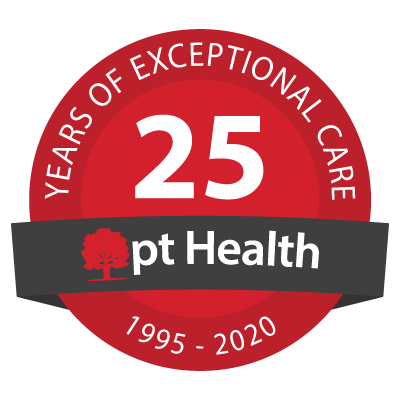 Four Seasons Physiotherapy - pt Health
In-person treatment available
Virtual Care treatment available
Ontario Health Insurance Plan (OHIP)
Welcome!
Our clinic is open and offering In-person treatment in addition to Virtual Care service. Please note that enhanced measures are in place to ensure the health and safety of our patients and staff. View our virtual tour video so you know what to expect at your next clinic appointment.
"We have been very impressed with the staff at Four Seasons Physiotherapy. From receptionists to therapists to management, everyone is conscientious and thorough in what they do. They are also pleasant which makes coming back a real treat for my mom and my sisters. We couldn't be happier. Thank you Four Seasons for being exceptional."
Paola G - Google Review
"I have been treated to Four Seasons Physiotherapy Clinic for my knee pain and it was such a pleasant clinic with excellent staff. The physiotherapist took extra time to listen and explain all exercises I would need. am happy to be referred to this clinic and I can see the improvements within 1 week. Thank you so much for your dedication and excellent service!"
Ledia S - Google Review
Our Clinic Team
Zabirhussain Ghair
Physiotherapist

Zabir Graduated from Rajiv Gandhi University of Health Sciences, India in 2008 with Bachelors in Physiotherapy and post Graduate from Tesside's University, England in Physiotherapy studies. Zabir has more than 8 years of experience working as Registered Physiotherapist in various settings. Zabir continuesto expand his knowledge and skill set and has taken courses on Mobilisations, Rapid myofascial release, and cupping in 2018. He also enrolled for Acupuncture and Taping and hoping to complete by December 2019. He has been working with pt Health for over 1 year now. Zabir strongly believes he can help people through his skills, knowledge and passion for assisting people recover from injuries.



Olena Kobelak
Patient Coordinator
[View More]
"Very pleased with the help that this clinic have offered. My husband and I are both seniors and OHIP covers our treatments. The staff are very friendly and the treatments have helped a great deal."
Ann T - Google Review
"Very professional team. I had a shoulder, back and knee pain. For two weeks I couldn't sleep. Since the very first sessions of physiotherapy I saw the result and less than a month all pain was gone."
Behrad S - Google Review