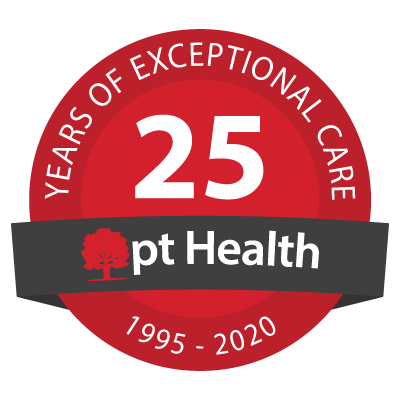 Four Seasons Physiotherapy - pt Health
In-person treatment available
Virtual Care treatment available
Ontario Health Insurance Plan (OHIP)
Welcome!
Our clinic is open and offering in-person treatment in addition to virtual care. We look forward to seeing you soon.
"We have been very impressed with the staff at Four Seasons Physiotherapy. From receptionists to therapists to management, everyone is conscientious and thorough in what they do. They are also pleasant which makes coming back a real treat for my mom and my sisters. We couldn't be happier. Thank you Four Seasons for being exceptional."
Paola G - Google Review
"I have been treated to Four Seasons Physiotherapy Clinic for my knee pain and it was such a pleasant clinic with excellent staff. The physiotherapist took extra time to listen and explain all exercises I would need. am happy to be referred to this clinic and I can see the improvements within 1 week. Thank you so much for your dedication and excellent service!"
Ledia S - Google Review
Our Clinic Team
Karandeep Riar
Chiropractor

Dr. Karandeep S. Riar earned a Honours Bachelor of Science degree from McMaster University and then went on to complete a Doctorate in Chiropractic. While completing his one-year internship, Dr. Riar was recognized with the Health Centre Award for clinical excellence. Dr. Riar has obtained in-depth training in chiropractic adjusting, myofascial release therapy, instrument assisted soft tissue therapy, functional movement analysis, the use of various modalities, orthotics therapy and rehabilitation therapy.

Dr. Riar also holds a certificate in Contemporary Medical Acupuncture from McMaster University. Dr. Riar is a firm advocate of patient-centered evidence-based healthcare. He spends a lot of time keeping updated on current literature and attending various musculoskeletal seminars to expand his knowledge and apply it to patient care. His approach consists of getting patients out of pain as well as identifying and correcting aberrant movement and motor patterns that led to the patient's problem in the first place.

In his spare time, Dr. Riar enjoys keeping fit through resistance training, running and playing basketball.

Dr. Riar is certified in Medical Acupuncture, Graston Technique M1, Myofascial Release Therapy, and Custom Orthotic Therapy.

Zabirhussain Ghair
Clinic Director

Zabir graduated from Rajiv Gandhi University of Health Sciences, India in 2008 with a Bachelor's degree in Physiotherapy and post Graduate from Tesside's University, England in Physiotherapy studies. Zabir has more than 10 years of experience working as a Physiotherapist in various settings in India and Canada.

He continues to expand his knowledge and skill set and has taken courses on manipulation, rapid myofascial release, acupuncture and dry needling, and TMJ management. He has been working with pt Health since 2018 as a Physiotherapist and now he is the Clinic Director at Four Seasons Physiotherapy - pt Health.

Zabir strongly believes he can help people through his skills, knowledge and passion for assisting people recover from injuries.

Shweta Desai
Physiotherapist

Shweta received her Bachelor of Physiotherapy (BPT) in 2015 and Master's degree in Cardiopulmonary Physiotherapy (MPT) in 2017 from Gujarat University, India. She is a Registered Physiotherapist with experience treating various musculoskeletal, neurological and cardiopulmonary conditions. She is a strong believer of exercise therapy and manual therapy. Shweta likes to educate her patients about their condition and create specific treatment plans according to a patient's rehabilitation needs.

Shweta has done Mulligan and Neurodynamic Studies and aspires to learn Acupuncture and Vestibular physiotherapy. Shweta speaks English, Hindi and Gujarati.

Dharti Patel
Physiotherapy Assistant

Dharti has completed her Bachelor of Physiotherapy (BPT) from BITS Institute of Physiotherapy Vadodara, Gujarat, India in 2018 and completed the Fitness and Health Promotion program at Humber College in 2021.

She has been practicing Physiotherapy for the past 3 years and is currently working as Physiotherapy Assistant (PTA). To keep herself updated she has taken courses to develop her knowledge and skills on Dry needling, IASTM (instrument assisted soft tissue mobilization), soft tissue release (MET and MFR), spine manual therapy.

Krina Shah
Physiotherapy Resident

Krina Shah finished her Bachelor of Physiotherapy (BPT) in 2015 from Gujarat University, India.

She is knowledgeable about working with various outpatient Musculoskeletal, Neurological and Cardiopulmonary conditions. She conveys 3 years experience in working as a Physiotherapist at an Orthopedic Hospital which is notable for taking care of cases like knee, hip, shoulder post-operative cases in India.

Her fundamental concern is to instruct patient about their condition and encourage them to do practices effectively in collaboration with mutual goal settings between patient and therapist.
[View More]
"Very pleased with the help that this clinic have offered. My husband and I are both seniors and OHIP covers our treatments. The staff are very friendly and the treatments have helped a great deal."
Ann T - Google Review
"Very professional team. I had a shoulder, back and knee pain. For two weeks I couldn't sleep. Since the very first sessions of physiotherapy I saw the result and less than a month all pain was gone."
Behrad S - Google Review