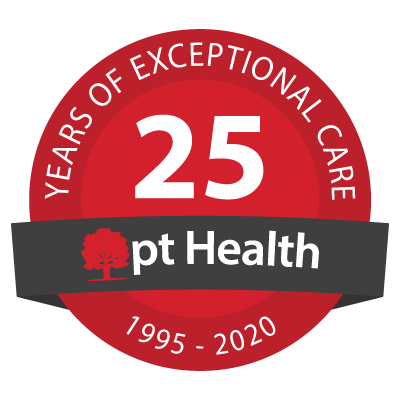 Hagersville Physiotherapy and Rehabilitation - pt Health
In-person treatment available
Virtual Care treatment available
Welcome!
Our clinic is open and offering In-person treatment in addition to Virtual Care service. Please note that enhanced measures are in place to ensure the health and safety of our patients and staff. View our virtual tour video so you know what to expect at your next clinic appointment.
"This place is great! As soon as you walk in, all you see is smiling faces and such a welcoming vibe! They have an online appointment system so it was amazingly easy to book an appointment. They accommodate you for anything you have or need and I would honestly trust no one else for physio! "
Kenzie C - Google Review
"Cannot express enough how wonderful this team is. I could not walk because of my back injury and my physio was so helpful, nice and supportive. They called to make sure I was okay the day after. I cannot get over my pain relief. It's wonderful. I rate them with the highest regard and have recommended them already."
Rachel S - Google Review
Our Clinic Team
Nicholas Guiler
Physiotherapist - BSc, MSc

Exciting new Bio coming soon



Shawn Engell
Chiropractor - Hon.B.Kin, D.C.

Shawn graduated from New York Chiropractic College, after which he started working in the Haldimand-Norfolk area. After sharpening his chiropractic skills, he joined the pt Health team in 2011. Shawn's thirst for knowledge shows as he is a fully certified Graston Technique Provider and has recently completed a Masters Degree in Rehabilitation Science at McMaster University. His research interests include the study of the biomechanics associated with spinal manipulation. Shawn enjoys outdoor activities with his family during his spare time.



John Westendorp
Holistic Nutritionist - R.O.H.P./R.N.C.P.

John is a Holistic Nutritionist who graduated from Edison Institute of Nutrition in 2019 with high honours, and holds the titles R.O.H.P./R.N.C.P. from the International Organization of Nutritional Consultants (IONC). John has been interested in the health sciences for many years, and the health issues he faced in his own life served as a powerful catalyst in helping him pursue his career as a nutritionist. John has a special focus on fitness nutrition, in addition to having much experience and expertise with mercury poisoning and how to accurately test for it. John takes great pleasure in helping people through their health related difficulties. He does so with general nutritional consulting, but also targeted, personal and individualized advice that he can offer when clients use an extensive analytical tool that uses each person's own unique presenting symptomatology to figure out the status of many components and systems in the body. In his down time, John enjoys cycling, motorcycling, working out, hiking the Bruce trail and reading.



Margaret Pepper
Patient Coordinator

Margaret graduated from Executive Office Administration at Mohawk College. She worked for a large corporation for 30 years doing various jobs and learning many different skills. After this corporation closed she felt she was too young to retire and had always wanted to work in the medical field helping others. She was a patient here at Hagersville and enjoyed the positive work environment of this clinic. Margaret grew up in Haldimand County and has served on the Executive at the Cayuga Figure Skating Club, Hagersville Minor Hockey, Hamilton Girls Hockey and Haldimand Rivercats Girls Hockey. Margaret lives in Hagersville with her husband Robin. She has two daughters, three stepsons, one granddaughter and two grand puppies. Margaret tries to greet all patients with a smile and welcome.



Samantha Smith
Patient Coordinator
[View More]
"Staff is knowledgeable and friendly and I trust them to help me heal as quickly as possible with the least amount of discomfort. "
Chris F - Google Review
"Very friendly and efficient staff. After three or four treatments my husband's back issue was resolved. We were very happy with the results."
Janice M - Google Review