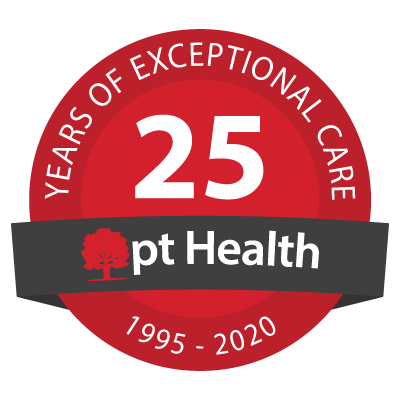 Harvester Road Physiotherapy - pt Health
In-person treatment available
Virtual Care treatment available
Welcome!
Our clinic is open and offering In-person treatment in addition to Virtual Care service. Please note that enhanced measures are in place to ensure the health and safety of our patients and staff. View our virtual tour video so you know what to expect at your next clinic appointment.
"My ongoing care with this clinic is nothing short of amazing! All the staff make you feel comfortable while keeping a professional attitude. Thank you to all at pt Health for getting me back on track :)"
Chelsea M - Google Review
"Very accommodating and thorough from booking appointments to therapy itself! Very professional and knowledgeable in my treatments. I would highly recommend Harvester Road Physiotherapy!"
Bill T - Google Review
Our Clinic Team
Jessica Ly
Physiotherapist - MScPT, H.BSc

Speaks: English, Cantonese

Jessica completed her Masters of Science in Physiotherapy and an undergraduate degree in Life Sciences at McMaster University. Her post-graduate education includes completion of courses in Advanced Orthopedic Manual and Manipulative Therapy, Soft Tissue Release Training, Acupuncture and Pelvic Health. She has experience treating a wide range of musculoskeletal, sports injury and neurological conditions in both a clinical and the hospital setting. Jessica is also a rostered pelvic physiotherapist with knowledge treating conditions related to incontinence, prolapses, pelvic girdle pain, pregnancy & post-natal related dysfunction and diastasis recti. She believes in using a combination of manual therapy, exercise training and education to help her patients maximize their strength, movement and function. Jessica focuses on using a holistic, client-centred and evidence-based approach to fulfill the goals and help improve the well being of all her clients. Jessica has most recently completed both the Arthritis Society's Getting a Grip on Arthritis® osteoarthritis and rheumatoid arthritis education program. In her spare time, Jessica enjoys discovering new hiking trails, spending time with her friends and family and sampling foods from around the world.



Linda Swint
Patient Coordinator

A graduate of Halton Business Institute, Linda has over 16 years experience in customer service and over 9 years in a clinical setting. She enjoys interacting with patients and doing her utmost to provide them with the best service possible.



Ellen MacRae
Patient Coordinator

Laura Epp-Ruitenberg
Massage Therapist - RMT

Laura is licensed through the College of Massage Therapists of Ontario, graduating from Mohawk College's Massage Therapy program in 2018. She has experience with patients of various ages and ability, as well as a range of techniques (taking a special interest in deep tissue and trigger point massage). Her passion is to improve her patients' quality of life and give them the tools and the education necessary to get the most out of their treatments.



Forum Gandhi
Physiotherapist

Forum is a Registered Physiotherapist registered with the College of Physiotherapists of Ontario. Her educational background includes a Master's degree in orthopedics and sports physiotherapy. Forum's interests includes musculoskeletal and sports injuries, pain management, post-operative rehabilitation and back injury prevention and rehabilitation. Forum has taken several courses in manual therapy, neural mobilization and Pilates for rehabilitation. She is also a certified dry needling practitioner. She believes that for a complete recovery from any injury it is very essential to be in sync with the muscles and mind. Doing the appropriate exercises and having a holistic approach can help with a speedy recovery. Lastly, focusing on pre-habilitation can help individuals prevent future injuries, aches and pains. When she is not treating patients, she keeps busy with swimming, listening to music and traveling. 


[View More]
"By far the best physio clinic I have gone to. I've had ongoing back pain for over 10 years and I feel like the sessions here are already helping."
Emanuel R - Google Review
"They are very flexible and do everything they can to make sure you are comfortable Would highly recommend them as your physio choice!"
Krystal D - Google Review