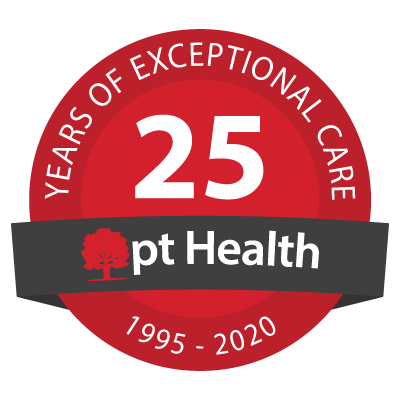 Harvester Road Physiotherapy - pt Health
Welcome!
Our clinic is open and offering in-person treatment in addition to virtual care. We look forward to seeing you soon.
"My ongoing care with this clinic is nothing short of amazing! All the staff make you feel comfortable while keeping a professional attitude. Thank you to all at pt Health for getting me back on track :)"
Chelsea M - Google Review
"Very accommodating and thorough from booking appointments to therapy itself! Very professional and knowledgeable in my treatments. I would highly recommend Harvester Road Physiotherapy!"
Bill T - Google Review
Our Clinic Team
Laura Epp-Ruitenberg
Registered Massage Therapist

Laura is licensed through the College of Massage Therapists of Ontario, graduating from Mohawk College's Massage Therapy program in 2018. She has experience with patients of various ages and ability, as well as a range of techniques (taking a special interest in deep tissue and trigger point massage).

Her passion is to improve her patients' quality of life and give them the tools and the education necessary to get the most out of their treatments.

Jessica Ly
Physiotherapist

Jessica completed her Master of Science in Physiotherapy degree and an undergraduate degree in Life Sciences at McMaster University. Her post-graduate education includes completion of courses in Advanced Orthopedic Manual and Manipulative Therapy, Soft Tissue Release Training, Acupuncture, Vestibular and Pelvic Health. She has experience treating a wide range of musculoskeletal, sports injury and neurological conditions in both a clinical and the hospital setting.

Jessica is also a rostered pelvic physiotherapist with knowledge treating conditions related to incontinence, prolapses, pelvic girdle pain, pregnancy & post-natal related dysfunction and diastasis recti. She believes in using a combination of manual therapy, exercise training and education to help her patients maximize their strength, movement and function. Jessica focuses on using a holistic, client-centred and evidence-based approach to fulfill the goals and help improve the well being of all her clients. Jessica has most recently completed both the Arthritis Society's Getting a Grip on Arthritis® osteoarthritis and rheumatoid arthritis education program.

In her spare time, Jessica enjoys discovering new hiking trails, spending time with her friends and family and sampling foods from around the world.

Pierre Donatien
Physiotherapy Resident

Pierre is a new therapist with an ongoing passion for the holistic improvement of patient health and wellness. Graduating from McGill University in early 2019, his clinical focus is Orthopedic physiotherapy, utilizing a combination of both passive and active therapeutic techniques as part of his treatment methodology. During his time in Montreal, Pierre had the opportunity to work with the Canadian Football League (CFL) in the study of sports-related injuries, and is the co-author of a new research article in the Clinical Journal of Sports Medicine (2020).

In addition to his physiotherapy-related experience, Pierre has over 10 years of experience as a Certified Personal Trainer and several years of experience as a Nutrition consultant. All of these experiences translate into a measured, well-rounded approach to providing optimal care for both new and ongoing patients.
[View More]
"By far the best physio clinic I have gone to. I've had ongoing back pain for over 10 years and I feel like the sessions here are already helping."
Emanuel R - Google Review
"They are very flexible and do everything they can to make sure you are comfortable Would highly recommend them as your physio choice!"
Krystal D - Google Review