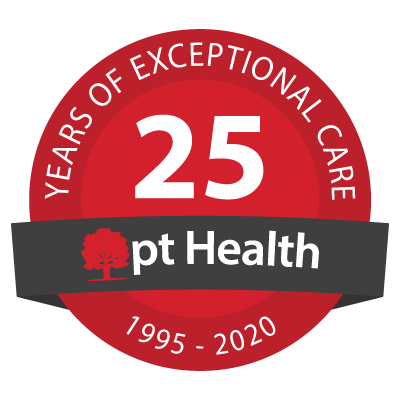 Midland Physiotherapy and Rehabilitation Centre - pt Health
In-person treatment available
Virtual Care treatment available
Ontario Health Insurance Plan (OHIP)
Welcome!
Our clinic is open and offering In-person treatment in addition to Virtual Care service. Please note that enhanced measures are in place to ensure the health and safety of our patients and staff. View our virtual tour video so you know what to expect at your next clinic appointment.
"The staff at Midland Physio are really friendly and helpful. Everyone was really accommodating with my schedule and I found that regardless of who was treating me, they made sure I was as comfortable as possible. I couldn't be better now thanks to the girls at Midland Physio. "
Jess D - Google Review
"I found pt Health Midland Physiotherapy to be a very friendly orientated place to heal. From the first day I went in, they managed to make each and every visit a very pleasant one, often chatting about dogs, food, lifestyle change and holidays. Would definitely recommend this place to anyone needing physio. "
Cath E - Google Review
Our Clinic Team
Tina McNeil
Clinic Team Manager - BScPT, MBA

Tina's therapeutic philosophy is that every patient deserves compassionate and individualized care. She graduated with a Bachelor's of Science (Physical Therapy) from the University of Western Ontario in 1995 and has over 25 years of experience treating patients in a wide range of health care environments including hospital, community, and Long Term Care settings. In 2002 she completed an MBA from Laurier University and has held numerous supervisory roles including Senior Physiotherapist and Professional Practice Leader. Although a competitive downhill skier and tennis player in her youth, she enjoys a slower pace of life now. Taking her two border terriers for walks and hanging out on the beach with her husband and three kids are just a few of her favourite things.



Sarath Krishnan
Physiotherapist

Sarath believes in an active approach to rehabilitation with an emphasis on patient education. With every patient he customizes a tailored treatment plan to help them achieve maximal functional independence. Sarath treats a variety of patient ages and conditions; from older to younger clients with both acute and chronic injuries. His main area of interest include musculoskeletal disorders and sports injuries. Sarath completed a Master of Physiotherapy from RGUHS in 2011 and has Level 1 Selective Functional Movement Assessment training. In his spare time, Sarath enjoys playing soccer and taking long hikes outdoors. He is also in the process of learning how to ski.



Samantha Maxwell
Physiotherapy Support Personnel

Sam believes that movement is medicine and that the body will heal itself if you give it the right tools to accomplish it. She works with a variety of patients both young and old and brings a lot of enthusiasm and patient education in her approach to care. Sam graduated from Lakehead University in 2005 with an Honours Bachelor in Kinesiology. Outside of work, she enjoys competitive Power lifting and Olympic lifting and even advanced to the Power Lifting Nationals in 2019. Some of her other favourite pastimes include canoeing, hiking, and hanging out with her three dogs Isabelle, Rosy and Jake.



Lori Milne
Physiotherapy Support Personnel

Lori emphasizes education with her patients so that they understand how their exercises and treatments will benefit their condition. Through her work at the clinic, she has seen first-hand how patients benefit physically, mentally and socially when they have less pain and improved function. This allows them to participate in the things that are meaningful to them and motivates them to continue with their programs. Lori graduated from York University in 2015 with an Honours Bachelor of Arts Double Major in Kinesiology and Psychology. During the winter months, Lori is a Level 2 CSIA ski instructor. In the summer, she enjoys riding motorcycles, camping and hiking.



Linda Carmicheal
Care Coordinator Manager

Before joining our team, Linda worked as a Personal Support Worker for 10 years prior to graduating with honours from the Accounting and Office Administration program at Progressive Training College of Business and Health. Linda also has a certificate in Human Resource Management. In her spare time, Linda loves cooking, baking, travelling, and spending time with her grandkids.


[View More]
"Great experience! Really appreciated the team and their professionalism. I started my sessions with a walker and finished 6 weeks later walking normal."
Bruce R - Google Review
"pt Health is very welcoming and accommodating. Their massage therapist is excellent, she really listens to client needs. I look forward to my weekly visits. "
Elaine B - Google Review