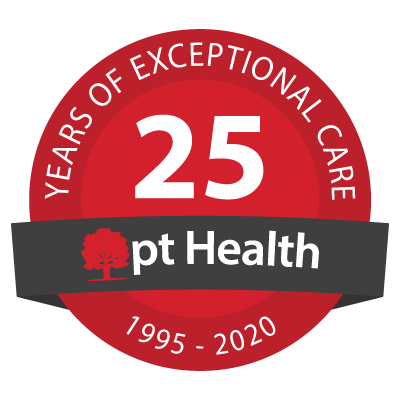 Midland Physiotherapy and Rehabilitation Centre - pt Health
In-person treatment available
Virtual Care treatment available
Ontario Health Insurance Plan (OHIP)
Welcome!
Our clinic is open and offering in-person treatment in addition to virtual care. We look forward to seeing you soon.
"The staff at Midland Physio are really friendly and helpful. Everyone was really accommodating with my schedule and I found that regardless of who was treating me, they made sure I was as comfortable as possible. I couldn't be better now thanks to the girls at Midland Physio. "
Jess D - Google Review
"I found pt Health Midland Physiotherapy to be a very friendly orientated place to heal. From the first day I went in, they managed to make each and every visit a very pleasant one, often chatting about dogs, food, lifestyle change and holidays. Would definitely recommend this place to anyone needing physio. "
Cath E - Google Review
Our Clinic Team
Sarath Krishnan Kizhakke Thiruvath
Physiotherapist

Sarath believes in an active approach to rehabilitation with an emphasis on patient education. With every patient he customizes a tailored treatment plan to help them achieve maximal functional independence. Sarath treats a variety of patient ages and conditions; from older to younger clients with both acute and chronic injuries. His main area of interest include musculoskeletal disorders and sports injuries.

Sarath completed a Master of Physiotherapy from RGUHS in 2011 and has Level 1 Selective Functional Movement Assessment training. In his spare time, Sarath enjoys playing soccer and taking long hikes outdoors. He is also in the process of learning how to ski.

Casey Cadeau
Occupational Therapist

Casey received her Master of Science in Occupational Therapy degree from McMaster University in 2017, as well as a Bachelor of Physical and Health Education (Honours degree) at Queen's University in 2015. Casey has continued her postgraduate education by successfully completing the ImPACT trained Occupational Therapist program, the Concussion Management workshops level 1 and 2 through Concussion Rehab Works Inc., and various educational courses regarding wheelchair prescription. She has obtained certificates in Acceptance and Commitment Therapy (ACT), as well as Motivational Interviewing (MI). She has also obtained her authorizer status with the Assistive Devices Program (ADP) for mobility devices, through the Ministry of Health and Long-Term Care (MOHLTC).

Casey strives to provide a higher standard of one-on-one care that is effective, efficient and motivating. Her focus is on providing client-centered care, by respecting the client's expertise in their own experience and allowing her clients to direct the focus of their sessions. Casey has experience in multiple areas of practice, including concussion care, mental health, home safety, older adult care, environmental accessibility, motor vehicle accidents, case management, palliative care, mobility assessment and prescription, and ergonomics. Casey is committed to putting her clients needs first and advocating for them. While attending Queen's University, Casey was selected to participate in the Athletic Therapy mini-stream program, and worked as a student trainer for the Queen's varsity football team for three years. She travelled with the team and provided support during both practices and games. She supported the players with both preventative care, as well as urgent on field care.

In her spare time, Casey now enjoys DIY projects around her home, and trying out new recipes. She is keen to help people achieve their goals and support them along their individual journeys.

Christina McNeil
Physiotherapist

Tina's therapeutic philosophy is that every patient deserves compassionate and individualized care. She graduated with a Bachelor's of Science (Physical Therapy) from the University of Western Ontario in 1995 and has over 25 years of experience treating patients in a wide range of health care environments including hospital, community, and Long Term Care settings. In 2002 she completed an MBA from Laurier University and has held numerous supervisory roles including Senior Physiotherapist and Professional Practice Leader.

Although a competitive downhill skier and tennis player in her youth, she enjoys a slower pace of life now. Taking her two border terriers for walks and hanging out on the beach with her husband and three kids are just a few of her favourite things.
[View More]
"Great experience! Really appreciated the team and their professionalism. I started my sessions with a walker and finished 6 weeks later walking normal."
Bruce R - Google Review
"pt Health is very welcoming and accommodating. Their massage therapist is excellent, she really listens to client needs. I look forward to my weekly visits. "
Elaine B - Google Review