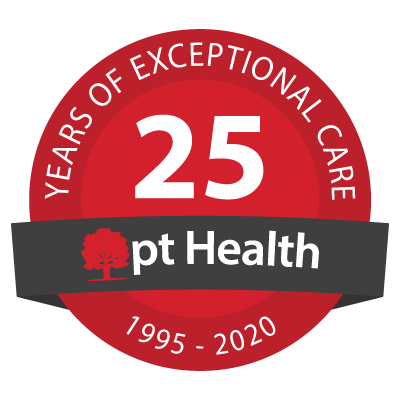 Midland Physiotherapy and Rehabilitation Centre - pt Health
In-person treatment available
Virtual Care treatment available
To ensure the health and safety of our patients and staff, we have made a number of changes to the way our clinics operate and have implemented enhanced measures to ensure the health and safety of our patients and staff. Click here to learn more about the S.A.F.E.R. approach.
"The staff at Midland Physio are really friendly and helpful. Everyone was really accommodating with my schedule and I found that regardless of who was treating me, they made sure I was as comfortable as possible. I couldn't be better now thanks to the girls at Midland Physio. "
Jess D - Google Review
"I found pt Health Midland Physiotherapy to be a very friendly orientated place to heal. From the first day I went in, they managed to make each and every visit a very pleasant one, often chatting about dogs, food, lifestyle change and holidays. Would definitely recommend this place to anyone needing physio. "
Cath E - Google Review
Our Clinic Team
Sarath Krishnan
Physiotherapist

Sarath graduated in 2009 and completed his masters in 2012 from RGUHS India. Since graduating he has worked as a physiotherapist for Vasco Sports club in Goa , later Indira orthopaedic hospital in Manglore Since 2018 january sarath has been working in multiple private practice clinics in Toronto. He believes in hands on approach along with individualized treatment programs for making the clients pain free and functional. Sarath has completed level 1 of selective functional movement assessment and incorporates it to day to day practice. Outside of work sarath enjoys playing soccer, badminton and hiking and learning the basics of skiing.



Ahmad Ali Khan
Physiotherapist

Speaks: English, Urdu, Hindi

Ahmad Ali Kahn Physiotherapist was born and raised in Pakistan. He earned a Bachelor degree in Physiotherapy from University of Karachi Pakistan. He moved to Canada in 2008. He has worked in a variety of settings encompassing sport medicines, Pediatric, geriatric and orthopedic surgery. Ahmad is particularly interested in Manual Therapy. He has been trained in advanced Manual therapy courses from Canadian Physiotherapy Association Orthopedic division.. Ahmad Ali khan is popular with his middle name Ali .Ali strongly believes that an adequate physical exercise which combines stretching with strengthening can balance our every day lives



Angela Curran
Patient Coordinator

Angela has studied at Laurentian working towards a degree in Social Work. She also took the course for Emergency Medical Dispatchers at Georgian and will be taking the Medical Terminology Course.



Paul Love
Physiotherapist - BPT

Paul graduated from the Ben Gurion University of the Negev, Israel, in 1991. He was head of the Physiotherapy department at Poriyah Government Hospital, Tiberias, Israel. He is Clinic Team Manager for Barrie/Quarry Ridge and Midland Physiotherapy. He has experience in neurological, vestibular and musculoskeletal physiotherapy. He is also an authorizer for the Assistive Devices Program. Paul has most recently completed both the Arthritis Society's Getting a Grip on Arthritis® osteoarthritis and rheumatoid arthritis education program.



Christine Brimicombe
Massage Therapist - RMT

Christine Brimicombe-Registered Massage Therapist A Graduate of an advanced Registered Massage Therapy program at Georgian College in Barrie. I have been a Therapist since 2016 and continue to learn more techniques to better treat my clients. I am skilled in a wide range of Massage Therapy techniques such as Swedish, Therapeutic,Trigger Point, Deep Tissue, Work/Injury, and chronic pain. I specialize in Myofascial Release which is: hands- on- techniques that places a sustained pressure on connective tissues to eliminate pain and restore motion to restricted areas caused by tight sore muscles. With the use of assessment, and manual techniques I will work with you in order to reduce pain, increase mobility, and enhance relaxation in order to achieve your optimum health wellness goals.



Samantha Maxwell
Physiotherapy Support Personnel

Sam graduated from Lakehead with an honours degree in Kinesiology. Sam studied Athletic Therapy at Mount Royal University and York University. Sam has a speciality in adaptive physical education and utilizes these techniques in her daily work with patients. Sam holds a certification in Kinesiotaping and is our go to taper! Sam is a avid Crossfitter, competitive weight lifter and holds National Strength and Conditioning coaching certification.



Eva Garrett
Patient Coordinator

Eva is Midland Physiotherapy's long standing patient coordinator.



Lori Milne
Physiotherapy Support Personnel

In 2015 Lori graduated from York University with a BA Honours Degree with a double major in Kinesiology and Psychology. She has bee working at the ptHealth clinic in Midland since the fall of 2015. Lori has worked at the Barrie clinic when needed as well. Lori feels that getying and keeping our population healthy and moving as we all age will benefit our overall health. She uses her knowledge to help her patients while working at ptHealth. She also volunteers at Royal Victoria Hospital in Barrie. Lori grew up just outside of Orillia and currently live in Barrie with her daughters. In the winter she enjoys skiing and teaches downhill skiing to children at a local resort. In the summer, Lori prefers to spend as much tome outdoors as possible, enjoying walks, camping and swimming with her family.


[View More]
"Great experience! Really appreciated the team and their professionalism. I started my sessions with a walker and finished 6 weeks later walking normal."
Bruce R - Google Review
"pt Health is very welcoming and accommodating. Their massage therapist is excellent, she really listens to client needs. I look forward to my weekly visits. "
Elaine B - Google Review