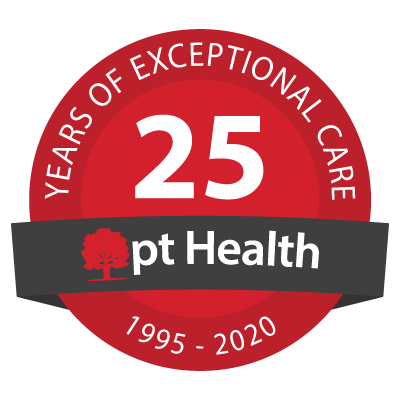 pt Health - Barrie Physiotherapy
In-person treatment available
Virtual Care treatment available
Ontario Health Insurance Plan (OHIP)
Welcome!
Our clinic is open and offering In-person treatment in addition to Virtual Care service. Please note that enhanced measures are in place to ensure the health and safety of our patients and staff. View our virtual tour video so you know what to expect at your next clinic appointment.
"PT health is a wonderful place for anyone seeking a top tier professional experience that goes above and beyond for their patients. The team is friendly and welcoming. Would highly recommend!"
Andrei G - Google Review
"I have nothing but great things to say about my physiotherapist and all the folk there whom I had the opportunity to get to know over my 6 weeks as a client. Brilliant! I would recommend them for sure!"
Shirley R - Google Review
Our Clinic Team
Shreyas Pol
Physiotherapist - Physiotherapist

Speaks: English, Hindi, Gujarati

SHREYAS POL (BPT) In 2011, Shreyas received his bachelors degree in Physiotherapy from South Gujarat University, India. He started working in a busy and advanced spine clinic where he treated a lot of patients with severe cervical and lumbar degeneration. Along with the clinic he did a tremendous amount of community work in India, in which he treated patients with neurological anomalies. In 2016, he migrated to Canada and started working in a busy private clinic in Brampton.He also began to do community work in the Midland region. Since October 2017, he has been with ptHealth, treating a wide variety of patients having musculo-skeletal and neuro muscular conditions. Shreyas believes 'Medical Education' is an ongoing process, and hence, continues to enhance his university education by taking advanced courses, which includes: • Maitland Manual therapy for spine. • Mulligan Manual therapy for spine and peripheral joints. • Kinesiotaping for spinal and peripheral joint muscles. • Evaluation and treatment of foot dysfunctions and orthotics prescription. • Treatment of shoulder dysfunctions via PSRP method (India based technique). In addition, he has worked under a certified Mckenzie therapist, from whom he learned the basics of Mckenzie diagnosis and treatment. Also, he has a knowledge of dynamic control, which is an emerging technique for pain relief.



Suzanne Roach
Physiotherapy Support Personnel

Suzanne Roach – Physiotherapy Support Personnel Faculty of Health, B.A., Spec. Hons. Kinesiology & Health Science Suzanne Roach is a Physiotherapy Support Personnel from Innisfil, Ontario. She has been living and working in the area since 2013. She graduated from York University in 2011 with a Specialized Honours Degree in Kinesiology & Health Science.In 2012, she received her diploma in Exercise Science and Lifestyle Management from Humber College. Suzanne focuses on restoration of mobility and re-gaining strength after injury. She has also completed training and is certified in orthotic therapy and custom knee braces. She believes good health, function and fitness are the keys to a good life. In her spare time, Suzanne enjoys family time with her son, husband and dog, doing activities such as camping, walks down at the lake and playing at the park.



Lori Milne
Physiotherapy Support Personnel

Lori emphasizes education with her patients so that they understand how their exercises and treatments will benefit their condition. Through her work at the clinic, she has seen first-hand how patients benefit physically, mentally and socially when they have less pain and improved function. This allows them to participate in the things that are meaningful to them and motivates them to continue with their programs. Lori graduated from York University in 2015 with an Honours Bachelor of Arts Double Major in Kinesiology and Psychology. During the winter months, Lori is a Level 2 CSIA ski instructor. In the summer, she enjoys riding motorcycles, camping and hiking.



Carol Karastamatis
Physiotherapy Support Personnel

Carol graduated from the Occupational Therapist Assistant & Physiotherapist Assistant program at Georgian College in 2016. She also attended York University where she studied psychology and anthropology. Carol has recently undertaken an NDT introductory course in the management of adults with stroke, brain injury, and other neuromotor disorders and has received a certificate in KT taping. With a focus on stroke rehabilitation, Carol continues to increase her repertoire of management strategies for clients with hemiplegia. In her spare time, Carol works to assist people at the YMCA to achieve their fitness goals, raises two children and a husband, and enjoys hiking with her dog…alone.



Paul Love
Physiotherapist - BPT

Paul graduated from the Ben Gurion University of the Negev, Israel, in 1991. He was head of the Physiotherapy department at Poriyah Government Hospital, Tiberias, Israel. He is Clinic Team Manager for Barrie/Quarry Ridge and Midland Physiotherapy. He has experience in neurological, vestibular and musculoskeletal physiotherapy. He is also an authorizer for the Assistive Devices Program. Paul has most recently completed both the Arthritis Society's Getting a Grip on Arthritis® osteoarthritis and rheumatoid arthritis education program.



Andrea Blyth
Patient Coordinator

Andrea is a recent graduate of CDI College where she studied Medical Administration. She is new to the Barrie area and is originally from Mississauga, where she worked as an administrative assistant for over 20 years. After graduating, with honours, she started her career at a clinic in Mississauga and has since joined the Quarry Ridge team. Andrea enjoys spending time with her family and you can always find her reading a good book.



Divya Malaviya
Physiotherapy Support Personnel

Speaks: English, Hindi, Gujrati

Divya completed her bachelor's in Physiotherapy from Veer Narmad South Gujarat University in 2015. She has experience of working in hospital and also in an acute care unit as a Physiotherapist. She has experience of working with a wide range of patients from pediatric to Geriatric age group. She has experience of treating musculoskeletal and neurological conditions in hospital as well as in clinical set up. In 2018, she moved to Canada and studied in Fitness and Health Promotion from Georgian College, Barrie. She completed the course in April, 2020 and became certified personal trainer under Canadian Society of Exercise Physiology. She worked as a Physiotherapy Assistant in Long term Care with geriatric age group for over a year. She joined pt Health, Barrie to gain more knowledge and get familiar with the Physiotherapy practices in Canada. She likes to do drawing, reading and dance in her free time and also loves to spend time with friends and family. She believes in change and an ongoing process.


[View More]
"I have been attending the clinic off and on for the last 2 years and I have received great care and compassion for my injuries and speedy recovery. The staff has and always will be positive, supportive and informative, always helping me improve my lifestyle and functional abilities to get by, day to day pain free."
Natasha R - Google Review
"I have found the staff to be very caring and easy to communicate with, always willing to listen. You will be treated with respect and will receive professional care. The girls at the front desk will welcome you with a big smile and any information you may need. I would recommend this clinic with positive results."
Elizabeth M - Google Review