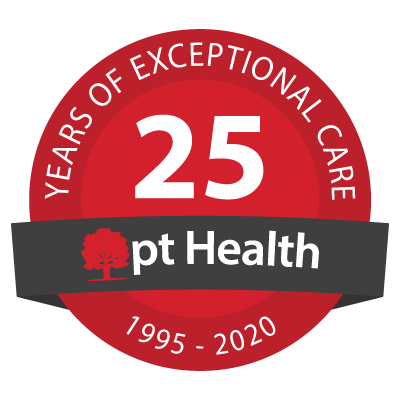 pt Health - Barrie Physiotherapy
In-person treatment available
Virtual Care treatment available
Ontario Health Insurance Plan (OHIP)
Welcome!
Our clinic is open and offering in-person treatment in addition to virtual care. We look forward to seeing you soon.
"PT health is a wonderful place for anyone seeking a top tier professional experience that goes above and beyond for their patients. The team is friendly and welcoming. Would highly recommend!"
Andrei G - Google Review
"I have nothing but great things to say about my physiotherapist and all the folk there whom I had the opportunity to get to know over my 6 weeks as a client. Brilliant! I would recommend them for sure!"
Shirley R - Google Review
Our Clinic Team
Paul Love
Clinic Director

Paul graduated from Ben Gurion University of the Negev in June 1991. He has been a physiotherapist in Ontario since 2002,working as Clinic Director for Barrie and Midland Physiotherapy Clinics at pt Health. He is presently Clinic Director for Barrie Physiotherapy.

Paul has extensive experience in treating muscoskeletal conditions, custom orthotics and vestibular problems. This includes post joint replacement rehabilitaion and other post surgical conditions.

Paul believes that the proper mix of an evidence based practice consisting of an exercise program, along with hands on and modalities, (when indicated), is most effective.

Carol Karastamtis
Physiotherapy Assistant

Starting off as a fitness instructor, personal trainer, and wellness coach, Carol ventured into the world of physio over seven years ago. Since then she has taken multiple courses, such as Parkinson's Wellness Recovery and Bonefit, to enhance her knowledge to assist with the aging population. She is a certified Tai Chi and yoga instructor, and continues to take courses to advance her education and learn as to what the best practice is to aid her clients to achieve the best possible results.

As a mother of two, Carol tries to find the time to go on hikes with her family, to keep exercise fun and interactive for her family as well as her clients.

Shreyas Pol
Physiotherapist

In 2011, Shreyas received his Bachelor's degree in Physiotherapy from South Gujarat University, India. He started working in a busy and advanced spine clinic where he treated a lot of patients with severe cervical and lumbar degeneration. Along with the clinic he did a tremendous amount of community work in India, in which he treated patients with neurological anomalies.

In 2016, he migrated to Canada and started working in a busy private clinic in Brampton. He also began to do community work in the Midland region. Since October 2017, he has been with pt Health, treating a wide variety of patients having musculo-skeletal and neuro muscular conditions. Shreyas believes 'Medical Education' is an ongoing process, and hence, continues to enhance his university education by taking advanced courses, which includes Maitland Manual therapy for spine, Mulligan Manual therapy for spine and peripheral joints, Kinesiotaping for spinal and peripheral joint muscles, evaluation and treatment of foot dysfunctions and orthotics prescription, treatment of shoulder dysfunctions via PSRP method (India based technique).

In addition, he has worked under a certified Mckenzie therapist, from whom he learned the basics of Mckenzie diagnosis and treatment. Also, he has a knowledge of dynamic control, which is an emerging technique for pain relief.

Saba Sohi
Physiotherapy Assistant

Upon completion of the Fitness and Health Promotion program from Seneca College in 2020, Saba started her journey as a personal trainer to further develop hands-on experience in exercise programming. After witnessing the huge impact of physical activity on healing musculoskeletal disorders and alleviating chronic pain, she decided to enhance her knowledge in rehabilitation and physical therapy by joining the National Academy of Sports Medicine.

Following accomplishment of her Corrective Exercise Specialization certificate, Saba started her career path as a physiotherapy assistant at pt Health in 2021.

Creating a strong, professional bond to clients and providing a patient-centered service are the fundamental rules in her practice. She continuously strives for self-improvement to support her clients, restoring their well-being by the most up-to-date methods in a safe and friendly environment

Sue Paterson
Acupuncturist

Sue recently graduated from the rigorous 2200 hour acupuncture programme at Georgian College, and passed the licensing exams first time out to become a Registered Acupuncturist. Her acupuncture training programme had a strong hands on component in a busy clinic, combining western biomedical and ancient wisdom from Chinese Medicine diagnosis concepts, and wise teachers.

Among other western conditions and injuries, Sue has treated stress conditions, autoimmune conditions like fibromyalgia and chronic fatigue, colds, headaches and concussion support, high blood pressure, anxiety and depression, insomnia, 'brain fog', arthritis, digestive issues, IBS, urinary and menstrual difficulties, stroke recovery, cosmetic acupuncture and many more challenges, with helpful results.

Sue's favourite effect of acupuncture is how it can help relax you and quiet the stress and chatter in your mind that you aren't even aware is 'draining your battery'. Acupuncture's goal is ultimately to bring your body back to balance – we don't heal you, YOU heal you, and help empower you to become a key partner in your own preventive healthcare, by learning to listen to your body's messages. We will work with you to find and treat the root cause of your illness – which can include emotions, lifestyle and external factors.

We are trained not only to treat you with needles (YES WE CAN TREAT YOU WITHOUT NEEDLES!), but with acupressure, ear seeds, cupping, gua sha, heat therapy, movement practices using breath and qi gong, dietary support, and tuina (Chinese massage). We also learn electro- and scalp acupuncture techniques, which can be used to treat after stroke, for example. So still come if you are afraid of needles!

Sue is a lifelong learner, with an antique degree in international politics, 25 years of a challenging law practice, extensive yoga teacher training, and continues to learn particularly about breathwork, qi gong, and acupuncture and trauma training.

Despite all her 'hard-driving' competitive background, Sue is a happy people person with a sense of humour and gift for making people feel understood. She loves spending time in nature, naming the squirrels and birds, hiking, cycling, cross country skiing, or paddling with her husband, grateful for her many privileges enjoyed on the traditional lands of the Three Fires Confederacy.
[View More]
"I have been attending the clinic off and on for the last 2 years and I have received great care and compassion for my injuries and speedy recovery. The staff has and always will be positive, supportive and informative, always helping me improve my lifestyle and functional abilities to get by, day to day pain free."
Natasha R - Google Review
"I have found the staff to be very caring and easy to communicate with, always willing to listen. You will be treated with respect and will receive professional care. The girls at the front desk will welcome you with a big smile and any information you may need. I would recommend this clinic with positive results."
Elizabeth M - Google Review