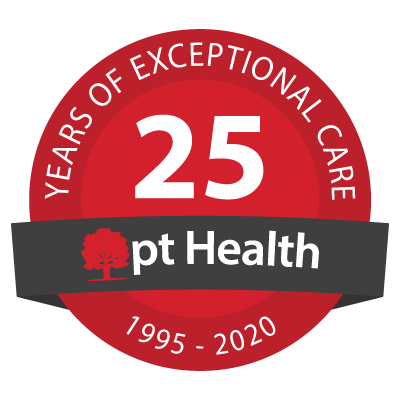 pt Health - Chatham Physiotherapy
In-person treatment available
Virtual Care treatment available
Ontario Health Insurance Plan (OHIP)
Welcome!
Our clinic is open and offering in-person treatment in addition to virtual care. We look forward to seeing you soon.
"An environment that makes everyone feel comfortable right from the time you walk in. Everyone there always has time for you. If you need physiotherapy, there is no better place to go. "
Darren C - Google Review
"As soon as I walked in the doors I felt welcomed here. My son has gone to other physio centers in the past but LOVES coming here. Staff is amazing and got us appointments ASAP. Will never go anywhere else. "
Robyn G - Google Review
Our Clinic Team
Nicole Andersen
Kinesiologist

Tasha Reaume


Tasha has been a registered Massage therapist for the past 10 years and is very passionate about helping people on their healing journey. Her specialties include Therapeutic massage, Swedish Massage, Deep tissue and Trigger point therapy.

She customizes her massages to your individual needs and has a very caring and professional presence.

Colette Schroll
Occupational Therapist

Colette is an ambitious and passionate occupational therapist who strives to empower clients to actively engage in their therapy and take a leading role in their health and wellness. In Colette's practice, she treats a variety of clients across the lifespan with a variety of physical, cognitive, and emotional symptoms and conditions. Using the most current evidence-based clinical knowledge, Colette endeavours to provide the highest-quality care for her clients to manage their physical, cognitive and emotional symptoms, increase level of independence and participation in their daily activities to improve their overall quality of life.

Colette's clinical interests include pain management, stress management, proper body mechanics and ergonomics and cognitive compensatory strategies.

Sukhdeep Uppal
Physiotherapist

Sukhdeep Singh Uppal is a registered physiotherapist in Ontario. He completed his physiotherapy from Baba Farid University of Health sciences in India in the year 2006. He is a certified Acupuncture therapist from McMaster University. He has 14 years of expertise in treating clients in clinics and hospital-based settings. He gained quality experience from working in the most prestigious hospitals in India.

He has worked with patients of all ages and various cultural backgrounds. His main interests are in orthopedics and neurological conditions. Since 2015, he has helped with a variety of cases from MVA to WSIB to sports injuries in Canada. He is also a manual therapy expert, which includes techniques like soft tissue release, muscle energy techniques and spinal and peripheral joint mobilizations. He has good teaching skills, which helps the clients to be able to better understand their condition and treatment. He is always enthusiastic about providing excellent client centred care with compassion and professionalism.

He is a strong believer of evidence-based practice and holistic approach while treating his clients to make the best possible improvements in function and, hence, their quality of life. He is proficient in many languages including English, French, Hindi and Punjabi. Because of the unique professional qualities and the mindful discretion to use his knowledge appropriately, he will continue to help his clients and enhance their wellbeing.

Krishna Koladiya
Physiotherapy Assistant

Krishna has experience working in clinic environments in India. She believes in providing patient-centered care. Krishna is interested in learning new techniques that can be helpful to achieve healthy and active lifestyle goals for patients.

Melissa McEachran
Office Manager
[View More]
"Friendly staff, appointments on time (both important to me). My physiotherapist is very professional and is producing positive results (flexibility increasing, pain decreasing). Highly recommended! "
Rob - Google Review
"They direct bill my health insurance provider so I do not have to pay up front which is nice. The team is great and very comfortable to talk to and the treatment is professional with a relaxing atmosphere. "
Tre B - Google Review