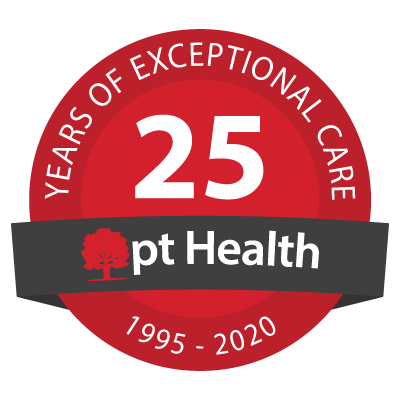 pt Health - Chatham Physiotherapy
In-person treatment available
Virtual Care treatment available
Ontario Health Insurance Plan (OHIP)
Welcome!
Our clinic is open and offering in-person treatment in addition to virtual care. We look forward to seeing you soon.
"An environment that makes everyone feel comfortable right from the time you walk in. Everyone there always has time for you. If you need physiotherapy, there is no better place to go. "
Darren C - Google Review
"As soon as I walked in the doors I felt welcomed here. My son has gone to other physio centers in the past but LOVES coming here. Staff is amazing and got us appointments ASAP. Will never go anywhere else. "
Robyn G - Google Review
Our Clinic Team
Elisa Cox
Physiotherapy Assistant

Tasha Reaume
Registered Massage Therapist

Tasha has been a registered Massage therapist for the past 10 years and is very passionate about helping people on their healing journey. Her specialties include Therapeutic massage, Swedish Massage, Deep tissue and Trigger point therapy.

She customizes her massages to your individual needs and has a very caring and professional presence.

Shreya Shah
Physiotherapist

Shreya has been a Registered Physiotherapist in Canada since 2019. Prior to this, she was a Physical Therapist in New York, USA, and also holds a Bachelor of Physiotherapy from India, where she practiced in both community and clinical settings.

Shreya has worked in different settings as a Physiotherapist including Workplace solutions, long term care, outpatient settings, and in various Nurse Practitioner led clinics in a primary care setting. She has experience treating patients for injuries from motor vehicle accidents, WSIB, post-surgical hip and knee replacements, rotator cuff repair surgeries, and MSK injuries.

Shreya believes in quality and efficiency in every aspect of her life, as well as having a patient centered approach in assessment and treatments. She likes to take various continuing education courses to enhance her skills and knowledge to add to the quality of her care. She is very happy to work with a company with similar core values when it comes to patient care.

Gabrielle Morgan
Occupational Therapist

Gabrielle is a registered Occupational Therapist who has been with Lifemark since January 2023. She graduated with a Master's degree in Occupational Therapy from Western University in 2021. Prior to this, she received her undergraduate degree in pre-medical sciences from Queen's University and graduated in 2019. She was born and raised in London ON and enjoys the Wortley Village atmosphere.

She is passionate about helping others and providing comprehensive care. Gabrielle focuses on helping clients to return to their chosen activities. She will work with clients to determine their goals and form a treatment plan to achieve them. Gabrielle has experience administering counselling techniques and prioritizes addressing mental health goals with her clients. Her clinical interests also include cognitive rehabilitation, vision therapy, vestibular rehabilitation, concussion management, and task modification; she is continually updating her skills in these areas.

In her free time, Gabrielle enjoys cooking, travelling, trying new restaurants, reading, and spending time with her friends and family.

Dr Morgan Belleau
Chiropractor

Dr. Morgan Belleau is an evidence based chiropractor who has been with Lifemark pt Health - Chatham since February 2023. She graduated with a Bachelor of Human Kinetics with an Honours in Movement Science from the University of Windsor in 2016. She then obtained her Doctor of Chiropractic degree at the Canadian Memorial Chiropractic College (CMCC) in 2020. Dr. Morgan has gained further certifications in SMARTTools Instrument Assisted Soft Tissue Therapy and Functional Integrated Acupuncture.

As an evidence-based chiropractor, Dr. Morgan uses diversified technique to treat her patients. She works to identify the cause of dysfunction and uses many different therapies including adjustments, joint mobilizations, soft tissue therapy, rehabilitation exercises and more to create an individualized treatment plan to best suit her patients needs. Dr. Morgan enjoys treating patients of any age - from babies and children to adults and seniors. As a chiropractor, Dr. Morgan's goal is to help educate people on how their bodies work, optimize their movement, decrease any pain they are experiencing, prevent future injuries and help patients to reach their goals.

Dr Morgan was born and raised in Leamington, ON and currently enjoys residing in Chatham-Kent. She enjoys being outdoors whether it is hiking, camping, going to the beach or walking her dog Jack. Dr. Morgan enjoys spending time with her family and friends, especially her niece and nephews.

Connor Gorey
Kinesiologist

Connor is a Registered Kinesiologist who has been with Lifemark since the beginning of 2023. He graduated from the University of Windsor Kinesiology program with a specialization in movement science, as the dean's honor roll student.

He has been a part of the fitness industry for his whole life and has a passion for helping people grow. Connor brings over five years experience from his personal training background to help people become healthier, smarter and stronger versions of themselves. In the latter part of 2022, Connor developed experience in the physiotherapy and kinesiology field and moved to Lifemark Chatham.

He comes from a large family of six and loves playing videogames in his spare time. He competes in eSports and loves growing cacti! Connor is a proud "plant dad" of hundreds of dragon fruit plants and loves watching them grow.
[View More]
"Friendly staff, appointments on time (both important to me). My physiotherapist is very professional and is producing positive results (flexibility increasing, pain decreasing). Highly recommended! "
Rob - Google Review
"They direct bill my health insurance provider so I do not have to pay up front which is nice. The team is great and very comfortable to talk to and the treatment is professional with a relaxing atmosphere. "
Tre B - Google Review