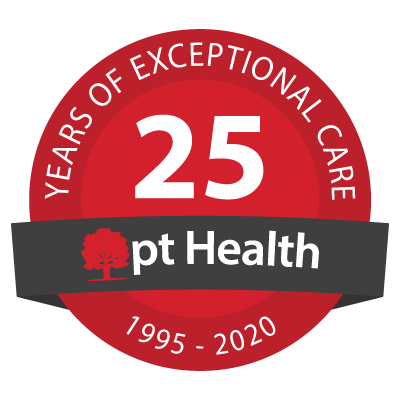 pt Health - Chatham Physiotherapy
In-person treatment available
Virtual Care treatment available
To ensure the health and safety of our patients and staff, we have made a number of changes to the way our clinics operate and have implemented enhanced measures to ensure the health and safety of our patients and staff. Click here to learn more about the S.A.F.E.R. approach.
"An environment that makes everyone feel comfortable right from the time you walk in. Everyone there always has time for you. If you need physiotherapy, there is no better place to go. "
Darren C - Google Review
"As soon as I walked in the doors I felt welcomed here. My son has gone to other physio centers in the past but LOVES coming here. Staff is amazing and got us appointments ASAP. Will never go anywhere else. "
Robyn G - Google Review
Our Clinic Team
Bharti Bagria
Physiotherapist - Bsc.PT

Speaks: English, Hindi, Punjab

Bharti graduated from Baba Farid University of Health Sciences, Punjab, India with an Honors in Bachelor's of Physiotherapy and Rehabilitation. She has completed a course of Physiotherapy practice in the Canadian Healthcare System from University of Alberta. In 2019 she passed her License Exam in Canada. Bharti believes in evidence based practice and loves to help her patients with individualized, one-on-one treatment plans specific to patient's goals. In her spare time Bharti likes to play badminton, painting and listening to music.



Tasha Reaume
Massage Therapist

Tasha was born and raised in Chatham, ON and attained her diploma of Massage Therapy from Lambton College in 2011. Tasha returned to her home town of Chatham to pursue her career in Massage Therapy, joining the clinic staff in January 2012. She offers a variety of techniques such as Swedish massage, Deep Tissue work, and Trigger Point Therapy. She takes special interest in human anatomy, physiology, and enjoys reading in her spare time.



Deirion Sookram
Physiotherapist

Deirion obtained his BHK with Distinction from the University of Windsor in 2012 and his MSc in Physiotherapy from Glasgow Caledonian University in 2017. In England he gained physiotherapy experience in sports medicine private practice, hospital-based neurological and medical rehabilitation, and even as an on-call respiratory physiotherapist in ICU. He recently completed a course through Acupuncture Canada, he currently holds his Certified Strength and Conditioning Specialist (CSCS) designation, and he recently let-go of his Registered Kinesiologist and CSEP-Personal Trainer Specialist designations. His training afforded him many opportunities, from training professional athletes to designing office and industrial workstations for a nuclear power plant. His current physiotherapist role with pt Health supports his passion for linking academia together with clinical practice.



Elisa Cox
Physiotherapy Support Personnel

Elisa Cox was born and raised in Chatham-Kent. She graduated from St. Clair College Thames Campus in May 2015 with a certificate in Occupational Therapy/Physiotherapy Assistant. At this time Elisa joined the team in Chatham as a Physiotherapy Support Personnel. She loves being a mom to her two children and keeping active playing volleyball and gardening. Elisa has a true passion for supporting people on their road to recovery.



Jaimee Huckle
Physiotherapy Support Personnel

Jaimee was born and raised in Chatham-Kent. She graduated from St. Clair College Thames Campus in April 2013 with a certificate in Occupational Therapy/Physiotherapy Assistant. In May 2013 Jaimee joined the team in Chatham as a Physiotherapy Support Personnel. In January 2016, Jaimee furthered her education by completing an Advanced Kinesio Taping course (KT1/2). Jaimee's dedication to patients can be seen in her friendly and cheerful manner.



Alex Grant
Physiotherapist - PT, CLT

Alex is a thoughtful and caring therapist who strives to provide patient centred care. His focus is to utilize research, patient goals, and technology to provide the best care for his patients with the best possible outcomes! Alex's clinical interests reside in the management of chronic conditions, return to work, and cancer care. Alex has achieved his Masters of Science in Physical Therapy from the University of Alberta, and his Bachelor of Science honours degree from University of Windsor. Since graduating, Alex achieved his certification in manual lymphatic drainage, acupuncture and IMS dry needling. He served as a content matter expert for the development of post-operative breast cancer protocols in Alberta and is currently completing research related to post-mastectomy pain syndromes. When Alex is not working with patients or researching new therapy approaches he volunteers as the Chair-Elect for the Oncology Division of Canadian Physiotherapy Association. Otherwise, you can find him exploring the outdoors with his family, hiking in the mountains and kayaking out on the lake.



Sukhdeep Singh Uppal
Physiotherapist - Bachelor of Physiotherapy

Speaks: English, French, Hindi, Punjab

Sukhdeep Singh Uppal is a registered physiotherapist in Ontario. He completed his physiotherapy from Baba Farid University of Health sciences in India in the year 2006. He is a certified Acupuncture therapist from McMaster University. He has 14 years of expertise in treating clients in clinics and hospital-based settings. He gained quality experience from working in the most prestigious hospitals in India. He has worked with patients of all ages and various cultural backgrounds. His main interests are in orthopedics and neurological conditions. Since 2015, he has helped with a variety of cases from MVA to WSIB to sports injuries in Canada. He is also a manual therapy expert, which includes techniques like soft tissue release, muscle energy techniques and spinal and peripheral joint mobilizations. He has good teaching skills, which helps the clients to be able to better understand their condition and treatment. He is always enthusiastic about providing excellent client centred care with compassion and professionalism. He is a strong believer of evidence-based practice and holistic approach while treating his clients to make the best possible improvements in function and, hence, their quality of life. He is proficient in many languages including English, French, Hindi and Punjabi. Because of the unique professional qualities and the mindful discretion to use his knowledge appropriately, he will continue to help his clients and enhance their wellbeing.


[View More]
"Friendly staff, appointments on time (both important to me). My physiotherapist is very professional and is producing positive results (flexibility increasing, pain decreasing). Highly recommended! "
Rob - Google Review
"They direct bill my health insurance provider so I do not have to pay up front which is nice. The team is great and very comfortable to talk to and the treatment is professional with a relaxing atmosphere. "
Tre B - Google Review