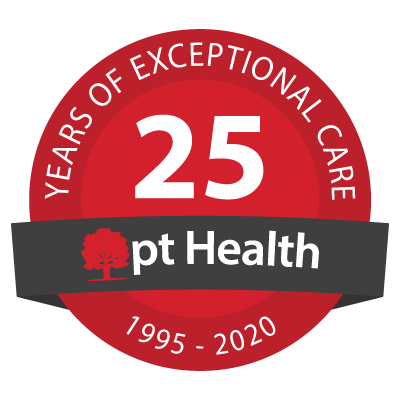 pt Health Physiotherapy Amherst
In-person treatment available
Virtual Care treatment available
Welcome!
Our clinic is open and offering In-person treatment in addition to Virtual Care service. Please note that enhanced measures are in place to ensure the health and safety of our patients and staff. View our virtual tour video so you know what to expect at your next clinic appointment.
"After knee surgery for a torn meniscus, I went to pt Health. Super friendly and knowledgeable environment. The secretaries are very pleasant and helpful. Excited to continue physiotherapy and gain full recovery. Thanks for the great service!"
Jenna S - Google Review
"pt Health made me feel like one of their family. They were genuinely concerned about my injury and working to help me, both by treatment and exercises to do at home. I would highly recommend them and have many times."
Janice B - Google Review
Our Clinic Team
Prashant Khapekar
Physiotherapist - Registered Physiotherapist

Speaks: English, Hindi, Punjab, Gujrati

Prashant Khapekar is a Registered Physiotherapist with the College of Physiotherapy of Nova Scotia. He has 15 years of experience as a Physiotherapist, which includes more than 12 years in India and 3 years in Canada. Prashant completed his Degree in Physiotherapy from Govt. Medical college ,Nagpur,India in 1998-99. He has a Certificate Course in Sports Physiotherapy and Sports Medicine and a Post Graduate Diploma Course in Hospital and Health Care Management. His personal achievements and interests include: -receiving the inter-collegiate Personality Contest award -presenting the Honorary Physiotherapy consultation and treatment to the trainee sports-persons and athletes - watching and playing Cricket,Soccer and Badminton -going on drives with family and friends -relishing the Indian spicy delicacies.



Kate Johnson
Physiotherapist - PT

Kate is an enthusiastic physiotherapist who is looking forward to helping you meet your rehabilitation goals! Kate grew up in New Brunswick and is excited to have joined the team at the Northside Physiotherapy Clinic after being in Halifax for several years. Kate completed her Bachelor of Science at Saint Mary's University, followed by her Masters of Science in Physiotherapy at Dalhousie University. Through school Kate has had experience with neurological rehabilitation, post-operative care, and orthopaedic rehabilitation. Having a special interest in orthopaedics, Kate is looking to further her knowledge in the detection and treatment of musculoskeletal injuries in the future by taking courses in K-taping, dry needling, acupuncture, and advanced manual therapy. Kate has most recently completed both the Arthritis Society's Getting a Grip on Arthritis® osteoarthritis and rheumatoid arthritis education program.



Janet Hicks
Massage Therapist

Janet Porter Hicks graduated in 2014 from the Massage Therapy Program at Eastern College in Moncton, NB where she completed a 2200 hour massage therapy program with over 440 clinic hours. Offering both therapeutic and relaxation massage Janet has had the opportunity to treat clients with a wide variety of conditions or concerns. Initially working in a spa setting, she has now set her focus on a therapeutic future where her acquired skills are helping her to make a difference in her clients overall wellbeing as part of an interdisciplinary team. A few of the techniques that Janet is able to share with her clients include general Swedish massage, myofascial release, cupping, lymphatic drainage, trigger point therapy, joint mobilizations and much more. Janet is registered and in good standing with The Massage Therapist and Holistic Practitioner's association of the Maritimes (MTWPAM). Janet currently makes her home in Brookdale, NS but is from the small local community of River Hebert. Give her a call to book your appointment today



Paula Snider
Patient Coordinator

Paula Snider graduated from Toronto School of Business (Accounting & Computers) in 1990. She spent two years working in the accounting field before she decided to become a stay at home mother. She lived in Ontario for 25 years raising her sons while working part-time and volunteering with many organizations which gave her valuable experience with event planning, fundraising and volunteer management. During those years she also built up a small face painting company using her artistic skills. She moved back home to the maritime (Amherst, NS) eight years ago bringing her work as a Retail Data Collection Rep.(12 years) and balancing going back to college at NSCC. She graduated with a diploma in Business Administration (Accounting) in 2015 as a proud mother with two sons in college too. She worked briefly at another Physiotherapy company part-time before becoming a full-time team member of pt Health - Amherst in June 2017.



Elyse Lavoie
Physiotherapy Support Personnel - BAKin(hon)

Elyse graduated from the Faculty of Science at Wilfrid Laurier University (Waterloo, Ontario) in 2017 with an Honours degree in Kinesiology and Physical Education. Originally from Ontario, she has decided to plant her roots in beautiful Nova Scotia to begin her career in the health and wellness field. She was fortunate enough to work alongside numerous athletic therapists, physiotherapists and occupational therapists during her undergraduate career where she gained valuable skills and hands on experience. As a certified fitness instructor, she also has years of experience with various forms of strength, flexibility and mobility training for individuals of all ages and fitness levels. Elyse is a big believer in making yourself a priority and practising self care by tending to the needs of the mind, body and soul. Her goal is to share her knowledge of therapeutic exercise and rehabilitative treatments to help her clients progress towards a full recovery. In her spare time, she enjoys staying active by practising yoga and hiking with her two Siberian Huskies.



Ryan George
Occupational Therapist - MSc(OT), BKin (Hons.)

Ryan is a passionate and energetic Occupational Therapist who strives to maximize individual's full potential through use of evidence-based practice and holistic treatment approaches. Ryan believes that using the latest in clinical knowledge and letting clients feel empowered in their own health will provide the best possible outcomes to reach their dreams/goals and participate in what is meaningful for them. Prior moving to Halifax to become an occupational therapist, he was highly experienced in office ergonomic assessments/education to ensure joint health and prevent work-related musculoskeletal injuries through his exercise science background. Ryan's other clinical interests include upper extremity rehabilitation, durable medical equipment prescription, return-to-work and chronic pain management. Ryan holds a master's degree in Occupational Therapy from Dalhousie University and a Bachelor of Kinesiology degree with honors and co-operate experience from Memorial University of Newfoundland. Ryan is also certified in a variety of continuing education courses including hand therapy and telehealth services and continues to make gains in his professional development. When Ryan is not working, you can find him in the pool, going to spin classes and hiking throughout Nova Scotia.


[View More]
"Staff were always friendly, they made the work fun. Appointments were always on time. If I ever needed physio again this would be the place I would go, no hesitation."
Lee Ann N - Google Review
"I found the staff at pt Health to be very pleasant and professional in their treatment. I wouldn't hesitate to recommend pt Health to anyone who needs physiotherapy."
Valarie A - Google Review