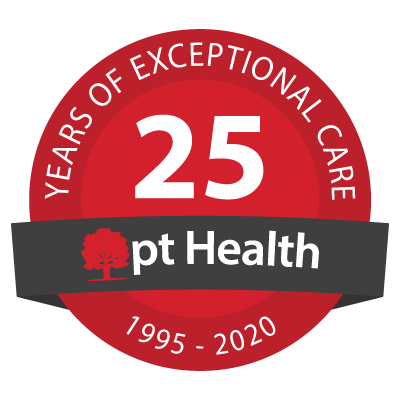 pt Health Physiotherapy Amherst
Notice: We are open for In-Person treatment. To ensure the health and safety of our patients and staff, we have made a number of changes to the way our clinics operate and have implemented enhanced measures to ensure the health and safety of our patients and staff.
Click here to learn more about the Lifemark S.A.F.E.R. approach.
To schedule an In-Person or Virtual Care appointment, please give us a call at 1-888-314-2726 or book an appointment online.
In response to COVID-19, pt Health is doing its part to help protect our patients and staff by modifying the availability of services at our clinics. Please call the clinic to seek advice or rebook services.
[Read More]
"After knee surgery for a torn meniscus, I went to pt Health. Super friendly and knowledgeable environment. The secretaries are very pleasant and helpful. Excited to continue physiotherapy and gain full recovery. Thanks for the great service!"
Jenna S - Google Review
"pt Health made me feel like one of their family. They were genuinely concerned about my injury and working to help me, both by treatment and exercises to do at home. I would highly recommend them and have many times."
Janice B - Google Review
Our Clinic Team
Janet Hicks
Registered Massage Therapist

Janet Porter Hicks graduated in 2014 from the Massage Therapy Program at Eastern College in Moncton, NB where she completed a 2200 hour massage therapy program with over 440 clinic hours. Offering both therapeutic and relaxation massage Janet has had the opportunity to treat clients with a wide variety of conditions or concerns. Initially working in a spa setting, she has now set her focus on a therapeutic future where her acquired skills are helping her to make a difference in her clients' overall wellbeing as part of an interdisciplinary team.

A few of the techniques that Janet is able to share with her clients include general Swedish massage, myofascial release, cupping, lymphatic drainage, trigger point therapy, joint mobilizations and much more. Janet is registered and in good standing with The Massage Therapist and Holistic Practitioner's association of the Maritimes (MTWPAM). Janet currently makes her home in Brookdale, NS but is from the small local community of River Hebert. Give her a call to book your appointment today!
[View More]
"Staff were always friendly, they made the work fun. Appointments were always on time. If I ever needed physio again this would be the place I would go, no hesitation."
Lee Ann N - Google Review
"I found the staff at pt Health to be very pleasant and professional in their treatment. I wouldn't hesitate to recommend pt Health to anyone who needs physiotherapy."
Valarie A - Google Review