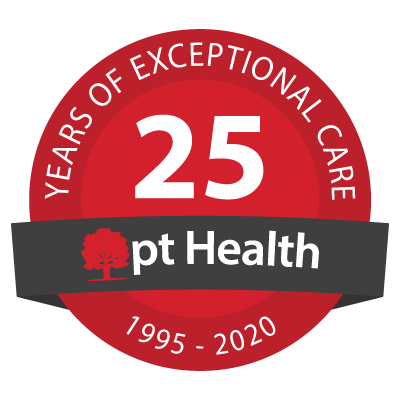 pt Health Physiotherapy Amherst
In-person treatment available
Virtual Care treatment available
To ensure the health and safety of our patients and staff, we have made a number of changes to the way our clinics operate and have implemented enhanced measures to ensure the health and safety of our patients and staff. Click here to learn more about the S.A.F.E.R. approach.
"After knee surgery for a torn meniscus, I went to pt Health. Super friendly and knowledgeable environment. The secretaries are very pleasant and helpful. Excited to continue physiotherapy and gain full recovery. Thanks for the great service!"
Jenna S - Google Review
"pt Health made me feel like one of their family. They were genuinely concerned about my injury and working to help me, both by treatment and exercises to do at home. I would highly recommend them and have many times."
Janice B - Google Review
Our Clinic Team
Prashant Khapekar
Physiotherapist - Registered Physiotherapist

Speaks: English, Hindi, Punjab, Gujrati

Prashant Khapekar is a Registered Physiotherapist with the College of Physiotherapy of Nova Scotia. He has 15 years of experience as a Physiotherapist, which includes more than 12 years in India and 3 years in Canada. Prashant completed his Degree in Physiotherapy from Govt. Medical college ,Nagpur,India in 1998-99. He has a Certificate Course in Sports Physiotherapy and Sports Medicine and a Post Graduate Diploma Course in Hospital and Health Care Management. His personal achievements and interests include: -receiving the inter-collegiate Personality Contest award -presenting the Honorary Physiotherapy consultation and treatment to the trainee sports-persons and athletes - watching and playing Cricket,Soccer and Badminton -going on drives with family and friends -relishing the Indian spicy delicacies.



Janet Hicks
Massage Therapist

Janet Porter Hicks graduated in 2014 from the Massage Therapy Program at Eastern College in Moncton, NB where she completed a 2200 hour massage therapy program with over 440 clinic hours. Offering both therapeutic and relaxation massage Janet has had the opportunity to treat clients with a wide variety of conditions or concerns. Initially working in a spa setting, she has now set her focus on a therapeutic future where her acquired skills are helping her to make a difference in her clients overall wellbeing as part of an interdisciplinary team. A few of the techniques that Janet is able to share with her clients include general Swedish massage, myofascial release, cupping, lymphatic drainage, trigger point therapy, joint mobilizations and much more. Janet is registered and in good standing with The Massage Therapist and Holistic Practitioner's association of the Maritimes (MTWPAM). Janet currently makes her home in Brookdale, NS but is from the small local community of River Hebert. Give her a call to book your appointment today



Bonnie Petten
Massage Therapist - RMT

Bonnie Petten studied Massage Therapy at the College of the North Atlantic, St. John's, Newfoundland, graduating in June, 2000. She has practised in Newfoundland, Moncton and Halifax, before finally making her home in Amherst with her Shih Tzu, Henry. She uses techniques and tools to achieve the desired result for the client, whether they are healing from an injury/illness, suffer from headaches, or enjoy therapeutic massage as preventive therapy or relaxation. Techniques include Swedish massage, cupping, trigger point therapy, myofascial release, frictions, tractioning, joint mobilizations, and other methods designed to release stubborn tissues. She is registered with MTWPAM. Bonnie's extensive background in the healthcare system led her to study massage therapy. She has Level 1 Reiki, and is about to study acupuncture and nutrition. Bonnie will use her experience to help you achieve your health and wellness goals, providing education and suggestions. You will be warmly welcomed



Bryan Hagerman
Registered Counselling Therapist - DMin., MEd., MA., MDiv. RCT-C. CCPA.

Bryan practices an integrated approach to therapy, with counselling models that are introduced to an individual in their context. He believes that the client is the expert on their condition and that the therapist is the guide to emotional health. Bryan's training equips him in helping those who suffer from trauma, depression, anxiety, fear, abuse, phobia, conflict resolution, domestic abuse, marriage and family issues, relational and spiritual concerns, mediation, discover a way to emotional health. He believes in guiding people to develop a strong inner being, kind, loving, empathic relationships, which move toward emotional well-being.



Kathryn Paul
Patient Coordinator

Kathryn Paul graduated from Success Business College in 1985 with a Legal Secretary Diploma. She spent a year working with the Canadian Coast Guard before making her career with Correctional Services Canada where she became a Correctional Manager. After her retirement from the service, she decided she still wanted to help people and joined pt Health in June 2017.



Paula Snider
Patient Coordinator

Paula Snider graduated from Toronto School of Business (Accounting & Computers) in 1990. She spent two years working in the accounting field before she decided to become a stay at home mother. She lived in Ontario for 25 years raising her sons while working part-time and volunteering with many organizations which gave her valuable experience with event planning, fundraising and volunteer management. During those years she also built up a small face painting company using her artistic skills. She moved back home to the maritime (Amherst, NS) eight years ago bringing her work as a Retail Data Collection Rep.(12 years) and balancing going back to college at NSCC. She graduated with a diploma in Business Administration (Accounting) in 2015 as a proud mother with two sons in college too. She worked briefly at another Physiotherapy company part-time before becoming a full-time team member of pt Health - Amherst in June 2017.



Elyse Lavoie
Physiotherapy Support Personnel - BAKin(hon)

Elyse graduated from the Faculty of Science at Wilfrid Laurier University (Waterloo, Ontario) in 2017 with an Honours degree in Kinesiology and Physical Education. Originally from Ontario, she has decided to plant her roots in beautiful Nova Scotia to begin her career in the health and wellness field. She was fortunate enough to work alongside numerous athletic therapists, physiotherapists and occupational therapists during her undergraduate career where she gained valuable skills and hands on experience. As a certified fitness instructor, she also has years of experience with various forms of strength, flexibility and mobility training for individuals of all ages and fitness levels. Elyse is a big believer in making yourself a priority and practising self care by tending to the needs of the mind, body and soul. Her goal is to share her knowledge of therapeutic exercise and rehabilitative treatments to help her clients progress towards a full recovery. In her spare time, she enjoys staying active by practising yoga and hiking with her two Siberian Huskies.



Chelsey Walker
Occupational Therapist - BScKin, MScOT, OT Reg (NS)

Chelsey is an energetic and passionate Occupational Therapist who strives to facilitate a comprehensive and creative approach to client centred healthcare. Using the latest in clinical knowledge, Chelsey aspires to provide the highest-quality care for her patients to improve their quality of life, regain and maintain independence with their activities, and encourage them to be active participants in their care. Chelsey's clinical interests include hand therapy, return to work, ergonomics, chronic pain management, and adaptive equipment. Chelsey is keen about continued education and is always looking for opportunities to gain additional training and certifications. Chelsey holds a Master of Science in Occupational Therapy from Dalhousie University and a Bachelor of Science in Kinesiology from the University of New Brunswick. When Chelsey is not working you can find her playing volleyball and golf, baking, or spending time with family and friends.


[View More]
"Staff were always friendly, they made the work fun. Appointments were always on time. If I ever needed physio again this would be the place I would go, no hesitation."
Lee Ann N - Google Review
"I found the staff at pt Health to be very pleasant and professional in their treatment. I wouldn't hesitate to recommend pt Health to anyone who needs physiotherapy."
Valarie A - Google Review