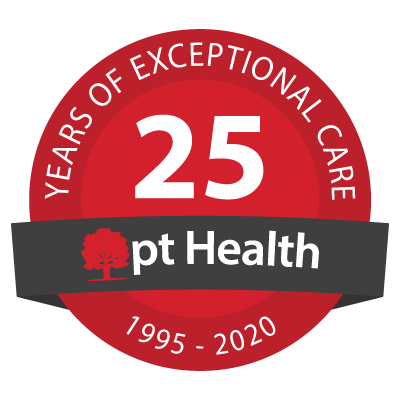 Trenton Physiotherapy - pt Health
Welcome!
Our clinic is open and offering in-person treatment in addition to virtual care. We look forward to seeing you soon.
"We were made to feel comfortable and cared about. My insurance company could not have recommended a better health care facility for my rehab. They listen to my concerns and recommended exercises accordingly. I would highly recommend anyone needing physio/massage therapy care to make an appointment to meet the staff. "
Karen S - Google Review
"I have tried many physio /massage clinics across Canada over the last 20 years. pt Health is at the top of my list. Very professional staff, from the front desk receptionist to my therapist. The clinic is very clean and has a very friendly environment making you feel at ease upon arrival. I always walk out feeling like a million bucks. This clinic is highly recommended! "
Rich D - Google Review
Our Clinic Team
Melanie Jesse
Physiotherapy Assistant

Mel has worked at pt Health Trenton and Brighton locations for more then 16 years. Her duties have primarily consisted of direct patient care on the clinical side, treating all types of orthopeadic conditions, but she is also proficient on the administrative side. Melanie is always knowledgeable, inviting, and is a pleasure to work with on our team.

Palak Shah
Physiotherapist

Palak graduated from a well known college in India in 2014, with a Bachelor of Physiotherapist degree. She further pursued fitness and health promotion course from Humber College, North Campus in 2016. Since then she has been working with patients of all ages with Musculoskeletal, post-op, MVA, WSIB etc injuries. She has an exceptional interpersonal and communication skills. Her ability to take specialized care for her clients have led her to be admired not only by her working colleagues, but also by the patients and their family members.

In her spare time she loves to listen to music and sing.

Dhananjay Padwal
Physiotherapist

Dhananjay is a resident Physiotherapist dedicated to help clients manage musculoskeletal injuries. In 2014, he completed a Master's degree in Musculoskeletal Sciences from Maharashtra University Health Sciences, India. Prior to that he earned his Bachelor's of Physiotherapy from Maharashtra University of Health Sciences in 2008. After gaining a decade of experience in Mumbai, India, he moved to Canada.

He has special interest in management of low back pain, shoulder and knee injuries in athletes and active population. Dhananjay has done courses in Neurodynamics, Kinetic Control and Level 1 Manual Therapy. Dhananjay enjoys Calisthenics, Running and Yoga.
[View More]
"The team at Trenton Physiotherapy is very professional & friendly. They are more than willing to listen to your concerns and address issues with my pain and recovery. I would highly recommend this business to anyone needing the services that they offer here. Thank you to the whole Trenton team! "
Stephanie L - Google Review
"I had an accident and injured my neck and shoulder..I went to pt Health - Trenton Physiotherapy. Excellent treatment, staff are professional & friendly. Presently I have two sessions per month of massage therapy, at the end I feel relaxed & great. I have recommended pt Health and will continue to do so. "
Roger C - Google Review