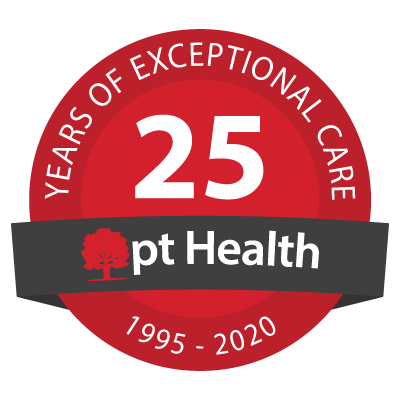 Trenton Physiotherapy - pt Health
In-person treatment available
Virtual Care treatment available
Welcome!
Our clinic is open and offering In-person treatment in addition to Virtual Care service. Please note that enhanced measures are in place to ensure the health and safety of our patients and staff. View our virtual tour video so you know what to expect at your next clinic appointment.
"We were made to feel comfortable and cared about. My insurance company could not have recommended a better health care facility for my rehab. They listen to my concerns and recommended exercises accordingly. I would highly recommend anyone needing physio/massage therapy care to make an appointment to meet the staff. "
Karen S - Google Review
"I have tried many physio /massage clinics across Canada over the last 20 years. pt Health is at the top of my list. Very professional staff, from the front desk receptionist to my therapist. The clinic is very clean and has a very friendly environment making you feel at ease upon arrival. I always walk out feeling like a million bucks. This clinic is highly recommended! "
Rich D - Google Review
Our Clinic Team
Jenny Cassidy
Admin / Manager

Jenny graduated from the Business Administration program at Fleming College with a major in Marketing. Shortly after graduation, she joined pt Health and has loved every minute of it. She's since taken a new role of Administrative Team Lead where her passion for financial health has expanded into leading 13 clinics in Ontario. Jenny also loves spending time with family and friends and has a new love for CrossFit.



Melanie Jesse
Physiotherapy Support Personnel

Melanie Jesse PSP - Mel has worked at PT health Trenton and Brighton locations for more then 16 years. Her duties have primarily consisted of direct patient care on the clinical side treating all types of orthopeadic conditions, but she is also proficient on the administrative side. Melanie is always knowledgeable, inviting, and is a pleasure to work with on our team.


[View More]
"The team at Trenton Physiotherapy is very professional & friendly. They are more than willing to listen to your concerns and address issues with my pain and recovery. I would highly recommend this business to anyone needing the services that they offer here. Thank you to the whole Trenton team! "
Stephanie L - Google Review
"I had an accident and injured my neck and shoulder..I went to pt Health - Trenton Physiotherapy. Excellent treatment, staff are professional & friendly. Presently I have two sessions per month of massage therapy, at the end I feel relaxed & great. I have recommended pt Health and will continue to do so. "
Roger C - Google Review