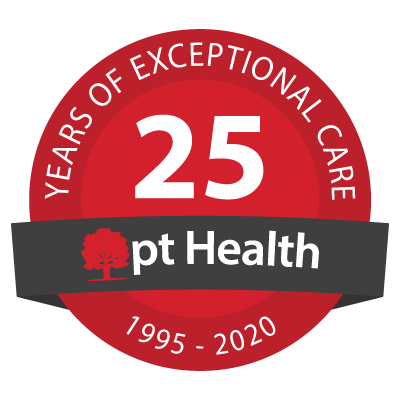 Victoria Community Physical Rehab and Physiotherapy - pt Health
In-person treatment available
Virtual Care treatment available
Ontario Health Insurance Plan (OHIP)
We remain open
Our clinic continues to offer in-person treatment following the latest state of emergency order by the Government of Ontario. The well-being of our patients and staff is our top priority, and our clinic continues to adhere to stringent health and safety measures. If you wish to refrain from in-person care at this time and are looking for flexible treatment options, Virtual Care appointments are available.
"Very helpful and friendly. They always go above and beyond for their clients. I highly recommend them for all ages and all services. Conveniently located. They have a large area to offer the client for convenience. You won't find a better alternative."
Stephanie M - Google Review
"This place is amazing! I had a full knee replacement in 2015 and was still suffering with pain. While I still have pain, my mobility has improved and I am sleeping more at night! I'm also taking much less pain medication. "
Beverly L - Google Review
Our Clinic Team
Kapilsinh Rajput
Physiotherapist

Speaks: English, Hindi, Gujarati

Kapil Rajput is an internationally Graduated Physiotherapist since 2008. Kapil Rajput is a Registered Physiotherapist with experience of over 7 years. He Graduated in 2008 with a Bachelor of Science in physiotherapy and has practiced a variety of different hospitals and clinics. He has finished a Diploma in Fitness and Health Promotion Program from Humber College which gave him thorough knowledge about Sports injuries and Athletic training for different sports. He has worked with clients of all ages, in private as well as OHIP funded clinics. Kapil has experience in treating Orthopedic Injuries (Fractures, Post-op rehabilitation, Arthritis, sports injuries), Neurological conditions as well as Injuries related to motor vehicle accidents and workplace injuries. Kapil has most recently completed both the Arthritis Society's Getting a Grip on Arthritis® osteoarthritis and rheumatoid arthritis education program. Kapil prides himself on his problem-solving abilities and thorough assessment techniques. With gentle persistence, Kapil encourages his patient to take a proactive role in their health and rehabilitation.



Rhandi Brooks
Patient Coordinator

In 2012, Rhandi received a BA in Psychology from The University of Western Ontario. During her Post-Secondary education Rhandi worked as office administrator for a Family Practice & Mental Health Counselor. After graduating in 2012, looking for a new challenge, this led Rhandi to her current role as Patient Care Coordinator at Victoria Community Physical Rehab. She is likely to be the first to greet you when you walk in and her ability to multitask ensures that everything in the clinic runs as smoothly as possible. Rhandi's favorite part of her job is meeting new faces everyday and making sure every appointment is enjoyable for the patients!



Carina Da Silva
Patient Coordinator

Speaks: English, Portuguese

Fluent in both English and Portuguese, Carina will always great you with enthusiasm and ensure you have a fantastic experience at the clinic.



Carina Da Silva
Physiotherapy Support Personnel

Speaks: English, Portuguese

Fluent in both English and Portuguese, Carina will always great you with enthusiasm and ensure you have a fantastic experience at the clinic.



Taylor Price
Physiotherapy Support Personnel

Taylor is an enthusiastic and compassionate physiotherapist assistant who strives to improve her patient's quality of life through a holistic approach. In Taylor's practice, she treats a variety of patients including children, athletes, and those with chronic pain. Using the latest in clinical knowledge, Taylor aims to provide the highest-quality care for her patients to reduce pain, improve quality of life, and return to play. Taylor's clinical interests include spinal and neurological conditions, orthopedic, and sport-related injuries Taylor Price holds an Honours Bachelors of Science in Kinesiology from McMaster University and has competed at the provincial, national, and intercollegiate level in rugby during her time at McMaster. Taylor will be supplementing her current education with post-graduate training in the rehabilitation sciences to enhance her current sports therapy background and further support her patients.



Sondos Suliman
Physiotherapist - Bachelor Degree of Physical Therapy, BPT

Sondos is an enthusiastic and compassionate physiotherapist who graduated in 2012 and brings over 7 years of experience and skills to her evidence-based practice. Over this time, Sondos had the opportunity to work in several clinical settings, which has allowed her to treat numerous orthopedic, MVA, work injuries, and post-surgical patients and gained experience with post-operative protocols and rehabilitation programs. She highly focuses on using a combination of manual therapy techniques, especially soft tissue release for pain relief, along with personalized exercise programming and education to empower her patients to reach the best possible outcomes. Dedicated to continuing her education and evolving her skills, Sondos consistently improves her practice by merging the most current, evidence-based literature. She is passionate about her work and takes pride in connecting with her patients as they embark on their healing journeys.


[View More]
"Excellent staff, very welcoming and helpful. I've been there twice and I've gone back for a third time for Physio. One of the best places I've ever been to."
Taylor M - Google Review
"I had a wonderful physiotherapy experience at this clinic. Staff were kind, punctual and very knowledgeable. Will go back here if I ever need them again!"
Kylie O - Google Review