Repetitive Strain Injuries
What are Repetitive Strain Injuries?
Repetitive strain injury (RSI) is a term used to describe a group of conditions affecting the tendons, tendon sheaths, muscles, nerves and joints caused by repetitive movements, tasks, vibrations, forceful exertion, or awkward/sustained positions.
RSI may also be known as repetitive stress injury, repetitive motion injuries, repetitive motion disorder (RMD), cumulative trauma disorder (CTD), occupational overuse syndrome, overuse syndrome, regional musculoskeletal disorder, work-related musculoskeletal disorders (WRMSDs), work-related upper limb disorder, or non-specific upper limb pain.
Causes | Symptoms | Treatment | Prevention
Where Can You Get Repetitive Strain Injuries (RSI)?
Repetitive strain injuries cause persistent, chronic or recurring pain in many areas of the body.
The most common places to develop a repetitive strain injury include:
Neck
Shoulders
Forearms
Biceps
Hands
Wrists
Elbows
What Kinds of Repetitive Strain Injuries Can You Get?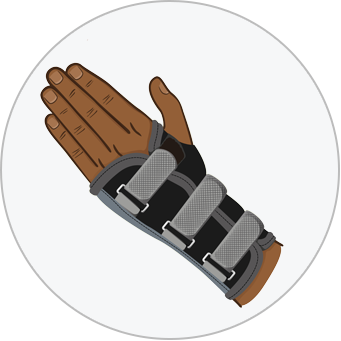 Repetitive stress injuries are not a diagnosis, but a set of conditions whose onset is attributed to repetitive movements or tasks.
Some examples of conditions that may be caused by repetitive stress include:
Radial and Ulnar Tunnel Syndrome
Runner's knee (patellofemoral syndrome (PFPS))
Shin splints
Stress fractures
Thoracic outlet syndrome